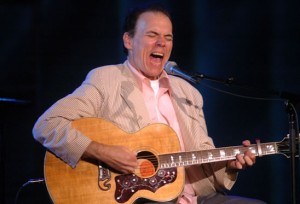 The Scene: As I asked around trying to find someone to accompany me to Chautauqua last week to witness musical master John Hiatt in action I got quite a few similar responses. A couple "John who?" along with a few "I have no idea who that is, but I remember seeing a lot of his CDs in my parent's collection." Granted, most of my friends were just learning to walk when Hiatt made his initial rise to fame but with a career spanning well over 30 years and 20 albums it struck me rather odd that no one in my life, except of course my mother, had any clue who John Hiatt was. In reality he is one of the best songwriters to have ever come out of the Nashville music scene. His songs have been covered by everyone from Bob Dylan to Iggy Pop. He is a man with a legacy and he brought Colorado's real music lovers out in force last week.
The nearly sold-out old barn was filled early with well dressed couples out on a mid-week date night. A large number of folks sacrificed their general admission seats for standing room in the back, giving a good clue that some dancing was in their future. A few groups sat on the patio outside the theater on blankets with bottles of wine and picnic baskets, ready to enjoy one of the last nights of this summer with some good old fashioned Rock n' Roll.
John Hiatt: In all honesty, I wasn't even too sure what to expect when John Hiatt and his band The Combo took the stage. I was half expecting a man and a stool singing the blues over simple chord progressions but, within minutes every preconceived notion I had was put to rest. As Hiatt broke into "Master of Disaster" my feet were tapping along with everyone else in my row. If it wasn't for being close enough to reach out and pluck a string on his guitar I would have taken cue from the people in the back and found a spot to cut a rug.
His set contained songs from every decade in which he has recorded music including a few songs off of his most recent release Mystic Pinball. He made note of the recent flooding in his home state before singing a slower number; "Down Around My Place," that was perhaps one of the more emotional songs of the evening. Unless of course you consider the rather literal "Perfectly Good Guitar" an emotional song.
Something must be said for Hiatt's band. Early on I noticed cases of countless guitars off to either side of the stage and as the show went on both Hiatt and his lead guitarist switched between some of the most beautiful axes I've seen after almost every song. Each member not only held their own but were magnificent musicians in their own right. I found myself nudging my buddy next to me on more than a few occasions to say something along the lines of "holy shit, that guy can shred the guitar."
Hiatt honored a few requests and made several dedications throughout the evening including playing his "Thing Called Love" for Blues Goddess Bonnie Raitt, who has truly made it her own over the years.  He even switched up the set halfway through in order to cater to a man who yelled out "Memphis in the Meantime." After nearly an hour and a half of Blues, Country, Rock and Roll the men exited stage right but we all knew it wasn't over yet since he hadn't played "Have a Little Faith in Me."
After a short break they came back and John Hiatt's earth rattling voice rang out once more while he sang the song that many would say broke him into the mainstream. His band, his voice, and everything about the man shined throughout the entire evening. He quirked early on that he had recently turned 60 years old. By the way he danced around the stage, filled the room with song, and simply rocked the hell out, you would have never been able to guess. He ended the night with his classic "Riding with the King," which, for the record, I have played on every juke box, in every bar I've been in, since seeing him play it live.
Everyone in my life that had no idea who John Hiatt was prior to me asking them to come to his show does now. I've made it a point since leaving this show to make sure my friends know what Rock and Roll really is. I left Chautauqua last week thinking to myself "Holy hell, that was everything I love about America all in the form of song."
Energy: A
Musicianship: A
Stage Presence: A
Sound: A
Set/Light show: N/A
Overall: A

I rode my skateboard from school in 7th grade to my buddy Vince's house where he put on the song "Perfect Government" by NOFX and I was hooked. The next day I bought the album Duh by Lagwagon. The next year I saw Against Me! at the Starlight Theater in Fort Collins, my mom dropped me off. I've since devoted every waking hour to anything done with passion. My speakerbox bumps everything from Lil' Wayne to Pablo Casals. I was never very good at making music, but I am damn good at listening to it. I've been filling up yellow notepads with random thoughts and misspelled words for as long as I can remember. I enjoy whiskey of all sorts, Newport cigarettes and the company of my family. I've got an addiction to run-on sentences that I'll probably never cure. A solid handshake with a stranger who has become a friend over a few beers means the world to me. You'll often find me wide eyed and wandering with an ear to ear grin. I live for funky break beats and spreading the love.