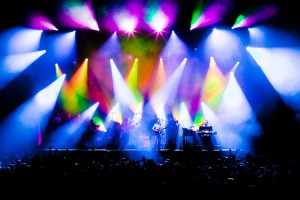 Photo by Chad Smith
Why You Should Go: Following their momentous Red Rocks show last summer and their sold out Fillmore Auditorium show this past spring, Umphrey's McGee is returning to this legendary Colorado amphitheatre for another night of musical innovation and virtuoso instrumentation!  What's better than that?  They are bringing Railroad Earth with them!!!
While Umphrey's dazzles audiences with tight Prog-Rock influenced jams and the best touring lightshow in the business, Railroad Earth sings of our nation's changing landscape and social ills with a commitment reminiscent of Woody Guthrie, while interpolating instrumental timbres that could have been pulled from Celtic or Cajun culture.  It's a diverse line-up to be sure, but one that Umphrey's Keyboard player, Joel Cummins thinks will work out just fine.  "While they definitely have some roots in bluegrass, there's some rock and roll there, there's some things, much like Umphrey's McGee, where you can't really pin it down to what it is. That's a great hallmark of having an original sound and playing original music. It's just good music, that's all there is to it."
Venue:
Red Rocks Amphitheatre, 18300 West Alameda Parkway, Morrison, CO 80465 – (720) 865-2494
Doors:
5:30 PM
*Price:
ADV – $37.50  DoS – $40.00
PURCHASE TICKETS
*All times and prices are gathered from other sources and we are not responsible for mistakes or inconsistencies. They are intended only as guidelines. Please, always call the venue if you desire the most accurate information possible.