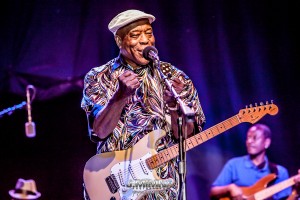 Photos by Jim Mimna 
The Scene:  Denver Botanic Gardens at Chatfield is pretty far South of town, down off 470 and picturesquely situated with a great view of the mountains.  Because of the remote location, space is not an issue and things have been well planned out to create a friendly place to enjoy a show.  The first benefit was free parking that was very conveniently arranged for both fast entry and exit of the venue.  The medium-sized amphitheater is covered in some of the most lush green grass I have seen here in Colorado and it was simply begging to be sat upon.  Much like the Botanic Gardens on York street, the audience came prepared for a sitting event, making the lawn look somewhat like a tourist-covered beach.  With an expansive dancing area directly in front of the stage, Chatfield was the perfect place to shake your bones.
My only complaint of the venue was the fact that, despite the remote location, they still have a 9:30 curfew.  The audience was much like that of the Denver location, with the suburban wine and cheesers enjoying their picnics.  Also peppered in the mix were hardcore blues fans ready for the double bill to get rolling.  Early on, I saw a division line forming where the picnic people claimed their area with blankets, hoping to fend off the dancers from invading their space.  The tension was so thick you could cut it with a cheese knife.
Robert Randolph & The Family Band:   This band is appropriately named with pedal steel monster, Robert Randolph, leading the charge and supported by his cousin Danyel Morgan, on bass, his brother Marcus Randolph, on drums, and his sister Lenesha Randolph, on vocals.  This whole group was tied together by the only none-family member, Brett Andrew Haas, on guitar and keyboards.  I bet Brett gets nervous when a Randolph family member takes guitar lessons, but that is another conversation for another day.
The band came out strong and kept the groove fast and funky throughout.  The set was largely comprised of original tunes like "If I Had My Way" and "Ain't Nothin' Wrong with That" that really showcased the bands identity and spiritual ties to the music.  To this point, they had everyone shaking their bones inside the dance area, and even Randolph was stepping away from the pedal steel to get down.  They finished the set with a few well chosen covers including "Maggie's Farm" and "Purple Haze" that really showcased the band leader's chops and his band's ability to follow his lead like a shadow.  By the last song, the dance area had outgrown its allotted space and blankets were trampled a bit.  I was slightly nervous the picnic people would start a riot but, luckily, cool heads prevailed and the crowd receded in anticipation of the main event to come…and the need for more beer.
Buddy Guy:  As the day-old blue moon rose over the amphitheater, Blues pioneer Buddy Guy took the stage for the warmed up audience and did not let them cool down for a moment.  At 76 years old, Buddy Guy still has all the tenacity and animation of his 50 year old self, but with a lot more stories to tell!  He told some terrific anecdotes about his early days as a musician, about moving to Chicago from Louisiana, and about auditioning for Muddy Waters band; all framed around the songs in the set and the spaces he created in them.  He honestly talked almost as much as he played, but his story telling was fascinating and interactive enough to make it a none-issue for the rapt crowd.
His guitar work showed no signs of age.  He would tease you with long, dragging power notes followed by a machine gun fire of licks from his yellow Stratocaster, and then stop on a dime like a sports car as he pulled a 180 into a different song.  It was truly a masterful display.  His cohesion with the band and his ability to command them with his guitar was truly impressive.  He is the master of contrast, knowing exactly when any fast moving segment needed to slow down and then when to speed it right back up once the listener got complacent.   He proved to me that that no matter how old you are, as long as your mind is sharp, your fingers can still move pretty damn fast!
Energy: B+
Sound: A
Musicianship: A+
Stage Presence: A
Set / Light show: C
Overall: A-
Capturing life in various forms is what I do. I consider myself an archivist by nature. It is not a career choice that I consciously made, but it is something that has called me. I strive to freeze a moment in time with every frame, a moment that can retell its story with each viewing, forever. I also have a deep passion for music and have been photographing and recording live music for years. Capturing the energy and magic of a live performance in a photograph is one of my passions. In addition, I enjoy photographing in a wide variety of settings, from wildlife scenes to family portraits and everything in between. I am a lover of the earthscapes that we see all around us every day, both natural and manmade, and aim to make unique images that do justice to their beauty. Where others see darkness, I see streaks of light through long exposures. I shoot a very wide variety of subject matter including individual/family portraits, event coverage, landscapes, live concert/performance, HDR, product and commercial photography, architectural, weddings, food, and editorial photo journalism. With artistic expression, I aspire to create visual art that speaks volumes.