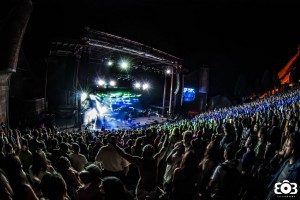 Photos by 303 Photography
The Scene: It's been over a year since Lotus stole the show on a bill with The Glitch Mob at Red Rocks Amphitheatre. This time they returned in full force as the headliner at one of the last and most anticipated shows of the Red Rocks summer concert series. I've been waiting years for a Lotus show of this magnitude and I left confident in saying this was easily one of the best Lotus sets I've ever witnessed.
[Editor's Note: Thanks to Conor and Patrick Murphy for the reviews of Emancipator & EOTO]
Opener: Emancipator. As luck, or good planning, would have it, the music didn't begin until about 7:30, which meant that Portland based producer Douglas Appling and his violin wielding accomplice Ilya Goldberg who make up Emancipator would assist the setting sun with their earthy and precise compilations.  While many in the EDM world have recently been raging on the idea of "button-pushing" performers, I believe much credit has to be given to those producers who do the lion's share of the work in the studio and treat their live sets as displays of their complex and cerebral material.  This is the category I would place the Emancipator duo in.  The live DJ work done by Appling was simple, but unlike many other producers who tend to guard their stage work like a magician's secrets, it was displayed for all eyes to see on Red Rock's giant screen.  Goldberg's electric violin was a welcome addition to the set, and ranged from soaring orchestral lines to rhythmic staccato notes depending on the cued samples coming from Appling's Livid MIDI controller.  Their light work was warm and simple and meshed quite well with the fading light from the setting sun.
EOTO:  This two-man, all improvised, loop pedal based wrecking crew and the 3D mapped lotus flower that they perform within was the act of the night that I was most anxiously awaiting.  Between the two musicians (Michael Travis and Jason Hann of The String Cheese Incident) they play such a wide array of instruments and are producing quality sounds so quickly and perfectly in sync that it is hard to comprehend.  (I say this with a fairly intuitive understanding of the work and time it takes to put together a live setup such as this. As it's something I've personally been trying to put together with a few of the same tools that the EOTO crew uses in their live sight & sound odysseys ie. MIDI keyboards, warped vocals, live guitar and bass all being channeled through the powerful and widely-used EDM platform that is Ableton Live).  Travis and Hann's musical chemistry has been fine tuned through years of travelling and improvising on tour with Cheese, but this particular synthesis of musical minds takes place in the aforementioned era of crowds wondering what it is that EDM performers are actually doing musically on stage.  There are no tricks or sorcery being pulled off by this duo, and their sets are a testament to what the Dubstep and House experience can become when the audience is dragged through a bass soaked set of pure improv.
EOTO's set ran at a breakneck pace from one compilation to the next, ranging from their own Dubstep creations to Pop covers (Busta Rhymes' "Dangerous" and Tupac/Dre party classic "California Love" were highlights) congealed with low frequency waves.  The sound never hit a low point, and the duo's use of 4 on the floor house interludes were a welcome distraction while they imagined their next concoction.
I would be remiss to not mention the majesty that is EOTO's 3D projected light show, run by Zebbler (the VJ mastermind behind the psychedelic powerhouse known as the Shpongletron Experience).  The 12 foot tall white lotus flower doesn't look like much when simply being lit by the opening act, but once Zebbler gets his hands on the controls, you are in for a wild ride.  The verisimilitude of the lotus petals were striking initially, and as the tunes began to warp with increased assistance from musical technology, the flower followed suit with motherboard circuitry and flowing binary code reminiscent of the inner workings of the Matrix.
Lotus: Amazingly, this would be the first time Lotus would headline Red Rocks. Fittingly they decided to debut a new light setup that instantly brought the crowd to their feet and enveloped the rocks in a colorful, yet hazy, glow.
As the opening notes of "Harps" rang out from Mike Rempel's guitar I knew we were in for a fantastic set. It seems as different Lotus shows typically feature outstanding performances from specific band members and tonight Rempel was absolutely on fire. As they segued from "Hammerstrike," the familiar dance notes of "Bubonic Tonic" surged across the crowd.
If there were ever a dance party that's worth filming, Lotus at Red Rocks would have been an excellent choice. Watching the crowd sway and get down to the insanely good vibes that Lotus throws at you is like a dream you want to relive over and over again.  As the set continued to gain momentum, the lights flashed ominously several times indicating it was time to turn the place into a furious dance-a-thon.
I've gotten used to Lotus covering electronic songs by the likes of Deadmau5 and Daft Punk and I love the energy boost it gives to the crowd. It's typically only one song and its always perfectly placed at the height of the show. On Saturday that formula rang true again when they blasted into Mord Fustang's "We are Now Connected" which turned out to be a perfect gateway into my favorite funky Lotus track, "Greet the Mind."
I was already satisfied with their set at this point but the show really took off from the last song into the three song encore. Beginning with a long and chaotic version of "Jump Off" that literally took the whole crowd into the air, the boys cruised to a logical conclusion only to return several minutes later with "Kodiak," "Colorado," and "Spiritualize." "Colorado' is off Lotus's second album Nomad released in 2004 and is perhaps the most beautiful and chilling track they have ever released. It's rarely played live and to see it at Red Rocks sent shivers down my spine. Its simple guitar and feathery drumbeat are enough to make you melt beneath the stars.  After the quiet time was over, Lotus launched into "Spiritualize" and the rest is history. That song really does make you dance like your about to fly straight off the rocks, and I'll admit my friends and I lost our minds a little bit at this juncture.
This was certainly an epic conclusion to one of the best Red Rocks performances of the summer. I can't wait to see what this band has in store for the future. When they return to Colorado I know I'll be there, dancing the night away again.
Energy: A+
Sound: A
Musicianship: A
Stage Presence: A
Set/Lightshow: A+
Overall: A
I've worked various positions in the music industry with Madison House, Rock The Earth and Bohemian Nights. My dream is to travel the world and seek out all the good tunes, beer and food that make life so special. I have a healthy obsession with live music and I'm thrilled to share the epic moments with you.