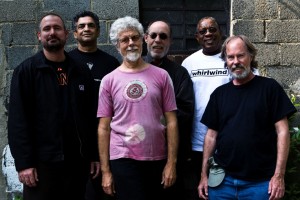 Little Feat is a band that has been in the trenches of Rock and Roll since the revolution began. In 1969, Frank Zappa suggested Lowel George leave The Mothers of Invention and form his own band, and that same year George formed Little Feat with Bill Payne (Keys), Richie Hayward (Drums) and Roy Estrada (Bass). Combining Blues, Funk, Country, Folk, Rhythm and Blues and Rock and Roll, Little Feat introduced themselves as a band who knocked down barriers between genres, and got people out of their seats to dance.
Little Feat recorded two albums before their first line-up change in 1971 when Estrada left the band and Little Feat briefly split up. Reforming with Kenny Gradney on the Bass, and adding Paul Barrere on Guitar, and percussionist Sam Clayton, the group began another chapter as Little Feat. More than 40 years later, the current incarnation of Little Feat just released Rooster Rag, their first studio album in nine years, and it has everything that Little Feat fans love, plus a collaboration with an amazing songwriter from outside the Little Feat ranks. Listen Up Denver! had the honor of catching up with Little Feat's Paul Barrere while he was in a hotel in New York, and we talked Feat past and present.
Listen Up Denver!: Let's talk about the new album, Rooster Rag. Robert Hunter worked with you on this one. How did that come about?
Paul Barrere: Our managers used to manage The Grateful Dead. When we originally started working on this album, it was going to be a Blues project. We went into the studio in February 2011 and recorded a bunch of blues songs, two of which made the record, "Candy Man Blues" by Mississippi John Hurt and "Mellow Down Easy" by Willie Dixon. Then we went on the road and started to play all those songs, and they started to develop more into, well, Little Feat songs, as opposed to just straight blues songs.  Our manager introduced Billy and I to Robert through the internet, and I sent Robert a track that I was working on called "Scuffle the Shuffle" and told him I had some lyrics I had already been working on.  He replied with a whole slew of lyrics of his own.  I wrote back saying, "Some of these are really great, do you mind if I kind of pick and choose and put them together with the lyrics I got?"  Turned out he really wanted to have his whole lyric intact.  Bill Payne on the other hand didn't have any lyrics to deal with, so he started taking some of the lyrics Robert was sending us and started writing music to it. Bill kind of struck up this whole internet conversation with Robert, and they have been writing a bunch of songs. I think it's great.
LUD!:  It's a great connection, especially at this time period in your career. You would have thought this overlap would have happened by now.
PB: Yeah, you would've. [Laughter]
LUD!: One of my favorites off the new album, "Just A Fever," is one that you wrote. Can you tell me more about that song?
PB: I wrote that with Steven Bruton before his illness got really bad and took him. We had actually been friends for quite a while, but had never written together.  So, when he came out to LA we got together at my house and we started these two songs; one was "Just A Fever" and the other was called " Why You Wanna Do Me Like You Do Me When You Know You Should Be Doin' Me Right." That one I did on a solo project that will be released next spring. With "Just A Fever," we were kind of chuckling about, you know, how we had a shared interest in the grape and the grain, probably to the excess, and how we managed to overcome that, and how do we get "Delirium Tremens" into a song. We had this idea about just a fever, and kind of a typical rock and roll love song if you will….so it was just a great tag line for the chorus. Delirium Tremens…Jesus.
LUD!: You've covered a lot of ground with this album. Well, you guys always do. There are some sounds from the Bayou… Rock, Blues,…just a lot of sounds coming together. First off, how does Little Feat always seem to mesh all those sounds together, and secondly, how did all those sounds get to you? I mean you grew up in LA, you aren't southern boys or swamp people.
PB: Wow. That's a good question! We infuse a lot of sounds into what I call "The Little Feat Gumbo."  You know, throw a little splash of this in, a little spash of that, and it winds up having this distinct sound which has been a blessing and a curse…more of a blessing as far as I'm concerned. It's a curse to, well, basically record labels, because they don't know how to market this stuff. They go: "Well, It's Rock, but it a little bit of Country. Maybe it's Rhythm and Blues. Wait, there's a little bit of jazz in there." You know?  So it's kind of a quandary that's followed us for 40 years, but it's been a great 40 years. The way that all of those sounds came to us in Los Angeles? Let's face it, we're old.
I was indoctrinated in Rock and Roll in 1958 when I was ten years old. I had two older brothers. The stuff that I heard first was Fats Domino, Little Richard and Jimmy Reid. From there I started investigating Blues, Folk music and a lot of Jazz. I think it was the same thing for everyone in the band really. So we just brought together this wealth of knowledge. There is a bit of the South in each and every one of us. I got a lot of relatives in Texas, Billy was born in Texas, Sam and Kenny were born in Louisiana, and Fred's from Arkansas.
LUD!: Gotcha. Those roots really come through. At first listen I never would have thought you guys were from Southern California.
PB: Yeah, it's not your typical band from LA kinda stuff, that's for sure.
LUD!: You came on with Little Feat at an amazing time. Were you a fan before you joined the band?
PB: Oh yeah! I had known Lowell since the time I was 13 or 14. He was in school with my older brothers at Hollywood High School. We kind of watched each other's careers develop and so forth. He actually asked me to audition as the bass player in '69, which I failed at miserably, but I told him if he ever needed a guitar player I would gladly back him so all he had to do was play guitar and sing.  At the beginning he was doing all of it, and that can become very tiresome. When Roy Estrada left right after the release of Sailing Shoes I got the phone call and he said, "Learn side one of Sailing Shoes and you can be in the band." It was kind of like a guy saying, "I will give you some noogies if you don't." So, I joined the band and it was a great seven years I had in the band with Lowell. It was a smooth, rocky road. Let's just say that. We were all a little crazy back then. We are still a little crazy…just a little healthier.
LUD!: I am looking forward to your gigs here in Colorado soon. What do you think of our music scene?
PB: We have always had a great time in Colorado. We were just up in Winter Park for a festival. I remember when we first got back together and we got invited to do the Bluegrass festival up in Telluride. That's where I met Sam Bush and Béla, when they had their New Grass Revival I think. I met all those guys and thought, why would they ever hire Little Feat for a Bluegrass festival? Of course then we did "Tennessee Girl" and people were going crazy, and I went "Oh, I get it now".
LUD!: It's not a traditional Bluegrass Festival at all, but it is a quintessential dancing festival.
PB: Exactly! And Little Feat plays music you can dance to. I constantly challenge people to come to a Little Feat show and see if they can sit still.
LUD!: And this time out you are playing Telluride again, just this time The Blues and Brews Festival.
PB: Yeah. It's been a couple years since we've been there. I believe the last time Robert Randolph sat in with us which was awesome. That's a great festival. Anytime you are in Telluride it's guaranteed fun.
LUD!: And the line-up this year seems like it's a lot of people who have crossed paths before.
PB!: Honestly, I haven't even checked the line-up.
LUD: Well, your buddy Phil Lesh is bringing some friends, Warren Haynes and Gov't Mule, Chris Robinson Brotherhood.
PB: Wow, that's going to be awesome! I am going to have to reach out to some guys and get some jamming going.
LUD!: Um, I wouldn't mind seeing that. Also, all the above mentioned people and you as well, spent some time with the late Levon Helm. Any thoughts you would like to share?
PB: There was nobody as hospitable as Levon Helm. You would walk into The Barn and he just made you feel at home. I love the fact they are keeping things going at The Barn. That place should have a musical note hanging over it for eternity. It's such a cool venue. Fred and I got to play there a couple of years ago. We also got to do the Chicago Ramble about five weeks before Levon passed. He was so animated; I mean we had no clue that he was that ill.
LUD!: It was a great loss to the entire music world, and yes, it did seem to happen suddenly. It is great you had the experiences you did with him. You must have a lot of amazing memories from your years playing. What was your greatest musical experience as one, a musician, and two, a fan?
PB: Well, playing in Chicago with Levon and his band, and doing "The Weight" with them is something I will cherish forever. There was this time when we opened for The Stones in Stutgart Germany, 1976 I think, and they sent a bus to pick us up right off the airplane on the tarmac. We were basically a bunch of crazy looking hippies flying into Stutgart, and there were a lot of German business people at the airport, and they were looking at us like, "why are these guys getting special treatment?" That was a great day! (Laughs). The show was awesome too, I gotta say. It was a lot of fun opening for The Stones. We did five shows with The Who that were phenomenal, back when Keith Moon was still alive. Moonie, Lowell, Richie and I kind of struck up a good bond, and we had a very good time, but we won't get into the particulars on that. In 40 years so many good memories have been made.
As a fan and watching a concert, I would have to say the seven week tour I did with Phil Lesh and Bob Dylan. Getting to see Bob Dylan every night was an awe inspiring situation. He was such a gentleman. He came up to Billy and reintroduced himself, then asked if I we'd remembered meeting him at The Bottom Line years and years ago when Lowell was alive. We we're like "Are you kidding? Of course!" Just having the off chance conversations backstage with him every now and then was pretty cool. Larry Campbell was on that tour, and that's when we struck up a nice friendship. Larry is unbelievable. I think he is probably one of the most talented people in America, or in the world. He blows my mind every chance we get to play together. That work he did with Levon is just brilliant.
Little Feat's new album shows that no matter what has happened with the band's history and line-up, that distinct sound remains as authentic as ever, and the Feat keep moving, on the dance floor and on down the road. Little Feat will be playing The Bluebird Theatre in Denver on Thursday, and at Telluride Blues and Brews on Friday night.
Check out Brian Turk's feature on Little Feat in The Marquee Magazine this month here.
Brian Turk grew up in the shadow of the Catskill Mountains, near Woodstock, NY. He comes from a family of music lovers, audiopliles, Dead Heads and avid concert goers.The musical magic that can only be created in the Catsklills, both past and present, is what Brian cosiders the epicenter of his music addiction. The music of The Band, and most recently The Levon Helm Band, is the soundtrack of home for him. Brian's mother took him to his first concert at 5years old...it was Johnny Cash and Roseanne Cash at Jones Beach Amphitheatre. For Brian, music is a family affair. He feels the same way about live music...we all convene to celebrate together. Brian's writing life started when he wrote his favorite author, southern fiction writer Clyde Edgerton, a fan letter at age 13. When most kids were idolizing baseball players and television, he was worshipping writers and musicians. The two became friends and Clyde shared his craft with Brian. The next year Brian attended Duke University's Young Writers Camp. This is the extent, of what Brian considers, his "formal" training in writing. From then on his goal was to capture snapshots of life through words. Brian has been involved with live music in various facets over the years, and combined with his enthusiasm and love for Denver's music scene, he creates a vivid description of what he sees and hears. If you see him out at a show, dancing with a notebook in hand, say hello.