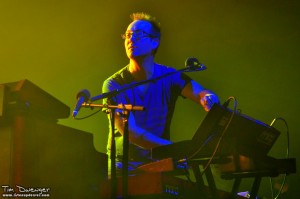 Photo by Tim Dwenger
In some people's eyes, one of the things that makes a good band great is their ability to improvise on the fly — go off-the-grid so to speak — and create amazing new musical passages as the members feed off the energy of the crowd and their own desire to break through invisible barriers and enter unexplored territory.
The Grateful Dead pioneered the art of noodling and experimenting on stage in front of thousands of fans who hung on their every note and utilizing that freeform aesthetic as a template, a whole genre of jam bands has grown up over the past 20 years.  Rabid throngs of music enthusiasts follow these bands from city to city hoping for that elusive transcendent moment on stage where everything falls into place and the band and the crowd are as one, lost in an explosive moment of creativity that may never happen again. One of the band's at the forefront of this movement today is Umphrey's McGee.  We had the oppotunity to sit down with Umphrey's Keyboard player, Joel Cummins, late this summer to talk about the band's new sUMmer school, their work with Huey Lewis, and of course, their upcoming show at Red Rocks with Railroad Earth.
Listen Up Denver!: Where did I find you today, what are you up to?
Joel Cummins: I'm at home in Venice California.  I just got home from a little break and before that we had our sUMmer school event which was a music camp that we put on in Upstate New York where we played a couple of shows.
LUD!: Can you tell me a little about this sUMmer School?
JC: We had 4 days with about 110 students to work on our group improvisation our songwriting a lot of individual breakout sessions.  Some covering music theory in our songwriting, soloing, and just about every possible thing we could come up with.
LUD!: That's gotta be a pretty interesting thing for fans and aspiring improvisational musicians as well.
JC: Definitely!  This is the first year we've done it and after two days we decided "this is pretty cool, we definitely need to do it again next year."  There were some people who are trying to be musicians and do this for a living, we had a few people who just play music for fun but wanted to know more but above everything everyone was there to have a great time and learn and play music together.  It was kind of a unique opportunity, in addition to putting on the session during the day and playing a set of music each night, we had open jam sessions after that where some of the guys in the band would go around from jam room to jam room and get to play with some of the students too.
LUD!: Was it just these 110 students that got to attend the evening shows, or were there others from the outside that got to come as well?
JC: The first three nights it was just the 110 students, but on the last night they were allowed to invite a couple of other people to come up.  On that final night we had guitarist Stanley Jordan join us for some session work, then he sat in with us, and even made the rounds at the open jams.  So, I think that was a big thrill for us because the students there were looking up to us as the instructors and then Stanley Jordan showed up and then we were in awe of him.  It was a really intimate thing, I think we had maybe forty or fifty other people who showed up for the last night.  It was a really amazing and beautiful experience.
LUD!: How did you guys get hooked up with Stanley Jordan?
JC: We've been big fans of his for a long time now.  In particular Stanley was one of Brendan's role models as he came up and learned how to play guitar.  We first interacted with him at SxSW in Austin in 2003 or 2004.  He was performing a solo set right before us, so we got to hang out a little bit with him then and a couple of years we asked him to join us a special guest for one of our New Year's runs.  In 2008 we did some shows at the Auditorium Theatre and we decided that, as opposed to having opening bands each night, we would get a bunch of special guests.  We ended up with Kokoo Taylor, the late, awesome, Chicago Blues woman, Joshua Redman, Buddy Guy, and Stanley Jordan.  We got to perform with him then and at one point we actually had both Stanley and Josh on stage with us which was like "okay, I'm just not gonna play right now, you guys got this!"  So Stanley's been a friend since then and we've had some really good time to hang out with him and get to work on music with him.  He's one of the rare people in the music world where it is positive energy that just flows from him and there's inspiration everywhere.  He's such an amazing listener and player.
LUD!: That's great to hear.  You mentioned Buddy Guy and I guess you guys also did some work with him recently on your new tune "Chicago," is that right?"
JC: Buddy laid down some stuff for us on that track and then we had an opening night release party in Chicago and he came out and played with us again.  Buddy is such a trip.  Recently someone published a biography with a lot of his stories in it, and every time we get to hang out with him you hear something and you are just like 'wow, that's pretty amazing.'  He's an all around great guy and of course a ton of fun to play with.  What a great showman.  It's interesting because with our music we have the ability to have someone who is more on the virtuosic side play with us and we can also work with somebody like Buddy who is more of a traditional bluesman.  I really enjoy the variety of people we try to make music with.
LUD!: I know you guys have worked with Huey Lewis a few times over the years.  What's it like to play with him?  Is there a chance we might see a Huey Lewis and The rUMors tour in the future?
JC:  Huey's another one where we all know his hits, but not too many know that he's a great Harp player and is really a champion of the Memphis Stax sound and The Blues too.  The first time we played with him we were all nervous.  We were like wow, it's Huey!  Now that we've hung out and played with him a bunch he's our buddy Huey.
LUD!:  Any chance we'll get to see some more collaborations between you guys in the future?
JC: Definitely!  We are always working on something.  Last year we did a thing at Summer Camp in Illinois where we were his backing band.  We did a set with him.  We renamed ourselves "The rUMors" for that one in a little tribute to his band.  That went over really well and our fans loved it and I think he got a lot of the central Illinois people who were his fans to come out.  We said we should try to get together once every couple of years and do something cool like this.  I think he has a great time hanging out with us and he's told us "if I started a band right now, what you guys are doing, that's what I would want to do now. "  So that was pretty cool to hear from him.
LUD!:  I think a Huey Lewis and The rUMors tour could probably do pretty well.
JC: [Laughter]  I think so, that would definitely be a great time for everyone!
LUD!:  You mention that you live in Venice.  Where do the rest of the band members live at this point?
JC: We had pretty much everyone in Chicago until about a year ago.  Brendan and Kris still live in Chicago, Ryan, our Bass player is in the process of moving to Charleston South Carolina, Andy, our percussionist already lives in Charleston and Vince, our manager, just moved to Charleston as well.  It's kinda funny because they are all unrelated reasons but they all ended up there.  Jake, our lead guitarist, he lives in South Bend Indiana where the band started fifteen years ago.
At this point we have sort of spread out a little bit, but one of the really important things that we talked about when we first broached the subject of living somewhere else, is making sure that we are still working on new material, still always working on practicing for the shows and not really letting distance when we aren't on the road effect us too negatively.  Of course with technology now it's so easy for us to send songs and ideas back and forth over the internet.  We are really lucky to be in a time when we can do something like this.  I don't think that ten years ago it would have worked quite as well.
LUD!: So much of your sound relies on you guys thinking together as a unit, and I was wondering if the distance has effected that.
JC: Honestly I feel like the distance has been a positive thing to some degree.  Now, when we are together, and we do get together, you kind of value that time a little bit more.  So personally I think it's been great.  We have always had a great time hanging out with each other and it's been this familial, brotherly, kind of thing.  We put our relationships first and I think that's one of the reasons that our band has survived this long.  Having played together for so long, musically that communication and that relationship is only getting stronger every day.  It's just like any relationship, once you've been together and you know each other's musical vocabulary we all have a better idea of where each person tends to go with a certain idea or with a certain concept so that has only gotten better.  I think that over the last few years our improvisation has been extremely consistent and getting stronger in a lot of different areas.
LUD!:  You mention you are always working togther on new songs.  Do you have some new songs that are finished at this point?  I know you are almost a year out from your last studio release.
JC: Absolutely. We are actually in the at discussion right now about what songs we have written that weren't on the last album and I think we've got about 12 tunes, 8 of which we have been playing live that we feel like are really strong new songs and we have at least three or four ideas that we have been throwing around, but haven't had a chance to finish yet and I think we'll probably save those for the studio to really try to focus in on those that way.  It's a constant process and I think that whenever someone comes home off the road that's a goal. To come up with something that we could use.
One of the things that we have been doing over the past couple of years is that we have been writing and recording little segments that are essentially introductions to the show.  So we'll go and record this piece of music and then walk out on stage to it and then once we get out there we'll actually start playing over the top of these recordings then there's a shift from the recorded music to us playing it live.  Sometimes it will be a gradual fade and sometimes it will be a very stark cut right to what we are doing live.  That's been a really fun creative outlet for us, not necessarily to write fully fledged songs, but take ideas we have and use them to take advantage of those exciting moments where the fans are just so pumped up at the beginning of a show.
LUD!:  Great! Now, on a different note, it's obvious to anyone who has seen you perform live, that your lighting director, Jeff Waful, is a very important part of your live shows.  Can you talk a little bit about how you guys teamed up with Jeff and how his contributions influence you guys on stage?
JC: To go back to the beginning, I first met him back in 1998 or 1999 when he was the manager for a band in the North East called Uncle Sammy and writing for Relix and Jambands.com.  I reached out to him on our first East Coast tour when we were playing a venue called Harper's Ferry in Boston and extended the invite for him to come out to the show.  I, now infamously, forgot to put him on the guest list and he paid the five dollar cover to get in which I've reimbursed him for several times over now that he works for the band.  So that was a funny first interaction we had but in 2004 or 2005 he started running lights for the band moe. and we did a number of shows and tours together where were essentially working with him and got to see how talented and creative he was with that.  By 2008 they had decided to go in different directions and he became available at a time when we were looking for a new Lighting Director, so it was kind of a serendipity of the moment where the timing worked out."
From the very first show we were like 'wow, there was a point where we were improvising and we all got caught up with what was happening with the lights and we felt like there was this give and take where he was even pushing us to continue in a certain direction and that was something that we hadn't felt as a band in a long time.  Immediately we knew that it was going to be something where his work was right there with us and was going to be pushing us as well.
He has a real passion for putting on the most intense, creative and engaging light show and I don't think that our music would as impactful without him at this point.  He knows exactly where we are going and what our changes are.  A lot of our songs have a lot of different sections or things change quickly or there are parts where there is mixed meter and it can be a little bit confusing or challenging for a listener and having lighting cues that can go along with these changes kinda helps the listener be able to grasp and digest the music.  In a way I think it helps the music make more sense.
LUD!: So he's gonna have a pretty big canvas to work on at Red Rocks when you guys are share the bill with Railroad Earth.
JC: I'm really, really excited about this.  This will be the third year that we will be able to close a show at Red Rocks and it's my favorite venue without a doubt.  It's just the ultimate for putting on a really cool big production in a natural space.  It's very rare that you find a space that is a favorite band venue and a favorite fan venue.  All of those things come together there and the Colorado music fans are some of the most educated and most passionate out there.  So all those things coming together just inevitably make for a great night.
LUD!: Can you tell me about how this pairing of bands came about?
JC: We've known each other for quite a few years now having played around the festival scene and I actually got the chance to see them several times in the last few years at the Telluride Bluegrass Festival with my wife and some friends.  When I first saw their show there it immediately struck me that it was something that a lot of our fans would enjoy as well.  While they definitely have some roots in Bluegrass, there's some Rock-n-Roll there, there's some things, much like Umphrey's McGee where you can't really pin it down to what it is.  That's a great hallmark of having an original sound and playing original music.  It's just good music, that's all there is to it.
LUD!: Will we get to see any sit-ins or cross pollination between the bands?
JC: Of course! We will definitely be making that happen.  I feel like that goes back to the Jam Cruise years.  You've always got to have somebody sit-in!  They have so many talented players in their band and fortunately Red Rocks has a very large stage because there are quite a number of people in both bands so we have to make sure we have enough room to accommodate everyone.  We have some things in the works for sure!"
LUD!: What are some of your favorite memories from playing Red Rocks?
JC: What isn't a favorite memory of playing at Red Rocks?  Honestly they are all great but here's on that stands out to me from the first time we played there.  It was 2005 as part of the Big Summer Classic tour.  It was Michael Franti, String Cheese, Yonder Mountain and a slew of really fun cool people and great musicians.  We were playing on the same day as Live 8 and our set happened to be exactly the same time that Pink Floyd was reuniting so we were able to put them up on the screens as they were playing and we went into "Another Brick In The Wall."  We were basically trying to synch up what we were doing with what they were doing and that was a pretty cool moment as we looked at the crowd at people's faces when they got what was happening.  That was definitely a cool thing to be able to pull off!

Music has always been a part of my life. It probably all started listening to old Grateful Dead, Peter Paul & Mary, and Simon & Garfunkel records that my parents had, but it wasn't long before they were taking me to concerts like Starship, Crosby, Stills & Nash, and Huey Lewis & The News. I got the bug to write about music after reviewing an Eric Clapton concert for a creative writing project in high school but didn't really take it up seriously until 2002. Since then I have published countless articles in The Marquee Magazine and done some work for Jambase.com, SPIN Magazine, and various other outlets. I started Listen Up Denver! as a way to share the music information that is constantly spilling out of my head with people who care. Please enjoy!