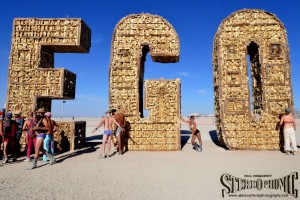 Photos by Johne Edge
"BRC"
Temple still smoldering
Night time exodus
Stream of headlights behind
As far as the eye can see
It takes Advil, Adderall,
And over four hours to reach pavement
Just enough time to realize
Home is more than a seventeen hour drive
Instead it is almost a year away
On the playa behind
Back at the beginning of the year I caught up with Steve Raskin and Jon Hovarth of Fort Knox Five for an interview before they spun a highly anticipated set at Cervantes' Other Side.  Fort Knox Recordings, the label Fort Knox Five created, is probably my favorite label currently releasing music.  They go out of their way to break  down all the artificial barriers established by the big labels that keeps good music from being heard. This DC collective doesn't care about tempos and genres, they know what they like and they play it, stripping songs down and then re-imagining them in a Funk, Dub, and Soul amalgamation.  These guys have spent the last year and a half focused on the label and the artists they represent, versus working on their own material.  Recently they have begun to produce remix albums of label artists SEE-I, Nappy Riddem, and Empresarios.  After all, the Fort Knox label was created back in 2003 as a DJ oriented label, and DJs want tracks that get people out on the floor.  When asked how they choose producers to work on these projects Jon and Steve talked about how they would become inspired by other producers as they traveled around to different festivals.  It is these producers that would be doing something different, and inspirational that would be chosen to remix tracks and lay a foundation for sounds to come.  As Jon talked about different festivals he said, "Burning Man is one of those places that I go to get inspired.  It is an event that has to do with art, music, and lifestyle."  Hearing this from a man as creative as Jon, going to Burning Man was immediately added to my list of things that need done.
Fast forward six months and you'll find me, my camera, paper, and pen in the Black Rock Desert, 120 miles north of Reno, NV.  As a member of the Intergalactic Disco Kittens camp, me and my litter mates helped to make up a community of over 52,000 people known as Black Rock City.  The 52,000 plus population nearly ties our desert city with Carson City for the tenth largest city in Nevada, at least for that one week of the event.  Burning Man is an annual experiment in temporary community dedicated to radical self-expression and radical self-reliance.  Our camp was designed by my fellow kittens to be interactive with our surrounding community.  To engage fellow participants, we covered our litter box with shade and laid out carpets. Then we built a bike rack, and set up couches, coffee tables, and of course coffee table books like "FU Penguin."  Anyone and everyone was invited to park their bike (one of only three forms of transportation on the playa, the other two being an Art Car or the shoe leather express) and to take a reprieve from their travels.  Burning Man is a commerce-free event, and in fact, solely a gift economy.  So, as travelers would come and go we would ensure they stayed properly hydrated with rum punch or beer.  In turn, as we explored the city, people would gift us things like fried bologna sandwiches and bourbon, boxed wine and cheese whiz served on crackers or parts of the female anatomy during a white trash soiree, or my personal favorite, the Bombay Sapphire Gin and Tonics that were served daily from 4:00 to 6:00 at the Seven Deadly Gins Camp.  People of all ages came from all over North America and the world to make up camps, of which over half of were theme camps.  Some camps are based on food and drink like I mentioned before, others are based on services including but not limited to massage, bicycle repair, and, like the Porta Potty Pigs Camp, keeping people supplied with toilet paper and hand sanitizer, and an Archie comic book to read if you were going to be in the potty for a little while.  Basically you can find anything you need, or want, just by exploring your community with an open mind and heart.  There are only two things sold in Black Rock City: coffee and ice, both found in Center Camp. Profits from ice sales are given directly to the neighboring communities of Empire and Gerlach.
Burning Man is much more than just a temporary community. It's a city in the desert dedicated to radical self reliance, radical self-expression, and art. Innovative sculpture, art installations, performance art, theme camps, art cars, and costumes all represent forms of artistic expression on the playa.  Elements of the abstract and surreal are everywhere as long horned steers and cans of Spam rise from the desert floor that surrounded the Man and the Temple.  Fittingly, as a virgin Burner, my favorite piece was Star Seed, a sculpture representing the story of the evolution of the human spirit from the roots of a culture.  Performance camps ranged from stilt walkers and fire spinners, to traveling musicians.  One young lady from Canada came strolling into our camp playing the ukulele and singing songs early one morning (and by early I mean it was probably around 10:00am.)  Art Cars designed like ships, giant Boom Boxes,  Unicorns, and flaming Octopi were not only visually stimulating but a great way to get from one quadrant of the city to another.  Clothing not found in day to day life, costumes, or wearing nothing at all are was not only acceptable but  encouraged.  Some days even have a common theme like Tu Tu Tuesday, Unicorn Stampedes, and Million Bunny Marches.  As far as the unclothed, like our friends the CockTails (men wearing nothing but a jacket with tails and drinking all day), it only takes one sunburned and chafed ass passing bye for me realize that pants play an important role in things as simple as riding a bike.
Amplified music is a favored method of participation and self-expression at Burning Man, however it must be noted that Burning Man is not a music festival and there is not an officially published schedule of artists and performance times.  That being said, in 2012 there were over twenty large scale installations and camps built just for music and dancing.  In addition, there were four Art Cars (Robot Heart, The Janky Barge, Charlie the Unicorn, and Dusty Rhino) that had a continuous stream of DJs performing on them as they traveled the playa.  In reality Burning Man had more stages than any music festival I have ever been at.  There was definitely a lot of whomp and circumstace with artists like Ill Gates, The Stanton Warriors, and Deekline playing multiple sets at different spots.  I found myself jumping from venue to venue only stopping if I heard something that got me dancing.
On Thursday I went out of my way to go to Black Rock Boutique where I heard that Timothy Wisdom would be spinning bass-heavy anthems and dance music for all to enjoy.  When I got to Black Rock Boutique I found a long line of folks waiting to get in and be clothed for free with the help of the boutiques designers.  Old clothes and costumes were re-imagined and people would exit on a catwalk to the cheers of  people in line.  When a call for volunteers came, I jumped at the chance to skip standing in line.  My job was to hang clothes in the back room, and listen to Timothy Wisdom spin and engage the crowd while flowing over the music coming out of the monitors.  After about forty-five minutes, and multiple mandatory union beer brakes, I was free to go out and catch the rest of Timothy's set from the boutique floor.
Friday I spent the day at Funky Town where a who's who of Ghetto Funk and Glitch Hop had gathered to play, in my humble opinion, the best party of the week.  Spinning was MoPo, AGFA, Fort Knox Five, Stickybuds, J Pod, Funk Hunters, and Ali B.  Every set was great and my booty never stopped bouncing unless it was to hit up the bar for another Rye and Ginger, or to snap a photo.  My favorite sets came from Jon H of FK5, Stickybuds, and J Pod.  I love the music of Fort Knox Five, and Jon H was the man who inspired me to come to the burn, what more can I say but THANK YOU.  Stickybuds is from the funkafied West Coast of Canada.  Also a virgin at Burning Man, Tyler brought his unique mix of Funk breaks, Hip-Hop, Reggae, and big basslines to the desert.  When I asked Tyler what his favorite Burn moment was he replied, "exploring the first full night I was there with three of my best friends and going on adventures.  Playing at Funky Town and watching the Man burn."  Be sure to check out Stickybuds, he will  be giving a new track away every Tuesday for the next few weeks on Soundcloud.   He also has a new Ghetto Funk record in the works, and a new Jungle Cakes record with Ed Solo coming out soon.  My other favorite was J Pod, also from Canada's left coast.  With glitchy rhythms, big bass, and intelligent instrumentation, J Pod reinvented familiar songs to keep the crowd moving in this his second year at the Burn.  When asked about his favorite Burning Man moment Jason replied, "every time I entered the temple – especially the memorial for my dear friend Pamela."  Be sure to check out J Pod's newest album Halfsteppin' and watch for his Sunday set at Fractal Nation, a remix called "Folk & Frolic" which will be released for free download very soon.
There were so many magical and inspiring moments including the Burning of the Man and the Temple of Juno.  Now that it is all over and I begin to reintegrate myself into normal society I miss my litter mates from the Intergalactic Disco Kittens, and the playa and it's dust. Tony Bennett once sung, "I Left My Heart in San Francisco."  Maybe it was because Burning Man started on a beach in San Francisco.  Ok, I know that the song was originally written in the 1950's and the first Man wasn't built on Baker Beach until 1986, but I will tell you I left my heart in the Black Rock Desert.
Wherever the music is, you'll find me with my camera, shooting on street corners, from barstools at clubs, from the side of the stage at theaters, and from photo pits in places like Red Rocks. Clicking away, trying to capture the emotive essence of music, and all those moments that we forget because of one too many Pabst Blue Ribbons.