Below is a feature that I published in The Marquee Magazine back in 2004.  The Arcade Fire had just released Funeral and were about to play Denver for the first time at The Larimer Lounge.  It's interesting to see how the wave of buzz was enveloping them way back then and how they were reacting to it. Enjoy this trip back in time to before The Arcade Fire were winning Grammys, playing arenas, and headlining Coachella.  Do not miss your chance to catch them this weekend!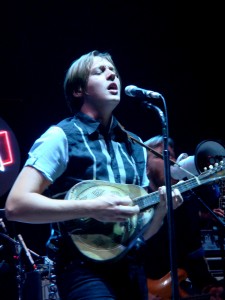 Photo by Tim Dwenger
The Arcade Fire is what is missing from today's indie-rock scene. The band challenges its audience's ears with an explosively energetic performance, utilizing a wide range of instruments and an unfettered vocal assault. However, they also challenge their audience's minds with lyrics that are carefully thought out and pieced together bi-lingually from a lifetime of trying experiences.
Hailing from Montreal, Canada, The Arcade Fire is the brainchild of lead singer and primary songwriter Win Bulter. Together with his wife, Regine, Butler crafts the lyrics that the band delivers to rapidly growing audiences across the U.S. and Canada on an almost nightly basis lately.
"We are the flavor of the month," Butler told a packed house at the Mercury Lounge, in New York City, during the CMJ music festival just a few months ago. The media and their fanbase seem to be proving Bulter wrong, however the band is maintaining a modest outlook. "We worked very hard on the record and we are all really happy with it, but it still seems like winning the lottery right now," said bassist Tim Kingsbury, in a recent interview with us.
With sold-out shows dotting the country from New York to Los Angeles and their name appearing in publications as iconic as the New York Times and Rolling Stone, the 'hype' around The Arcade Fire does not seem to be burning out. Consider that they sold out their debut LA appearance in December more than a month in advance. "We have added two more shows out there in January," Kingsbury said, referring to how the band is amending their tour schedule to accommodate increasing demand.
The cliché "What doesn't kill you makes you stronger" seems to ring true with resounding clarity when it comes to this group of musicians. The trying times that were the early days of The Arcade Fire were punctuated by the deaths of several family members who were close to the band, and also by a couple of near breakups. "There were some disagreements with people who were involved with the band that couldn't be worked out for one reason or another, but we still all wanted to maintain our friendship," Kingsbury said. "It was a painful process but it seems to have run its course."
The group's full-length debut, ironically entitled Funeral, was released on Merge Records in September and was named in tribute to those who passed on.
While the somewhat morbid title and the circumstances surrounding the recording process would lead some to believe that the record would sound like a somber trudge through the mind of a misplaced 20-something, nothing could be further from the truth. In the gripping and surprisingly danceable 45 minutes of music packed onto this disc, The Arcade Fire conjure up images of '80s rock superstars Davids, Bowie and Byrne. They sing in both French and English, and incorporate strings and accordions without breaking stride.
"We really have too many influences to list, but we are all fans of several of the same bands. David Byrne for instance," Kingsbury said. "He came to our show at the Bowery Ballroom in New York just a couple of weeks ago and we got an email the next day saying how much he had liked our performance."
A further testament to the unique sound of The Arcade Fire is the strings that saturate the album. During the recording process seven string players were called upon to actualize Regine and Win's vision of what the songs could sound like. "Regine was classically trained and has always heard strings in everything we play whether or not we added them. It is rare that we play a song and she doesn't say 'I could hear strings here.'" Unable to support an entire string section while touring, the duties have been placed squarely on the shoulders of violinist Sara Nuefeld for the band's live performances.
Their secret seems to be their finely craftedsongs and their dynamic stage presence. It would seem that their efforts to engage the audience have paid off, as there have been reports from venues on the recent tour that the band has used everything from helmeted heads to overhead pipes as percussion instruments. In an effort to stay entertained and not become a burnt-out legacy before they take off, the members of the band are proud of their ability to entertain themselves while entertaining an audience. "I was just commenting to our soundman yesterday, I wish I could join the audience and watch us perform one night," Kingsbury said.

Music has always been a part of my life. It probably all started listening to old Grateful Dead, Peter Paul & Mary, and Simon & Garfunkel records that my parents had, but it wasn't long before they were taking me to concerts like Starship, Crosby, Stills & Nash, and Huey Lewis & The News. I got the bug to write about music after reviewing an Eric Clapton concert for a creative writing project in high school but didn't really take it up seriously until 2002. Since then I have published countless articles in The Marquee Magazine and done some work for Jambase.com, SPIN Magazine, and various other outlets. I started Listen Up Denver! as a way to share the music information that is constantly spilling out of my head with people who care. Please enjoy!