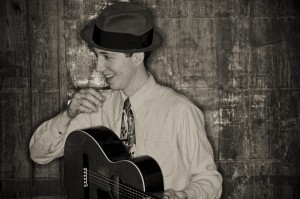 Photo by Paul Nordmann
We had the pleasure this week to chat with one of the most unique and exciting names in Americana music, Pokey LaFarge.
LaFarge and his band, the South City Three, have the distinctive ability to take a listener's ear by surprise and turn them into an instant fan. Nobody is doing Roots music quite like they are, and people have been taking notice.  In the past two years Pokey and the boys have appeared on NPR's Tiny Desk Concert series, a BBC New Year's Eve special hosted by Jools Holland, recorded a song for HBO's Boardwalk Empire, played hundreds of gigs (including several in support of Jack White), and were featured at the Newport Folk Festival.  If that isn't enough, their most recent album, Middle of Everywhere, won the Independent Music Award for Best Americana Album.
LaFarge is a man who seems as authentic as the music he makes.  He's a man of conviction and his values are the solid foundation on which he builds his music.
We caught up with Pokey while he was on the road between shows on Thursday. He was as friendly as you'd expect, southern drawl and all, and a real pleasure to talk to.  You can catch him Tuesday night with Shovels & Rope at the new eTown Hall in Boulder.
Listen Up Denver!: To start off, I know you recently played Red Rocks with Jack White, what was that whole experience like?
Pokey LaFarge: Oh boy, you know, it was kind of like a mirage in a way. I don't know if it's really sunk in yet 'cause it's such an ethereal type place. There's just nothing else like it. So you don't really have anything else to compare it to and then when you get there and you do it, play it and everything, it's gone, it's just kinda like a dream. But of course the build up to it was exciting and everyone told us we played it, so I guess we played it. Check that one off the list. The sound there is amazing, I remember that, the sound was absolutely incredible there. That felt really good. Really big, nothing was tinny about it.
LUD!: How's that been going, touring with Jack White?
PL: Good!  You know, the last show we did with him was in Portland. That was about a month ago and we have like eight more shows coming up with him starting September 29th and 30th. We're doing Radio City Music Hall in Manhattan.
LUD!: Two nights, right?
PL: Two nights.  Then we have a couple nights in Toronto, Montreal, Atlanta Georgia, Jackson Tennessee, and the one I'm lookin' forward to the most, which is Cain's Ballroom in Tulsa, Oklahoma. Which actually was originally Cain's Dance Academy, the home of Bob Wills and the Texas Playboys.
LUD!: So that takes the cake over Radio City?
PL: Over Radio City? Absolutely!
LUD!: To feel like you're a part of the history of that room?
PL: Well, yeah, The Rockettes are cool and everything like that, but they don't compare to Bob Wills. It's just like the Ryman Auditorium. We played there with The Raconteurs last September 15th. We're going to be opening up for Old Crow Medicine Show on New Years Eve at the Ryman Auditorium in Nashville and that's definitely number one.
LUD!: How do you think your music has translated to those larger venues that Jack's playing?
PL: Oh, well, great, better I guess than some could anticipate. It helps to have a really great sound system; it helps to have a great board. Jack's folks do sound for us at those gigs and they have a great board.  It's an analog board, and great sound system, and great sound men, you sound big and warm.
LUD!: For you as a performer, how does playing a big place like Red Rocks compare to Off Broadway in St. Louis.
PL: Well that's a good question, there's certainly a huge difference. The Red Rocks one was pretty overwhelming at first, I would say. It lends itself to not necessary the faint memory, but perhaps the realization that I actually played there. It's almost like it was over as soon as it started. But, you know, Off Broadway where you have 350-400 people, you can see every face. I wouldn't say that I prefer it at this point, but I like the challenge of the bigger venues because they're new to us, but there's the comfort of the small clubs that we're used to playing.
LUD!: For the people who haven't heard of you, how would you describe what you guys do?
PL: (Yells at people in the background to "turn it off and open some windows") Sorry man, we're making this boring drive from San Francisco to Los Angeles. I don't know if you've ever made that drive, but I would suggest flying.
LUD!: How was San Fran?
PL: San Fran was good, man. Really interesting club we played called Café Du Nord. Really cool club.
LUD!:  Back to what I was saying, how would you describe your music to stranger if they asked "Hey what do you do man?"
PL: Well, two guitars, upright bass,  harmonica, and vocals. My songs are certainly a little bit Western Swing, a little bit Country Blues, a little bit string band, a little bit early Jazz, a little bit of Soul, and kinda all wrapped up in the mind of a well traveled nerdy Midwestern white kid.
LUD!: That's a good way to put it.
PL: It's different every time. It's hard to explain. It's not really up to me to explain. I just put it out there and let the critics take care of it. They're the ones that slap the names of the genres on there in the first place.
LUD!: Since your popularity as taken off in the last two years, what has been the biggest change for you? And the biggest surprise?
PL: Well, obviously the biggest surprise has been the touring that we've been doing with Jack. Just because of the singularity of the opportunity and the venues that we're playing.  Never thought we'd play Radio City Music Hall or Red Rocks. Really though, not a whole lot has changed.  I'm still gonna do what I wanna do, when I'm gonna do it, musically.  That's what's got me this far! You just kinda haveta trust yourself and know that what you wanna write, and what you wanna play, and what you wanna sing is the right thing.
LUD!: Are you ever afraid people will see what you do as some sort of novelty act?
PL: I know a lot of people out there who had to work really hard to get where they're at, nothing was given to them. So you go against the grain to get there. I mean, just for the record, if someone was gonna say that about my music, what is Taylor Swift playing? Country? If anything that seems like a novelty to me. More specifically, a flat out lie and an insult to all of the people that put that term "country" out there and made it what it is. But, going back to the original question specifically, people should lighten up.  Some of the best music out there is novelty music. Again, Bob Wills, some people call Bob Wills novelty.  But you know what? People like to shun people with what they'd say is an "aw shucks" kinda attitude. Or denounce people because they're Country, or because they think they're rednecks, or even because they're purely Southern.  And that's a shame, you know. And it's hypocritical. So much great music is "Southern Music." So, nah, you stay true to what you do and enjoy puttin' the music out there that you wanna put out there and the folks come along with ya are worth it. I'd be the first to say that my music is not for everybody.  I don't think that any music should be for everybody. I think that most music that is for everybody is garbage.
LUD!: What do you find lacking in modern music, specifically Folk music, today?
PL: Ooo, that's a good question.  What's lacking in Folk music first of all is musicianship.  That's pretty important. That's what gets lost in Pop music, but especially in modern music. It's like nobody really plays their instruments well anymore. That's not focused upon anymore, like "Damn! that's a good Guitar player" or "Shit man! You hear that horn player?" "Wow! What a pianist!" You don't hear that stuff anymore in Pop music…you don't hear that stuff at all. Whatever happened to playing your instrument well? That's the problem with digital technology. I mean hell, you know, any kid can just sit there with a computer and he doesn't have to go to music class at school. Those things are taking the funding away from music education. It's easier now for big music business to just feed this garbage to people and that only strengthens my resolve, and what I'm putting out there. I'm not saying I should be worshipped or anything like that, nothing like that as a matter of fact, I'm just saying that I'm just another guy in the evolution of real American music.  I'm looking back before I go forward, but I'm not livin' in the past.
LUD!: Where exactly would you say your style comes from on the Guitar?
PL: The Piedmont Blues which comes from North Carolina, South Carolina, and Virginia.  I like a lot of that stuff. Blind Boy Fuller, and Robert Wilkins from Memphis, Blind Blake, and the names go on and on. There's a little bit of Fingerstyle stuff, a little bit of some Jazz guitar, Eddie Lang and Teddy Bunn, a little bit of Eldon Shamblin, Jimmy Wyble from Bob Wills' band. There's even a little bit of Banjo playing in my right hand when I [makes galloping noise] with the right hand since I grew up playing tenor banjo with my grandfather who was in the St. Louis Banjo Club. So, a big mixture of a lot of things.
LUD!: So you seem to really romanticize the past, from the way you dress to your music, of course. What specifically is it about the period from the 1920's to 40's that excites you? What's there that makes you fall in love with it?
PL: Well I don't think it's a specific thing, but more it's my quest for honesty and purity and quality.  Quality is a major thing.  When we made things in this country we were a truly proud country.  People now are just blindly proud of their country. We're finding less and less reasons to be proud of where we came from these days. This is a country that created and innovated a lot of modern technology. Not only music, but of course music's a big passion of mine.  We  have to be proud of our music and that's why I'm so passionate about putting out good music, or at least what I think is good music. But it's just quality.  Of course I like the style and everything like that, you know I like the style of different things of the early 20th century. You find these clothes and they're better quality fabrics, better quality clothes, and made in America as well.  They're not made by a sweatshop in East Asia.
LUD!: Are you clothes actual vintage pieces or reproductions?
PL: Yeah, most of them are vintage pieces.  I like to wear a lot of work clothes as well.  You can still buy a lot of good work clothes in America. I think it's unfortunate you can't find a lot of Dickies or Carhart in America, but you can still find other work clothes that were made in the states.
LUD!: If you could have been born into an earlier generation, would you?
PL: Nahh, like I said I'm not livin' in the past. I'm definitely looking back before I go forward but I think that anyone else would do the same thing.  What do ya think politicians do? Politicians need to study the past all the time to keep themselves from makin' mistakes in the future. It's like that old quote "People who don't study the past are doomed to repeat it." And I'm not tryin' to repeat anything, of course, I'm tryin' to hold values that I think are being lost, values that made us what we are today, made me love my family so much and things like that.  But, nah, it's irrelevant, I'm here today, and I'm livin' in the now.
LUD!: I read that you're recording a new album, what's the deal with that?
PL: Yeah, we are, we're about half way done.  I think we've got five or six tunes in the can. But actually we'll probably add another eight or nine before we call it quits in the studio.  We'll be finishing the record up in November when we get back from Europe. We're recording down in Nashville with Ketch Secor from the Old Crow Medicine Show and we have a lot of really awesome musicians sittin' in on it and that's making the album pretty good. We can probably even start adding another band member for some touring at the end of this year or next year.
LUD!: What band member would that be?
PL: He's gonna play coronet and the lap steel.
LUD!: Nice, I love the lap steel.
PL: Yeah, he's a killer lap steel player. Plays in C9 and E9, you know, really good Western Swing.
LUD!: What else do we have to look forward to on the album?
PL: Well, we did the old Jazz tune "Love Sick Blues," a recording I made with Vince Giordano who is the band leader for the Jazz band on Boardwalk Empire, so that's coming up on Sept 23rd, the second episode my song will be on there, so I'm pretty excited about that. We're going to Europe again, and a whole lot of touring next year.  Gonna try to take a vacation in January.
LUD!: When you get off the road is it back to St. Louis for you? Or what do you have planned?
PL: When we get off the road we're going to Nashville for a couple weeks in November to finish the record so I won't really be off the road until about Christmas time.  But then, yeah, I'll be in St. Louis for about a month and half or two months before things start getting' crazy. Might take a vacation somewhere, but yeah, St. Louis is home. South City St. Louis, to be exact.
LUD!: What's your writing process look like?
PL: The writin' process a lot of times for me starts out musically.  I'm very tied to melody when I write, of course it's kinda like momentum for the words to start followin'. So I just kinda sit with a guitar and somethin' will usually come up or I'll be sittin' there and melodies just come to my head and I'll pick up a guitar and more often than not figure out something from there. Then the words will come and of course the hook's very important.  The chorus is very important to me.  So then I bring it to the band to come up with an arrangement and each guy will have their own ideas and kinda work it out from there.
LUD!: Are you familiar with the eTown format?
PL: Yeah, the host Nick Forster is actually in one of my favorite bands of all times, Hot Rize.
LUD!: So, you know two bands take turns and then at the end they'll play a cover together.  I was just wondering if you have a go-to cover song that you like to play with friends in a casual environment.
PL: Yeah, you know, what they call three chords and the truth. Probably something like that, probably a little three chord wonder.  I don't know who the other band is we're playing with.
LUD!: Shovels and Rope
PL: Oh! Is that who it is? Oh shoot, well Goddamn, we'll look forward to playing with them. They're a good band.
LUD!: And to wrap it up, as a musician, what's the greatest piece of advice you've ever received?
PL: Willie Nelson said, "Never lose your nice." That would be from the business aspect of it, but musically, it's to remember the people that came before you. To say that you would reject the legends of all different kinds of genres that came before in American music would be asinine. If you look at most legends past, present, and will-be future, they're people that have embraced the music that came before them and had those influences clear and apparent but yet view them with their talent, if they have it, to create their own thing.