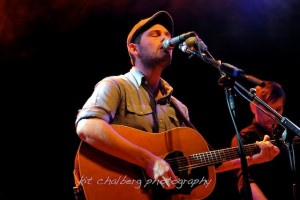 Photo by Kit Chalberg 
We have a pair of tickets to see Gregory Alan Isakov at Chautauqua this Friday night.  
All you have to do to be entered is post
"I want to see Gregory Alan Isakov on Friday Night at Chautauqua" on our Facebook wall. 
For those of you not on Facebook, shoot us an email at listenupdenver@gmail.com saying:
"I want to see Gregory Alan Isakov on Friday Night at Chautauqua"
PLEASE NOTE: Entry deadline is 11am MST Thursday, September 20th and the winner will be
notified by email or Facebook no later than Noon MST  that same day.
Why You Should Go: You don't want to miss this very special opportunity to see one of the decade's rising stars in the intimacy of Chautauqua Auditorium.  Born in Johannesburg, South Africa, and now calling Colorado home, Gregory Alan Isakov has been traveling all his life. His songs reveal a masterful quality beyond his years, and tell a story of miles and landscapes and the search for a sense of place.  His song-craft lends to the deepest lyrical masterpieces, with hints of his influences, Leonard Cohen and Bruce Springsteen. He has been described as "strong, subtle, a lyrical genius."
Venue: Chautauqua Auditorium, 900 Baseline Road, Boulder, CO 80302 (303)442-3282
Doors:
7:00 PM
*Price:
ADV – $20.00, DoS – $25.00
PURCHASE TICKETS
*All times and prices are gathered from other sources and we are not responsible for mistakes or inconsistencies. They are intended only as guidelines. Please, always call the venue if you desire the most accurate information possible.