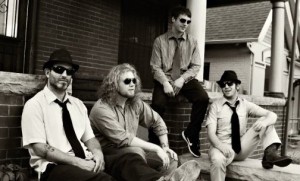 Photo by Lisa Siciliano
Denver's Fox Street Allstars have announced their ambitious Ridin' Dirty Fall 2012 Tour through the southeast. Prior to their departure, the band headlines Craigstock in Denver, CO at Cervantes' for one of their last Denver area shows ofthe year.
This will be the band's first headlining tour through the region and comes on the heels of a very successful fall 2011 tour with The New Mastersounds. In addition, the band is currently wrapping up production on their sophomore album which is scheduled for an early 2013 release and is tentatively titled Tough Talk.
Make no mistake, the Fox Street Allstars (FSAS) reek of the roadhouses and West Texas honky-tonks of the Deep South that inspired their signature sound.  The band brings an all-out-party to every show by pouring their hearts and souls into every note.  No one really has any idea where front man Jonathan "Skippy" Huvard channels his soulful, whiskey soaked vocals and frenetic stage presence but the result is a blistering powerhouse of sound that defies his age and time itself.
"We are very excited to return to the southeast," Huvard said. "This is a part of the country that has really embraced our sound. This tour is going to be pretty nasty and full of filthy funk. Our goal is to make the audience dance their asses off at every stop."
From the first note of their debut album Welcome To Mighty Pleasin' to the last, the FSAS have proven that they can take their high energy stage show, inject some heartfelt ballads, and create an album that will please fans of funk, blues, soul and rock-n-roll alike. If their opening slots on multiple national tours with funk legends The New Mastersounds are any indication, the FSAS are a band that is poised to break through into the mainstream at any moment. There's a reason why artists like Papa Mali, Robert Randolph, Brian Jordan, Nigel Hall, Stanton Moore, Tony Hall, Corey Henry, The Motet, George Porter Jr., and others have sat in extensively with the band: musicians realize these guys have serious chops and the sound is some serious fun.
 Fox Street Allstars "Ridin' Dirty Fall 2012 Tour"
9/27 – Silver Tongue Devil Saloon – Green Mountain Falls, CO
9/29 – Craigstock – Cervantes' – Denver, CO
10/4 – Jackpot – Lawrence, KS
10/5 – Jim Porter's – Louisville, KY
10/6 – TBA
10/8 – Smith's Olde Bar – Atlanta, GA w/ Ultraviolet Hippopotamus , The Tontons
10/9 – Newby's – Memphis, TN
10/10 – Crossroads Live – Huntsville, AL
10/11 – Thomas Street Tavern – Charlotte, NC
10/12 – Nowhere Bar – Athens, GA – OFFICIAL JJ Grey & Mofro After-Party
10/13 – Smokehouse – Hilton Head Island, SC
10/14 – Broad St. Social Club – New Bern, NC
10/15 – Broad St. Social Club – New Bern, NC
10/16- Five Points Pub – Private to SAE and USC – Columbia, SC
10/17 – The Pour House – Charleston, SC
10/18 – GATA's – Statesboro, GA w/ Former Champions
10/19 – Funky Blues Shack – Destin, FL
10/20 – Funky Blues Shack – Destin, FL
10/22 – Howlin' Wolf – New Orleans, LA w/ Billy Franklin Band
10/24 – TBA @ Last Concert Café – Houston, TX
10/25 – Stubb's – Austin, TX w/ Mudphonic
For a complete list of dates, please visit www.foxstreetallstars.com.