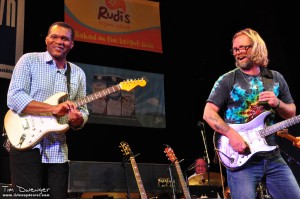 Photos by Tim Dwenger
As those of you have been to a taping of the long running eTown radio broadcast know, the format of the show doesn't exactly lend itself to our typical review format, so I'm tossing that out the window for this one.  The other thing that you know, is that eTown is known for bringing some incredible musicians together on the relatively small stage of The Boulder Theaterfor some fantastic performances.  Last Tuesday was no different as two shades of The Blues joined host Nick Forster in eTown for the evening in the form of Robert Cray and Anders Osborne.
The evening started out with a short movie introducing us all to the brand new eTown Hall that was recently completed in downtown Boulder [Editor's note: Look for our review of Pokey LaFarge and Shovels & Rope from eTown Hall shortly] and it wasn't long before we were neck deep in The Blues as five time Grammy winner Robert Cray and his band took the stage for the first of two short sets.   From the moment he touched his guitar strings, it was vintage Cray.  Almost percussive at times, his strumming and voice rang through the theater before he stepped away from the mic and slipped into a lyrical and expressive solo that demonstrated exactly why he is a living legend of The Blues.
Cray was all about showcasing his new record Nothin' But Love for the national radio audience and during his two sets he ran through four or five cuts from the project including "(Won't Be) Coming Home," "Fix This," "Side Dish," and "Worry," but it was "Two Steps From The End" from his 2005 release Twenty that left me speechless.  It wasn't because of Cray's Guitar playing or vocals, I had come in off the street knowing what to expect there, but rather it was the mind blowing Organ solo that his longtime keyboard player, Jim Pugh, laid down midway through the song.  As he pushed the instrument to it's limits, I noticed I wasn't the only one wow'd by the performance as I caught a couple of the sound guys on the side of the stage whispering and pointing as Pugh's fingers danced on the keys.
As is the custom in eTown, the music sets were broken up by individual interview segments with each of the musicians where Forster gets to play journalist.  Cray's segment flowed nicely and included some amusing anecdotes about playing with legends like John Lee Hooker and Muddy Waters (apparently Muddy Waters used to refer to himself in the third person according to Cray), while Osborne's got a touch awkward when Forster asked him about his battles with addiction.  "There's white paint all around" Osborne said gesturing toward the ground as he nervously shifted in his chair "and I'm in the corner."  While it was clear that he wasn't really open to talking much about his problems, he did eventually concede that he's "tried just about everything."   The awkward moment aside, Osborne and Forster seemed to get along well both during the conversation and on-stage as they jammed together on one of Osborne's originals and on the show closing group sing-along.
Osborne's set, sandwiched between the two Cray Band sets, featured the guitarist playing both a couple of solo acoustic numbers, and a few on electric with the help of the more than able house band, The eTones.  He kicked off his set with the tender "When Will I See You Again," on the acoustic and though the song lost some of the rockin' feel it has on the record, I think this acoustic treatment was almost more appropriate as Osborne poured himself into the vocals.  He lightened things up a bit with the quirky "Summertime In New Orleans" before breaking for the interview with Forster.  He returned for another solo acoustic number before inviting the eTones to join him, and turn the volume up, on "Tracking My Roots" and "Echoes of My Sins."  I know there were many wise old Blues fans in the house who had come to hear Robert Cray and I'm pretty sure they left with a new artist on their radar by the time Osborne finished his set.
The show ended with all 10 or 12 musicians joining together on stage for a Bluesy take on the old Harlan Howard tune "Busted" that was made famous by Johnny Cash and Ray Charles.  As Cray and Osborne traded verses, Forster got into the action with a few solos of his own.  But the real highlight of the tune was when Osborne, a New Orleans resident, ad-libbed a verse about going through a hurricane and Cray came over and put his arm around him.  It was a touching moment of humanity that broke down the walls between these two musicians and showed everyone in the theater that the tragedy of Hurricane Katrina still hangs heavy in all our hearts.
If you haven't been to a taping of eTown, do yourself a favor and get up to Boulder to see one.  It's a great part of the musical culture of Colorado and you are bound to be turned on to some new music . . . and hell, we all need that!
Music has always been a part of my life. It probably all started listening to old Grateful Dead, Peter Paul & Mary, and Simon & Garfunkel records that my parents had, but it wasn't long before they were taking me to concerts like Starship, Crosby, Stills & Nash, and Huey Lewis & The News. I got the bug to write about music after reviewing an Eric Clapton concert for a creative writing project in high school but didn't really take it up seriously until 2002. Since then I have published countless articles in The Marquee Magazine and done some work for Jambase.com, SPIN Magazine, and various other outlets. I started Listen Up Denver! as a way to share the music information that is constantly spilling out of my head with people who care. Please enjoy!