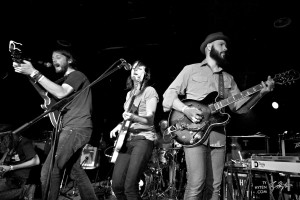 Photos by Ty Hyten
The Scene: Sporting impressive beards, day-old flannel and t-shirts, and friendly smiles, The Knew and These United States set up shop last Thursday night to play music for a faithful crowd at The Hi-Dive. The audience of mostly twenty-something Denverites seemed anxious to hear some good music and weren't necessarily interested in a cold beer or a flirty conversation.
Opener: The Knew. Though a new sound to many in the crowd, The Knew is a band that's been around the block and back, having actively started playing music together in 2005.  They have appeared on the touring circuit at festivals such as South by Southwest, Mile High Music Festival, and The Monolith Festival, and they just released their great second full-length album, Man Monster, in August. [Editor's note: Read our review of Man Monster here]  Throughout their set, The Knew encouraged dancing, with front man Jacob Hansen telling the crowd, "Front row's not just for babes."
Songs such as "Before It Ends," from their EP of the same name, lent a punky "get close to the band and jump up and down" energy that was irresistibly fun.  The Knew carried us through their set with uplifting tunes that felt familiar and exciting. If The Doors and Spoon got together, I'm pretty sure the output would be something similar to what The Knew is producing. Rich and emotional vocals supported by powerful guitar licks and an unstoppable energy, the soulful spirit of The Knew had us dancing early in the night.  There is clearly more to be heard from this band.
These United States: Encompassing adolescent invincibility and the shining spirit of lyrical sensitivity in Rock-and-Roll, These United States came on strong from the get-go. Delicate harmonies from bassist Anna Morsett were a feminine contrast to the edgy sound coming from her instrument. The eye-openers didn't stop there, nor at the bouncy exuberance from behind the drums where Aaron Latos seemed to be enjoying the show as much as we were.  Electric guitarist J. Tom Hnatow pulled out the pedal steel and bathed the room in a slow, sorrowful echo that drew us in and quilted together the quintet's eclectic sound.
Perhaps its because These United States have been a united front for over half a decade, and have recorded five full-length albums (the most recent of which, These United States, dropped on June 12th of this year). Or, perhaps it's because the band has played over 900 shows during those impressionable years. Whatever the reason for their exclusive sound, These guys filled the Hi-Dive with a Punk-tinged Folk sound that cried out to be Rock.
That cry was heard (and seen) in lead singer Jesse Elliott's sweat-drenched shirt and jittery eyes as he searched the room for a fresh set of ears to impact. Just in case he wasn't touching enough people with his intense gaze, Elliott jumped into the crowd toward the end of the band's set, pointing excitedly toward the band which, in a way, made us even bigger fans.
The band ended the night with a rambling and high-spirited version of "I Want You to Keep Everything," an anthem that seemed to move something deep inside all of us still hanging around the Hi-Dive in the late hours of the night. Not saving a breath for an encore, These United States left us in a haze as we recalled songs such as "The Park," and it's stirring lyrics that set an inspiring tone to get us on our way: "I have this problem where I want the good times to never end." Nothing could be truer and, as the lights were turned up, the band looked more and more like old friends of ours who we can't wait to commune with again on their next stop through Denver.
Energy: A-
Musicianship: B+
Sound: C
Stage Presence: B+
Set/Light Show: B-
Overall: B
After growing up in Missouri listening to vintage records of The Allman Brothers, Carly Simon, and Stevie Ray Vaughan, I was hooked to the live music scene and the contagious sounds of guitar licks and soulful lyrics. After moving to Colorado, I've been contributing to Listen Up Denver! as a freelance photographer and writer. I've also started a side project, KellYeah Photography, which gives me the opportunity to pair my passion for live music with my creativity and love of being around people. Aside from photography and writing, I'm an avid hiker of Colorado 14ers and a beer enthusiast.