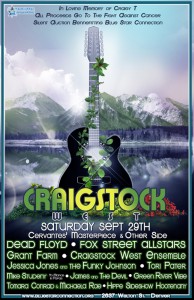 It's that time of year again Colorado!! Craigstock 2012!
Mark your Calendars for a very special event happening this Saturday, September 29th at Cervantes Masterpiece Ballroom and Cervantes Other Side at 2635 Welton Street in Denver.
This will be the 6th annual Craigstock event held in Colorado. Craigstock was originally created to be a celebration of the life of a dear friend to many, Craig Thomason, who passed away in 2007 from Stage IV Melanoma. Since then, this celebration has grown to become a yearly fundraising event to celebrate friendship and music, as well as to raise money to donate to different organizations who aid in the fight against cancer. There will also be a silent auction with amazing items to bid on. Proceeds will benefit a truly wonderful charity organization, Blue Star Connection, that provides musical instruments to children suffering from different types of illnesses.
This year the bar has been raised as the event has now moved into both sides of Cervantes'. The organizers of Craigstock have really outdone themselves by booking some of the most talented local musicians from Denver and surrounding areas, including Tamara Conrad and Michaela Rae, The Craigstock West Ensemble, Grant Farm, Dead Floyd, Mike Studeny, Funky Johnson featuring Jesica Jones, Green River Vibe, James and the Devil, Fox Street Allstars, Steve Suh, Tori Pater, Hippie Sideshow Hootenany, and Yo Mammas and Papas.
Come on down for an amazing cast of musicians, to celebrate life and raise money for a really great cause. Tickets can be purchased online at www.cervantesmasterpiece.com or purchased for $20.00 at the door, and include access to both venues. We look forward to seeing you all next Saturday, September 29, 2012 at Cervantes Masterpiece Ballroom and The Other Side. Doors open at 5:30pm, the music begins at 6pm and goes on until at least 2am. Come early and stay late! It's a great party and the feel good event of the year!
– By Traci Lynn Markle