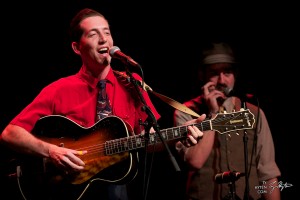 Photos by Ty Hyten
The Scene:  Tuesday night I found myself at a place I have been hearing about for a few years before eTown shows, the new eTown Hall.  While the venue is still a work in progress, I'm already a big fan.  The sound and lighting were second to none. The staff was as kind as ever as they directed first timers around the ninety-year-old converted church, which was covered in fresh paint, modern accents, and had shiny sealed concrete floors. Catch a show now before ticket prices start skyrocketing for the 200-seat venue.
I took a seat towards the front of the room and was immediately surprised at the size and lighting of the stage.  The idle instruments were lit up perfectly by the scores of colored LED lights above.  As I looked around I was surprised to see quite a few baby boomers surrounding me, half answering my question of what the crowd at a Pokey LaFarge show might look like.  As 7pm grew nearer the gaps in the seats were filled with a big group of 20 and 30 somethings who balanced out the demographic.
Pokey LaFarge and the South City Three:  The show started as all eTown recordings do, with applause metering and a general overview of the recording that was about to take place before us. After the production formalities and introductions, a young man in his grandpa's clothes took center stage with a wide smile and a 1946 Epiphone Spartan around his neck.  Pokey LaFarge, backed by Joey Glynn on Upright Bass, Adam Hoskins on Guitar, and Ryan Koenig on a handful of instruments, kicked the night off with the rich Americana sound that each critic has their own struggle putting a name on.
When I spoke with Pokey last week [Editor's Note: Read that interview here], he mentioned that he felt musicianship was lacking from much popular Folk music today. That might sound like a bit bold, but once you hear Pokey and the boys make their rounds you understand.  Each member could take the song and grab the wheel with lively and skillful picking, blowing, and whatever you do to a washboard.  Something about Pokey's music made me smile. I don't know if it was the contrast of the music to the modern world, the spirited solos, or the wardrobe.  Whatever it was, it works in its own unconventionality.
After two songs of Riverboat Ragtime Country Blues Americana Jazz Western Swing, dotted with killer harmonica solos and powerful leads, Pokey sat down with Nick Forster for the interview.  Pokey sat back calmly and comfortably as he chatted with Nick about influences, working with Jack White, and how the group got together.  After a few good laughs and some more music the focus turned to husband and wife folk country duo Shovels & Rope.
Shovels & Rope:  Cary Ann Hearst and Michael Trent took the stage with just a Guitar, a small keyboard, and a Drum set.  Cary was dressed in what could be described as Larry the Cable Guy's Sunday best and had the big personality to match it.  Michael was a tad more reserved but they two sure had musical chemistry when they played.  They filled up the room with a lot of sound despite the limited instrumentation and kicked things off with one of my favorite songs of theirs, "Birmingham." Throughout their set, the two traded off between Guitar and Drums and even made use of a Korg synth which fit surprisingly well.  Their big voices and driving, county influenced songs, made for really great listening.  The two chose to stand while being interviewed by Nick, and Hearst's Southern-girl persona made for some big laughs as they gave us insight into what life on the road as husband and wife is like. I'll avoid saying too much about either interview for fear of spoiling it before air.
Denis Hayes: The show's E-chievement guest was Earth Day co-founder Denis Hayes.  Denis had a lot to say about the history of Earth Day and a time of bipartisan cooperation around environmental issues.  He also spoke in depth about his huge progress in green building in the Northwest.  Hayes referred to eTown Hall as "perhaps the greenest theater in the entire world." Catch the entire insightful interview when the full program airs.
The show came to an end in standard eTown fashion with both acts and the hosts, Nick and his wife Helen, playing together.  The group gave us a unique take on Chuck Berry's "30 Days." It was a fun tune and there was no telling they hadn't played together before earlier that day. Both LaFarge and Shovels & Rope are carrying the torch for the music of yesteryear through excellent performances and I promise I won't pass up a chance to see either next time they're in town.  You can catch the recording of the performance nearly everywhere in America when it airs in a couple of months. Locally you can listen on KBCO and KGNU in Denver/Boulder, as well as a handful of stations west of the front range.
Energy: A
Sound: A+
Musicianship: A+
Stage Presence: A
Set/Lightshow: A-
Overall: A