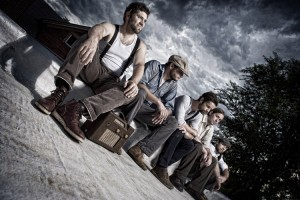 Photo by Scott McCormick
It's not often that a local band's debut CD gets me really excited, humming along to melodies, and even singing it's praises, but that's exactly what happened a couple of weeks ago when I plucked Strange Americans' A Royal Battle out of the haystack of music that comes our way.  Since then I've got a copy in my car, I've passed it along to a couple of writer friends, and I just can't get enough of it.  These guys have created a smoldering sound that is a well thought out blend of Alt-Country, Indie Rock, and Americana by cherry picking some of the best elements of acclaimed acts like Ryan Adams, My Morning Jacket, and The Band to influence their songwriting.  Earlier this week they were kind enough to take some time to answer our 20 Questions as they prepped for a big show on Friday night at The Hi-Dive with a couple of our other favorite local acts, Mosey West and Grub Street Writer.  Read on to learn a little more about these guys and then do yourself a favor and pick-up A Royal Battle, it'll make you smile!
Listen Up Denver!: How did you come up with your band's name?
Strange Americans: In 2009 we started a document working its way well into the hundreds (mostly due to Scott's ridiculousness ie: The Sharts).  We then met at Trent's house in Cap Hill where we proceeded to watch Jeremiah Johnson and cash off a bottle of Whiskey eventually realizing we were never going to agree but that Strange Americans was something we could all live with as a "working name."
LUD!: What is the line-up of the band?
SA: Trent Nelson (Vocals, Guitars, Banjo, Mandolin), Matt Hoffman (Vocals, Guitars, Harmonica, Keys), Murry Mercier (Vocals, Guitars, Keys), Scott Gunshore (Drums / Percussion), Trevor Sinnard (Bass)
LUD!: How would you describe your sound?
SA: The worst question to answer as a band… we lay somewhere among the roots of Americana Country Folk Rock.  We refer to it as "Barn Again Shoeglass."
LUD!: Who would you count as major influences on your band?
SA: We share a lot of similar influences, but each of us has our own favorites. We tend to draw from newish artists like Ryan Adams, My Morning Jacket, Dawes, Blitzen Trapper, Drive-By Truckers, Wilco, The Jayhawks, but also older stuff like Neil Young, The Band, Springsteen (more by accident), The Stones … there is a slew of incredible musicians we think have laid a great path before us.
LUD!: How did you guys get started playing together?
SA: Matt, who had previously sat behind a drum set, decided he was ready to start his own project.  He actually went to Craigslist, where he met Trent who had been active in a bunch of local projects and was looking to do more writing in something new. Trent knew Murry from a previous project.  Then, it was back to Craigslist where we eventually found Scott (drums).  Our original bassist, Ryan Honaker, made a move to California and it was back to the internet where Trevor just happened to be looking around…here we are three years later.
LUD!: Does anyone in the band have any formal musical training?  If so, what is it?
SA: We all have PhDs in axe ass-kicking. Think Paul Bunyan meets Jeremiah Johnson.
LUD!: Where was your first gig together and how did it go?
SA: Our first gig was at a bar on Colfax now called Lost Lake.  Back then it was called The Bull Dog.  We managed to fit all five of us up on a raised section of the floor, and it was really our first attempt at playing anywhere other than the safety of the practice space. It was definitely an interesting learning experience playing together for the first time—but definitely a great time. They ended up running out of glasses and had to go buy plastic cups from the store.
LUD!: What's your favorite memory of playing together?
SA: Probably our CD release this past summer. We got to play with a bunch of our super-talented musician friends and it felt like a celebration after hard work on something we are all proud of working on.
LUD!: Are you playing any shows coming up that you are particularly excited for?
SA: We're excited to join Mosey West and Grub Street Writer at the Hi-Dive on Friday, September 28th and are also real amped about playing with Chamberlin at Larimer Lounge on November 3rd. We've got a bunch of fall and winter shows lining up including a New Year's Eve show and a Mountain Tour.
LUD!: What is your favorite song to cover?
SA: Rock Lobster.
LUD!: What is the strangest request you've had at a show?
SA: Not sure about a request. But I can tell you about the strangest thing that's ever happened at a show. We were playing up in Edwards at a bar, and a lady fell off her barstool mid-set, followed by her cowboy lover. They proceeded to dry hump each other on the floor like their plane was going down. It went on long enough that we all have individual photos taken at the scene. Must have been the banjo.
LUD!: What was the first song you wrote together as a band?
SA: Matt and Trent came into the project with several written songs, some went on our original EP released way back when, but the first real Strange Americans original was probably "Places."
LUD!: Do you still play that song live?  If not, why?
SA: We do play it live. It has taken many shapes and it's fun to keep it dynamic—it's never the same although it's been with us since we started playing as Strange Americans.
LUD!: Have you released any of your material yet?  If not, do you have any plans to?
SA: A Royal Battle, our first full-length CD, was released on June 26th.  It was our third time in the studio, but first full-length album, and it was an amazing experience.  We got hooked up with Silo Sound Studios and got to work with John Macy, who was fantastic to work with. We've released a couple of EPs as well in the past three years
LUD!: What is your favorite venue in Colorado, and why?
SA: Trent's roof. There's a certain element of danger involved.
LUD!: If you could play on any stage in the world where would it be and why?
SA: Trent's roof. They just moved there in July. You should see it—it's pretty rad.
LUD!: If you could open for any band or artist, who would it be and why?
SA: It would be absolutely killer to open for The B-52s. Everyone knows that.
LUD!: What is the most outlandish thing your band would consider putting in your backstage rider?
SA: Hmmm.  Sea turtles.  We love turtles.
LUD!: What is your bands drink of choice?
SA: Bulleit Bourbon, preferably from the bottle, or neat from a crisp, clean tumbler.
LUD!: Can you name a few local Colorado bands that are really impressing you right now?
SA: Faceman, The Knew (love the new album), Native Daughters, Lee Avenue, In the Whale, You, Me and Apollo, Anthony Ruptak, Kyle James Hauser.
Denver is really awesome for music right now.  Not only is all this incredible music flying around from locals, but we are all friends.  Musicians, song-writers, recording engineers; we trade ideas, we come to (and play at) one another's shows, it really does feel like we are all trying to move the scene forward, not simply claw one another out of the way.  Plus other bands across the Midwest and Cali are making this a destination because of things like The UMS and the great number of underground clubs supporting what we do.
Music has always been a part of my life. It probably all started listening to old Grateful Dead, Peter Paul & Mary, and Simon & Garfunkel records that my parents had, but it wasn't long before they were taking me to concerts like Starship, Crosby, Stills & Nash, and Huey Lewis & The News. I got the bug to write about music after reviewing an Eric Clapton concert for a creative writing project in high school but didn't really take it up seriously until 2002. Since then I have published countless articles in The Marquee Magazine and done some work for Jambase.com, SPIN Magazine, and various other outlets. I started Listen Up Denver! as a way to share the music information that is constantly spilling out of my head with people who care. Please enjoy!