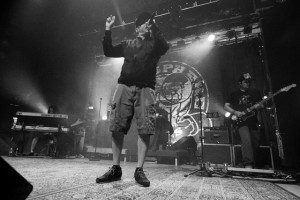 Photos by Mitch Kline 
The Scene: Rhymesayers Entertainment, the Minneapolis independent Hip-Hop collective co-founded by Sean Daley (Slug) of Atmosphere in 1995, has built an incredible lineup of artists, a rabid fan base, and a hometown Hip-Hop scene that's one of the best in the country. Last Friday night, that same Sean Daley was out front of The Ogden Theatre, as he is at almost every show, signing autographs, posing for countless photos, and greeting his fans as they lined up for his band's sold-out show. This isn't the type of thing you'd expect to see from an artist who sold-out a January Red Rocks show, but Atmosphere, Slug, and many of the other Rhymesayers artists have a different sort of connection with their fans that seems to go way beyond the music.
Opener: Carnage The Executioner. Yet another example of the thriving underground Hip-Hop scene in Minneapolis comes in the form of Carnage The Executioner (Terrell Woods).  He's a one man show of super human beatbox skills and lyrical dexterity and one of the best spitters you've probably never heard. This was most likely the first time a vast majority of the crowd had seen or even heard of Carnage, but he had the room in the palm of his hand the entire set.
Opener: I Self Devine. After nearly seven years, I Self Devine is back with a new album, The Sound of Low Class Amerika, and on Friday he demonstrated that his live show hasn't suffered as he plowed through a spirited set. I have to be honest, I don't know his material at all, but I can definitely see why I Self Devine is a Minneapolis hip hop legend.
Atmosphere: Early in their set, Slug noted that Colorado was one of the first places to embrace Atmosphere as they ventured outside of their Minneapolis home town scene. Slug thanked the crowd profusely throughout the night, in stage banter between songs and by mixing references to Denver, and Colorado, into his lyrics. The group delivered a set that kept even hard core fans on their toes, from "old shit," like "Scapegoat" from 1997's Overcast!, to personal favorites "She's Enough" and "Just For Show" from the group's latest album, The Family Sign. Other set highlights included a run of songs from my personal favorite Atmosphere album, Lucy Ford: The Atmosphere EPs, including "Guns and Cigarettes" and "The Woman with the Tattooed Hands."
While the main set was easily good enough to keep this crowd of longtime fans happy, the real highlight of the night came in the encore when Carnage The Executioner and I Self Devine emerged for a truly incredible freestyle session that featured the three MCs exchanging verses backed by Carnage's man made beats and loops. Atmosphere proved again that they're as relevant today as ever, and their live show is still one not to be missed.
Energy: A
Musicianship: A
Sound: A
Stage Presence: A
Set/Light Show: B
Overall: A