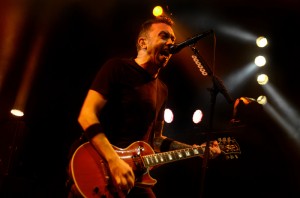 Photos by Todd Radunsky
The Scene: A rainy, traffic filled night made a standard 25 minute drive from Broomfield more like 40 minutes and after finally finding parking I was in a big rush to get into The Fillmore to shoot my images.  When I finally reached the pit, The Gaslight Anthem had just taken the stage.  The energy was high up front and the people who did what they could to get in the first 10 rows were ready to bust lose. For the first three songs people were pumped as they jumped up and down, and I even saw a crowd surfer or two.
After leaving the pit, it sort of seemed like the further back i went in the auditorium, the more mellow the crowd got.  By the time I got to the back of the room many of the fans seemed much more interested in carrying on conversations with each other, and slugging a few cocktails before Rise Against, than really focusing on the music at hand.  I can't blame them really as it seems lead singer Chuck Ragan was just as interested in idly chatting it up with the crowd, as he was in performing. Don't get me wrong, they still put on a good set, but there was simply to much talking about nothing between songs.  Maybe I'm wrong but his rambling and lulls really took a lot of the energy away from their show.
Rise Against:  Perhaps I'm old school, or maybe I'm just poor at organizing rock bands into specific genres, but after seeing Rise Against live, I just don't get how they can be classified as having a "Punk Rock sound."  To me, that sound is much more reserved for bands like The Ramones, The Sex Pistols, and Black Flag.  Rise Against sounds much more like something that straddles the line between Metal and Alterative, than it does Punk.  Don't get me wrong, I like their sound, it's powerful and hard charging and their lyrics have that political undertone of the Punk world, but a true Punk band?  I don't think so!  To me they sounded like a more talented, harder charging Green Day than they did The Clash or Dead Kennedys.  But hey, maybe that's why I'm not a record exec.
The show started off with the band coming out back lit by several LED screens which blasted the crowd with images of different political symbolism.  Rise Against didn't waste much time throwing down either.  They opened with "Survivor Guilt" and the crowd really started getting into it and the band never let up. From the start people were moshing and singing out loud, and most everyone in the front row was completely focused on lead singer Tim McIlrath who kept the crowd in the palm of his hand as he used the entire stage to dance, jump, and scream.
As the show progressed, the band sounded even better and they seemed to gel more as they played.  I think the audience responded to this and were even more pumped up and rocking towards the last 1/3rd of the show than they were in the early stages.  Audience favorites such as "Satellite," "Help is on the Way," and "Prayer of the Refugee" blew fans away and at one point they even broke it down with acoustic versions of "Swing Life Away" and "Give It All."
All in all it was a pretty good night of music.  Not exactly the best show I've seen this year but all bands put on a pretty good concert musically and Rise Against did their job by giving their hard core fans a high quality musical extravaganza for a couple hours.
Energy: B+
Musicianship: B+
Sound: B+
Stage Presence: B+
Set Light Show: B+
Overall: B+
I work in the music industry photographing bands live and offstage for publicity. My work includes shooting concerts, festivals, and portraits of musicians and bands. I shoot for promoters, record companies, publicists, magazines, band managers, and individual musicians. I also photograph weddings, and portraits and have traveled the world to do so. I've shot weddings in Cali, Ireland, Mexico, Cape Cod, and Amsterdam to name a few.