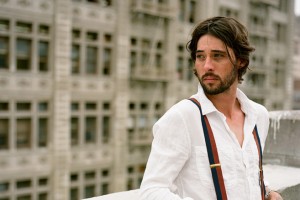 Photo by Anna Axster
After flying under the radar of the general public with his first two albums, country influenced songwriter Ryan Bingham exploded in 2010 with the release of the movie Crazy Heart. The movie stars Jeff Bridges as "Bad Blake," a country music star in the downslope of his career until he pens the song "The Weary Kind," which propels him back into the charts and the hearts of fans old and new. While Bridges sings the song in the movie — and does a great job doing it — Bingham is the one who actually wrote the tune and much like Bridges' character in the movie, the song did wonders for the young singer's career.  Two years later Bingham has just released his fourth studio album, Tomorrowland, and is hitting the road on a lengthy tour in support of the new collection of songs.  He was kind enough to take some time with Listen Up Denver! as he rehearsed for the tour with his brand new band in Southern California.  Catch him live on Saturday night, September 29th at The Ogden Theatre.
Listen Up Denver!: Where did I find you today, what are you up to?
Ryan Bingham: I'm in Santa Monica California.  I've been living out here four or five years now.  We've just been rehearsing with the band, getting the circus together.  We are doing about four and a half, five weeks in the States and then we're headed over to Europe for another four or five weeks.  That'll be it for this year and we'll start back up next years, probably in the Spring and go through the Summer.  We'll just keep on going till we run out of gas.
LUD!: Who is going out on the road with you in your band this fall?
RB: I've got a new band that's coming with me.  A guy named Matt Sharod is playing Drums and his wife Kelly is playing Bass and another guy named Evan Weatherford is playing guitar with me.
LUD!: We talked about three years ago or so and I think you had literally just gotten back from your honeymoon in Costa Rica if I remember correctly.  How's married life been treating you?
RB: It's going great, it's the best thing that ever happened to me for sure!
LUD!: I notice the name of your new record label is her last name and yours.  Is that right?
RB: Yeah it is.  When we got married we both took each other's last names so we are both Axster Bingham's and that's what we named the label and the company.
LUD!: So your legal name is Axster-Bingham?  What led you guys to do that?
RB: I guess we just aren't very conventional and we are really just open to trying different stuff out and just trying to fit what we are all about.  I don't know, it was just as important for me to have her name as it was for her to have mine.
LUD!: What's her role with the label?
RB: She keeps everything in line that's for sure.  It wouldn't be happening if she wasn't on board that's for sure!  She's the mastermind I'd say.
LUD!: Does she have an official role as well?
RB: She's running the whole thing.  I'm writing the songs, and making the music, and getting the band together and all that kind of stuff, and she's running the label, doing the management, getting us out on the road, and getting the record out to stores and distributors and all of that stuff.  It's very much a home team kind of deal but she's holding down the fort.
LUD!: So you really have a family business going on there.
RB: Yeah, it's cool!  There ain't anybody that looks out for my best interest more than she does and same way around.  At the end of the day it's all coming back home to us and it's just really liberating to have the artistic freedom and be able to call the shots and present ourselves in the way that we want to be presented.  Nothing's out of context and everything is the way that we want to go about it.  It's been very cool.
LUD!: The last two years have been big for you coming off the success of "The Weary Kind."  What did the recognition that song received mean to you?
RB: It was just kinda one song and it was about something totally different.  It was about a film and a certain project, so it was just sort of another project along the way for me.  I don't really define myself by that one song or anything like that.  It was a hell of an experience and a something really cool to be a part of.  The doors that it opened for me, not only in the business, but the people I got to meet.  Getting to meet T-Bone and Jeff Bridges and Stephen Bruden and write songs and play music with these guys was great.  The stuff that I leaned from them will last forever and I'll always have that.  It was one of those fortunate experiences that I got lucky to have.
LUD!: Do you still talk to many of those guys?
RB: I do, Jeff and I are pretty good friends.  I actually went and played and sang a bit on the record that he put out last year and I've kept in touch with T-Bone too.  It's all been pretty cool.
LUD!: As you were writing your new record, Tomorrowland, did you feel pressure, from yourself or others, to live up to something due to the success of "The Weary Kind?"
RB: Nah, not really.  I took some time off after all of that.  I took the last year off and I just wanted to relax and focus on the songwriting and that kind of thing.  It was actually really liberating.  A lot of things changed.  I started my own label, I wasn't under any kind of time pressure or schedule from the label to put out a record.  I really just had the opportunity to sit home and experiment.  I played a lot of electric guitar and tried out a bunch of different pedals and amps and experimented with a lot of different sounds as I wrote the songs.  In a way it sort of felt like starting over for me.  I put together a different band for the record and it was all a brand new experiment and fresh start as I tried to see where I could go with it.  There wasn't any pressure to go in any certain direction or make any certain record.  I guess the biggest thing was that I wanted to make a record that would be a lot of fun to play live because I know I'll be touring for the next couple of years pretty hard.  It's definitely a lot more fun to break out the electric guitars and turn it up when you are playing bigger venues and to bigger crowds at festivals and things like that so my main focus was making a record that would be fun and inspiring to play every night.
LUD!: I think the lead single "Heart of Rhythm" really shows that.  It's a pretty heavy Country rocker.  Is that why you chose to lead with it?
RB: Yeah, you know, that album Junky Star was so dark and it was almost too sad for me as I played some of them live every night. [Laughter]  There are a couple of songs on this one, like "Heart of Rhythm" and maybe another one or two on there that are not so much focused on the lyrics and they aren't as strong lyricly but they are a lot of fun to play and just turn the shit up and get after it and have fun!
LUD!: I just had a chance to listen to the record for the first time and there were a couple of songs, "Flower Bomb" and "Never Far Behind" that really stood out to me.  Are there any in particular that you are really looking forward to playing live?
RB: Yeah, those are great ones.  "Flower Bomb" was inspired by the artist Banksy, he's a street artist from the UK and I've been into some of his stuff for a while and "Never Far Behind" . . . I say the record is all fun and games but there are some deep songs on this one too.  I was just trying to make up for some of it with the music and get it loud and let that kind of emotion come across as well.
I'm looking forward to playing all of them live.  There's one called "Guess Who's Knockin'" that's really slammin' with this band.  The way that we've been experimenting with the band we've just been opening up the doors and not having any rules on anything and just take them wherever they go and let the songs recreate themselves live and choose their own road in a way.  I'm pretty fired up about all of it.
LUD!: That's the right attitude, I think.  Will you guys have pretty set arrangements every night or are you gonna jam out on some of them a bit?
RB: I think we are just going to jam out.  I'm going to focus on playing songs from the new record, Tomorrowland, and throw in some songs from the older albums each night as well and just mix it up a bit so it's not the same setlist.  I'd also like to get out and do three or four songs acoustic just solo and maybe some covers.  I just want to experiment with it, have fun, and just let whatever happens, happen.
LUD!: Can you talk a little bit about how you went about writing the songs on this record?
RB: I've always got to go travel around a bit and then when I get home, or get somewhere where I can relax and reflect on all the places I've been and people that I've met and all the shit that's going on in the world and take myself outside of the box and look at stuff from the outside.  Not so much trying to describe certain events, but describe the feeling or emotion that these things give me.  A lot of stuff from the past comes up, and I deal with that and then stuff that I'm looking forward to in the future.  Just trying to look at everything as a whole and reflect on everything and the way it makes me feel.
LUD!: I understand you recorded this album in a house that once belonged to Kris Kristofferson.  How did you find that out?
RB: I have a friend out here in Los Angeles that has an old ranch house from the 70's and it was empty and she was planning on remodeling it in a few years and we were in there hanging out and it has these big high ceilings and wooden floors…just a really good sounding room.   I got to talking to her and we were throwing around the idea of maybe recording a record in there and she said "yeah, you can do whatever the fuck you want, I'm gonna remodel it in a few years."   So we painted it all up and hung stuff up on the walls and brought a bunch of recording gear in there.  She was going through all the old building permits and stuff and she came across Kris Kristopherson's name as one of the original owners of the place.  It was pretty cool to find that out just before we started recording.
LUD!: Just to wrap things up here, I understand you have accumulated quite a collection of guitars.  I was wondering if you could talk a little about some of your favorites?
RB: I've got a few man.  One of my favorites guitars is an old Craftsman guitar that I got from Marc Ford while I was working on Mescalito.  I didn't play any electrics before then and he was the first person to introduce me to electric guitars and what they are all about.  He bought me that guitar off Ebay for about 100 bucks and since I was so used to playing acoustic he thought I could put acoustic guitar strings on it and it would kinda feel like an acoustic when I played it.  I was starting to mess around with a bit of slide stuff and it had this hollow older sound and with acoustic strings on it it sounded real dirty and he said it "fit my personality." [Laughter]  It was kinda beat up and had shit all over it so I took it my buddy's Grandfather who is a Luthier down in Texas and he refretted it and cleaned it all up for me.  It's really been one of my favorite guitars to play and I still play it every night.
Music has always been a part of my life. It probably all started listening to old Grateful Dead, Peter Paul & Mary, and Simon & Garfunkel records that my parents had, but it wasn't long before they were taking me to concerts like Starship, Crosby, Stills & Nash, and Huey Lewis & The News. I got the bug to write about music after reviewing an Eric Clapton concert for a creative writing project in high school but didn't really take it up seriously until 2002. Since then I have published countless articles in The Marquee Magazine and done some work for Jambase.com, SPIN Magazine, and various other outlets. I started Listen Up Denver! as a way to share the music information that is constantly spilling out of my head with people who care. Please enjoy!