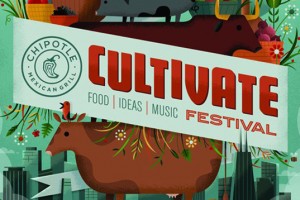 Why You Should Go: Because Food and Music are two of the things that make each day in this life that much sweeter and this festival will celebrate them both!!!  Denver's first-ever Cultivate Festival will bring together food, farmers, chefs, artisans, and musicians in City Park for a free day bringing awareness about food's impact on society. The FREE festival, created by locally-grown Chipotle Mexican Grill, is intended to get people thinking about and talking about food and food-related issues.
While Chipotle and the Cultivate festival spread the Tao of fresh food—it's also about the fresh bands!  Okkervil River, Tennis, Group Love, Best Coast and Zach Heckendorf are all playing FREE shows throughout the day (schedule here).
Venue: City Park, Denver (Map of Event)
Doors:
10:00 AM
*Price:
FREE!!!
*All times and prices are gathered from other sources and we are not responsible for mistakes or inconsistencies. They are intended only as guidelines. Please, always call the venue if you desire the most accurate information possible.