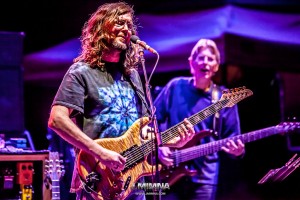 Photos by Jim Mimna
Furthur rolled into Colorado for a late summer run of shows at Red Rocks last week and sold the place out for the Saturday night show we covered.  This was the latest in the year I have ever seen a show at the rocks, but the weather was perfect for face melting.   Bob Weir and Phil Lesh have surrounded themselves with a young, energetic group of players who, with some sage guidance, have re-animated the Grateful Dead catalog beautifully.  They seemed to channel the energy of the '89 Dead in both vigor and accuracy.  They even managed to surprise me by rearranging the classic deadhead hymnal, "Dark Star;" breathing life into it with a faster tempo and new attitude.
Having seen Weir and Lesh play the Grateful Dead's catalog in so many arrangements over the years since Jerry died, I had become a jaded and disillusioned fan.  I mean, how many times can you see Rob Barraco overplay "Here Comes Sunshine," or Bobby flub the words on the songs he wrote, or a guitarmageddon unfold between Warren Haynes and Jimmy Herring on a song Jerry would have treated like the delicate "China Doll" it was, before you become skeptical?  Well, Furthur won me over.  Since Jerry has passed, this is the best group I have ever seen do what the Dead did so beautifully for all those years.
But, don't take my word for it.  Download the free audio recording of the show below, hit play, and peruse the photos below while you Listen Up Denver!
Setlist:
Set One: Here Comes the Sun, Cassidy, Scarlet Begonias > Good Lovin', Peaceful Valley, Mountain Song > So Many Roads, Sugar Magnolia
Set Two: Playing in the Band > No More Do I > China Cat Sunflower > I Know You Rider, Dark Star > St. Stephen > Unbroken Chain, Dark Star > Fire on the Mountain
Encore: Morning Dew > Playing in the Band (reprise)
Capturing life in various forms is what I do. I consider myself an archivist by nature. It is not a career choice that I consciously made, but it is something that has called me. I strive to freeze a moment in time with every frame, a moment that can retell its story with each viewing, forever. I also have a deep passion for music and have been photographing and recording live music for years. Capturing the energy and magic of a live performance in a photograph is one of my passions. In addition, I enjoy photographing in a wide variety of settings, from wildlife scenes to family portraits and everything in between. I am a lover of the earthscapes that we see all around us every day, both natural and manmade, and aim to make unique images that do justice to their beauty. Where others see darkness, I see streaks of light through long exposures. I shoot a very wide variety of subject matter including individual/family portraits, event coverage, landscapes, live concert/performance, HDR, product and commercial photography, architectural, weddings, food, and editorial photo journalism. With artistic expression, I aspire to create visual art that speaks volumes.