Why You Should Go:
Supporting local music is a key part to the success of the music industry. Jon Keller has lived in Boulder for years and is proud to it home. Keller is a free spirit who's songs stand on their own as artistic products that he should be proud of. His music follows in the tradition of folk artists like David Wilcox and John Gorka and while the songs are primarily based in the singer-songwriter tradition, he is putting together a band for this gig (and the one at the same venue on the 23rd) that includes Ian Hendrick on guitar, Dave Pucul on bass and Todd Lilienthal on banjo. Together they are sure to shape the rough mixes and sketches that are currently posted to
Keller's Myspace page
into fully fleshed out songs.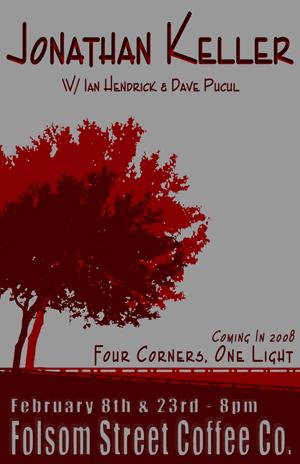 Venue: Folsom St Coffee Co., 1795 Folsom St., Boulder,CO 80302 – (303)440-8808
Doors:
6:00 AM
*Approximate Set Times:
Jonathan Keller & Friends – 8:00 PM
*Price:
FREE!
*All times and prices are gathered from other sources and I am not responsible for mistakes or inconsistencies. They are intended only as guidelines. Please, always call the venue if you desire the most accurate information possible.
Music has always been a part of my life. It probably all started listening to old Grateful Dead, Peter Paul & Mary, and Simon & Garfunkel records that my parents had, but it wasn't long before they were taking me to concerts like Starship, Crosby, Stills & Nash, and Huey Lewis & The News. I got the bug to write about music after reviewing an Eric Clapton concert for a creative writing project in high school but didn't really take it up seriously until 2002. Since then I have published countless articles in The Marquee Magazine and done some work for Jambase.com, SPIN Magazine, and various other outlets. I started Listen Up Denver! as a way to share the music information that is constantly spilling out of my head with people who care. Please enjoy!