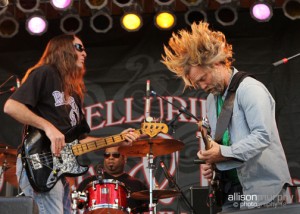 Photos by Allison Murphy
Seven hours southwest of Denver, nestled in a box canyon surrounded by steep cliffs and aspen trees, lies an old mining town that has been the setting for many a magical musical memory. As its name implies, the Telluride Blues and Brews Festival was started 19 years ago to celebrate craft beer and a specific genre of music.  Over the years the festival line-up has morphed and become more diverse now including Jambands and rootsy Rock acts. This year's festivities raised the bar and established Telluride Blues and Brews as a festival that ANY music lover would want to attend. I talked to countless people during the course of the weekend who never would have considered traveling halfway across the country for a Blues heavy event, but couldn't justify missing what was happening this year.  In numerous conversations involving Blues and Brews, I heard the same mantras of disbelief: "I thought it was just a blues festival," or, after rattling off the line-up, "I can't believe ALL those bands are going to be there!" I mouthed all those words when I first saw the line-up in late spring, and knew if I could only make it to one festival this year, that Blues and Brews would be the one.
After watching geography and leaves change through a windshield form 8am till 3pm, camp was quickly made, and beers were loudly cracked. All I kept saying was, "seriously! Could it be any more perfect?" There was absolutely nothing that wasn't best-case scenario Friday afternoon, and that feeling stayed with us for the entire weekend. The super star of the weekend had to be the weather, allowing shorts and Chaco's during the day, but quickly demanding a wardrobe change once the sun went down. No snow, no rain, just some nippy mornings and sun filled 80-degree days. My head on a swivel as I took in the gleaming Aspens and jagged peaks, I jumped through the festival gates and gave myself to the music.
Since we decided to stay in Denver Thursday night to see Little Feat play The Bluebird [Editor's note: Read our review here] and didn't leave until Friday morning, we missed the first three acts of the day, Pickwick, Little Hurricane, and Heartless Bastards, but we were in front of Robert Randolph as he kicked of his set at 4:20. Randolph's musical beginnings were in the church, but his energetic steel playing makes me think of sin more than sanctity. "Good Times" showed the upbeat yet gritty side of Randolph and his crew, and the set-closing cover of the Jimi Hendirix classic "Voodoo Child" dragged us right into grime and brought us to an electrified dark side.
I had already gotten a good dose of Little Feat back in Denver, but I still needed one more fix before they left town. "Candy Man Blues" was the set opener on Friday, and is the first track on their new album Rooster Rag. Even though it's a cover, it came off like one of their own. Rooster Rag is a great album, capturing the essence of Little Feat from the seventies and adding to it decades of experience and the pen of Grateful Dead lyricist Robert Hunter and it is an amazing collaboration that Payne told me we will be seeing more of. "Rooster Rag" is one of the songs penned by the Dixie-Dead duo, and it was a crowd favorite for sure. The closing "Dixie Chicken" jam was a funky dance party that ended just as the last bit of light bounced off the cliffs and the temperature drop sent us to the campsite for layers and closed toed shoes. The fact that our tent was a stones throw from the festival gate gave us plenty of time to kick back and enjoy a couple of the coldest PBRs I have ever had, before venturing back in to see The B-52's.
The crowd was filled with women in brightly colored wigs, go-go dresses, and knee high white boots, dressed for a visit to the Love Shack. The New Wave, Post-Punk, off-the-wall sounds of The B-52's just never did it for me, and I would say I was a minority in the crowd. The costumed cuties all got to boogie in the "Love Shack," and I danced and sang along like I was at a middle school dance again. Shit, this band may not be my bag, but I couldn't help but be sucked in by the fun factor. The die-hard fans got a late set "Rock Lobster," which was released in 1979 as the band's first single.
Telluride Blues and Brews sells a limited amount of "Juke Joint" passes, which allows access to three different venues in town starting at 10pm. Get yourself a Juke Joint pass, or risk hearing about what you missed out on the next day. We walked passed the Main St. tent, the closet Juke Joint to the festival grounds, which was filled with flashing lights and overflowing with music and cheers. Like missionaries trying to avoid temptation, we walked past, and went to the historic Sheridan Opera House to check out one of the bands we missed earlier in the day, Heartless Bastards. Beautifully detailed with nearly a century of musical history soaked in its walls and millions of dances on its floors, this venue is an awe inspiring place to see a show. We walked in, looked around, loved what we heard, but needed to see what the hell was going on underneath that damn tent! As we walked back down Main St., the sounds of horns came blaring through the cold night air. Once we got under the big top, we came upon the spectacle that is March Fourth Marching Band. Two men on stilts dancing and performing acrobatic feats stood above a stage full of musicians and a tent full of wide-eyed smiles. It was Mardi Gras on the mountain as these performers laid down Funk and swampy Soul in full marching band regalia and style. My feet did not stop moving to the two hour cadence this Oregon based band put us through, and I was stunned at how tight, energetic and contagiously fun this group of near twenty musicians are. The musicianship alone would have made this performance great, but the bands choreographed dance moves and audience participation tactics made this one of my favorites of the weekend. After the big-top boogie down, we headed back to our camp under the moonlight and sat under an easy up lit by a disco ball, complete with a portable light show, eating cheesy poofs and watching our hot breath hit the 38 degree mountain air as we laughed with new found friends.
After a killer breakfast in town and a coin operated shower that was cold at best, we hit the ground running and stood under the noonday sun for Monophonics as they threw down like it was the last set of the night. If you were in earshot of this band, you were moving some part of your body along with them. I am a big fan of Funk and Soul music, and Monophonics sound like they are coming straight from the genres hey-day. "Sure Is Funky" proved that this band sure is, well…funky, and the set was filled with warm and rich sound peppered with psychedelic jams and bright horns. A cover of Freddi Henchi's "Funky To The Bone" had me shouting "right on!" and so did their version of Jimmy Holiday's "Baby I Love You." Smiling and sweating as much as we were, this San Francisco Soul syndicate closed with "High Off Your Love," and the crowd looked like they got slapped across the face with soul, and then cheered for more.
At the same time Monophonics hit the stage, the Brews part of the festival began. From noon till three, over 50 microbreweries poured samples of their grog into glasses handed out as you walked through the gate, and everyone seemed rather thirsty. The tasting is a competition to determine the crowd's favorite beer, but it is also a great way to loosen up a crowd. By three o'clock the suds and the sun had some of the crowd spinning, and all of us dancing.
After Monophonics came label mates Orgone, and the sweat continued to pour. Making a reference to Jimi Hendrix and the mind-blowing view from the stage, Orgone's set began with the statement, "Wow, this looks like an Electric Sky Church, and we came to worship!" Vocalist Niki J. Crawford hit the crowd with "Strike," and she was definitely not faking the funk. Some Afro-beat instrumentals gave Crawford a break from the stage for a bit, but "Who Knows Who" had her seductively strutting her stuff once again. This band is the real-deal, and from Disco to Soul they take you on an Afrobeat inspired journey with Funkytown as it destination.
Coming on stage right before the Grand Tasting was over, March Fourth Marching Band brought their spectacle out from under the tent. Although the crowd had thousands more people in it than the late night set, March Fourth had the same effect, and the chatter about this band began. I spoke with a lot of folks over the course of the weekend, and March Fourth Marching Band seemed to be on every ones mind, and rightfully so. The costumes and choreography are just gravy on top of the infectious Funk-filled New Orleans Mardi Gras marching band music. This band does not need the hoopla, but by adding it, they are doing something that no one else seems to be doing, or at least not nearly this good.
It had been four hours since the gates opened, and beer started flowing. With the horn and funk heavy dance in full swing, the crowd showed no signs of slowing their feet or their beer consumption. This crowd was ready to throw down, and Anders Osborne was able to keep the party going with a cornucopia of sounds. My partner in crime for the weekend, James Dumm, had something to say about Osborne:  "The daytime set from Anders Osborne seemed to wrap a little bit of every genre and style present at the Telluride Blues & Brews Festival. From hard-rockin' gritty Blues to touching ballads and from ambient jams bordering on trance to a surprising cover of The Dead's "Fire On The Mountain," Osborne's set was diverse, jammy, and certainly one of the best main stage sets of the day. Covering a tune that's as well-traveled and revered as "Fire" could induce just as many groans as cheers, especially with the strong Dead contingent present, but Osborne and company infused the tune with just the right amount of bluesy swagger and psychedelia to enthrall the festival crowd. Another standout at both Osborne's day and late night slots was the tune "Lean On Me/Believe In You" from his most recent album, Black Eye Galaxy. Everyone knows Anders can rip a mean blues-rock guitar, but this tune was definitely one example of Osborne's top-notch songwriting and more emotive, sensitive material."
The Blues and Brews line-up may not be as Blues focused as some veteran festival goers would like, but for every groan there are 100 cheers for what Blues and Brews has evolved into. The festival definitely proved it still has beer as a main focus, and the Acoustic Blues Competition that was also kept in the forefront. After Osborne, contest winner Jim Adam put the stank on it, and gave us some of the best and most authentic blues I have heard in a while. Mr. Dumm was blown away as well:  "This man definitely deserved winning the Acoustic Blues competition — We arrived to the strains of the standard "Come On In My Kitchen," which would have made Robert Johnson proud. While the lineup for the fest was indeed amazing this year, there was a surprising lack of true traditional blues — and Jim Adam certainly did his part to remedy this fact. With a powerhouse voice in the vein of Albert King or Warren Haynes, and a strong percussive acoustic guitar sound, this guy deserves an invite back to the festival, this time with his full band."
After the Osborne and Adams blues break, the horns came out once again. Trombone Shorty and Orleans Avenue put a hurting on the crowd with their self described "SUPAFUNKROCK." Every time I hear Shorty and his band play, the word that first comes to mind is tight, and today was no different. The precision and passion put out always seems to take me by surprise, even though I listen to their music often. Paying homage to his New Orleans roots, Shorty played Allen Tousaint's "On Your Way Down," which many of us may have heard Little Feat cover before hearing the original.
The Funk and the horns were put to rest, and the now absolutely wasted crowd finally began to realize that eating should be part of their plan if they were going to make it through Gov't Mule and into late night. It was a smart move, and I figured I should do the same. As Mr. Dumm and I were eating dumplings and corn dogs, Warren Haynes and his Mule took the stage. They started the set off with some very familiar notes…Steve Miller Band's "The Joker." Mr. Dumm and I immediately turned and looked at each other, mid-bite, and decided to find somewhere to sit. With a first song choice like that, we figured this wasn't going to be a rager of a Mule set and we were right. I love me some Warren and Mule, but the set really changed the entire pace of the day. With a belly full of food and a head full of beer, the set felt like a shot of Thorazine that just stopped my party in its tracks. It's cool; I needed to rest my feet for a while anyway. "Time to Confess" and "Beautifully Broken" kept the pace placid, and the last song of the night, a cover of The Doors' "When The Music's Over," turned my Thorazine shuffle into a straight up junkie nod. A day of upbeat, danceable and driving music ended with a shot of narcotic darkness.
Like the true music junkies we are, we shook ourselves off, and went out searching for another fix.  We showed back up at the Sheridan, and we found just what we were looking for. This stuff was clean, fresh, and kept you up while still numbing you with brilliance. I had a taste of Anders Osborne earlier in the day, but looking down from the balcony of The Sheridan, I really got to see, and feel what this man could do. Osborne seems to channel every ounce of passion and feeling he has through his fingertips and voice. His movements and facial expressions make him look like he is possessed or channeling the spirits of great musicians from the past. I will say that since hearing "Got Your Heart," and "I Got A Woman" medley dancing with a woman I had just met—yet grew extremely fond of—emblazoned a lifelong memory in my head, and I have listened to those two songs at least three times a day since the festival. Just like his main stage set, Osborne weaved genres and styles into a sound all his own. The long psychedelic freak jam that had Osborne working his knuckles down the fret board of his guitar had me wondering if there is anything this man can't do. Oh, I guess I will tell you now…this was hands down my favorite set of the entire weekend. My mind is still blown. Thor with a Stratocaster.
Sunday morning came way too soon, and most people were feeling the effects of the marathon of fun from the day before. I am sure the church going Lee Boys could smell the crowds breath from the night before, so they put a little extra salvation in the Steel for the first set on Sunday. This band are no strangers to The Blues and Brews main stage, and songs like "Testify," the title track off their new album featuring Warren Haynes and Jimmy Herring, got us in the spirit.
Being that Sunday is a day of rest, and that we had been fully immersing ourselves in the festival experience on all levels, we were in need of a recharge. We got it from the beauty surrounding us. We wandered through town, rode the gondola as far as it would go, and just enjoyed a sunny Colorado Sunday in Telluride. We missed Kelly Hunt, Phil Wiggins and Rev. John Wilkins, as well as Tab Benoit, but our mind set was perfect for the mellow sunny California psychedelic Folk-Rock presented by The Chris Robinson Brotherhood.
Now, I have never been a huge Black Crowes fan, but what Chris Robinson is doing with his new project is right up my alley. The Grateful Dead's music has been a part of my life for as long as I can remember, and you can't help but see their influence in every note being played on stage. That being said, their sound is totally unique, and unlike anything else I am hearing these days. They have managed to capture the feel, mood, and sound of a band from the seventies, yet bring a totally new perspective. This band is all about tone. As incense burned on the stage, CRB said "Let's Go" before taking us on a "Ride" that included a Funk jam with the Moog synthesizer as its driving force. From subtle guitar and sweet harmonies, to psychedelic forays into uncharted territory, CRB travels wherever they please, taking our minds along with them. This says nothing about their original material, but my favorite song of the set was their cover of Hoyt Axton's "Never Been To Spain." I always thought it was a great tune, but CRBs version has made me love it. Now remember, I love The Dead, and Phil Lesh; but CRB gave the best performance of the day, and if Anders Osborne weren't such a guitar wielding Nordic god, it would have been my favorite of the weekend. I look forward to seeing just how much more this band can do, because it's only the beginning.
I don't know how else to say this, but the three headlining acts for the weekend just didn't do it for me. Friday's B-52's set could have never happened and that would have been fine with me. Saturday's Mule set felt groggy, dark, and lethargic as compared to all the music before and after, and Phil Lesh and Friends played a first set that didn't pull me in. "Alabama Getaway," "Passenger," and "Casey Jones" just came off like some friends and family working through material. The second set seemed like a whole other performance, as if they said, "alright guys, we warmed up for an hour, now lets show um' what we got." Starting off with a funky "Shakedown Street," the Phil bombs started dropping, and they got into the groove. The last five songs of the set were a spectacular sequence of events: "The Wheel>Fire On The Mountain," "Stella Blue," "Uncle John's Band," and a ripping encore of "Going Down The Road Feeling Bad."  As awesome as the second set was, the lack-luster first set just cast its shadow on the whole experience.
Knowing our limit and our need to be on the road by 8am, we passed on Sunday's late night festivities and were shivering in our sleeping bags by 11pm. The next day we left Telluride looking forward to a hot shower, but we took three days of memories with us that will never wash away. Thanks to everyone who made such an amazing weekend happen, and especially to Bill Kight, his hospitality was second to none.
Brian Turk grew up in the shadow of the Catskill Mountains, near Woodstock, NY. He comes from a family of music lovers, audiopliles, Dead Heads and avid concert goers.The musical magic that can only be created in the Catsklills, both past and present, is what Brian cosiders the epicenter of his music addiction. The music of The Band, and most recently The Levon Helm Band, is the soundtrack of home for him. Brian's mother took him to his first concert at 5years old...it was Johnny Cash and Roseanne Cash at Jones Beach Amphitheatre. For Brian, music is a family affair. He feels the same way about live music...we all convene to celebrate together. Brian's writing life started when he wrote his favorite author, southern fiction writer Clyde Edgerton, a fan letter at age 13. When most kids were idolizing baseball players and television, he was worshipping writers and musicians. The two became friends and Clyde shared his craft with Brian. The next year Brian attended Duke University's Young Writers Camp. This is the extent, of what Brian considers, his "formal" training in writing. From then on his goal was to capture snapshots of life through words. Brian has been involved with live music in various facets over the years, and combined with his enthusiasm and love for Denver's music scene, he creates a vivid description of what he sees and hears. If you see him out at a show, dancing with a notebook in hand, say hello.