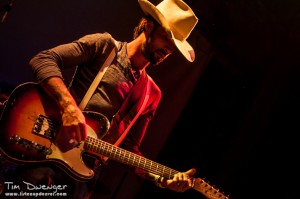 The Scene:  I don't care what Big Gigantic was doing up at Red Rocks,  in my book The Ogden was "Rowdytown" on Saturday night.  Cowboy Hats and big hair dotted the packed the room and the sweet smell of Whiskey filled the air as Country fans of all ages rubbed shoulders with Rock-n-Rollers.  It's been about a year and a half since Ryan Bingham brought his outlaw sounds to Denver and the big box on stage emblazoned with the words "Welcome To The Fist Fight" signaled we were in for a rowdy show well before the former Professional Bull Rider and his new band took the stage.
Opener: La Santa Cecilia.  I looked around the room when this L.A. based group walked out and I have to tell you there were some confused looks on people's faces.   A nylon string Classical Guitar, an Accordion, and a Polka Dot dress?  Something didn't quite compute for a lot of folks, but a few songs into their set, La Santa Cecilia had won over a bunch of new fans with their unique blend of Latin, Carribean and Eastern European sounds.  While their original material was keeping most of the room interested, the place really went nuts when they busted out their version of "Tainted Love" midway through their set and closed with a truly inspired and intriguing version of U2's "One."  These guys are a fun party band; hats of to Ryan Bingham for trying something completely different and inviting them along on this tour.
Ryan Bingham: Ryan Bingham came out of the gates with guns blazing as he tore into the heavy hitting "Guess Who's Knocking" from his brand new album Tomorrowland.  It was a take-no-prisoners style foray into the new material that no doubt left a few of the uninitiated with their mouth agape as Bingham belted out "Guess who is knocking on the door.  It's me mother-fucker, I'm knocking on the door."  He may have claimed to be only knocking, but this mother-fucker blew the door wide open and damn near blew the back of the room off.  He continued his Country laced assault with Tomorrowland's lead single, and one of my personal favorites on the record, "Heart Of Rhythm" and the crowd responded with their fist in the air as this steaming juggernaut of a song barreled through the speakers like a runaway locomotive.
Just two songs in and I was satisfied.  Bingham could have walked off into the sunset right there, but it was only the beginning of the one of the best shows I've seen this year!  After the balls-out entrance, the band slowed things up a bit for the acoustic based "Tell My Mother I Miss Her So."  It's a bit of a country dancin' number and I noticed there were couples swinging each other around a bit in some of the dark corners of the theater as Bingham showed some skill on the acoustic guitar.
While the show opened with a bang, it was a dark one-two punch in the middle of the set that showed Binham's depth and complexity as an artist.  Beginning with the Junky Star gem, "Depression," and moving into the epic monster "Rising of the Ghetto," the band showed they were capable of digging deep and filling the room with brooding melodies that swirled around us as Bingham's weathered voice crackled through the fog.  While "Ghetto" is stunning on Tomorrowland, the band breathed new life into this tune as they opened up and ran with it a bit on stage in a way that made this performance unforgettable.
If there is one thing I love it's when an artist knows his audience and the value they add to the show and structures the set to play to everyone's strengths.  Bingham did exactly that on Saturday as he scattered five great new songs into a set that paid tribute to the old fans who had been hanging around since he released his first record, Mescalito, in 2007.  He delivered seven tunes from his debut throughout the night including a three song run from "Southside of Heaven," into "Dollar a Day" into "Hard Times."  While these tunes were treated a bit differently with the new band, the fans were singing loud and proud as they waved beer bottles in the air, loving every minutes of it.
After closing the set with two more new tunes, "Western Shore" and "Never Far Behind," he came out to kick-off a five song encore one his own with only an acoustic guitar.   Junky Star's "Hallelujah" was perfectly placed and he followed it up by dedicating the Mariachi influenced "Boracho Station" to the evening's openers La Santa Cecilia.  Putting his New Mexican roots on display and singing in Spanish, he wow'd us all yet again as the room hung on every word.  The band returned to the stage for "Bluebird" as Bingham silenced some requests between songs by saying "that's all the Mariachi shit I know!"
Going out on a high note, the group wrapped up the show with the crowd favorite "Bread & Water."  Everyone in the crowd had their hands in the air, clapping along with the driving rhythm, and the energy in the room reached a fever pitch that brought the show full circle.  It was a powerful night of music that hit shit-kicking heights of glory and had tear jerking moments of tenderness.  Bingham was great before Tomorrowland, but now, with this thundering new Rock-n-Country sound, this guy is simply unstoppable.
Energy: A
Musicianship: A-
Sound: A
Stage Presence: A
Set Light Show: B
Overall: A
Music has always been a part of my life. It probably all started listening to old Grateful Dead, Peter Paul & Mary, and Simon & Garfunkel records that my parents had, but it wasn't long before they were taking me to concerts like Starship, Crosby, Stills & Nash, and Huey Lewis & The News. I got the bug to write about music after reviewing an Eric Clapton concert for a creative writing project in high school but didn't really take it up seriously until 2002. Since then I have published countless articles in The Marquee Magazine and done some work for Jambase.com, SPIN Magazine, and various other outlets. I started Listen Up Denver! as a way to share the music information that is constantly spilling out of my head with people who care. Please enjoy!