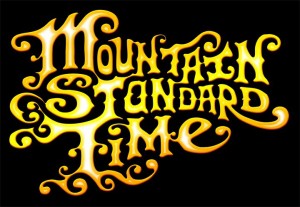 MOUNTAIN STANDARD TIME
Saturday, October 6th
The Fox Theatre
Tickets:  ADV – $10, DoS – $12
PURCHASE HERE 
As a bluegrass band that's anything but traditional, Mountain Standard Time follows in the footsteps of such Colorado greats as The String Cheese Incident and Leftover Salmon. While leading acoustically with guitar and mandolin, MST brands its own style, boasting a big, full-band sound with keyboards, electric bass, drums, and electronic effects.
The members of Mountain Standard Time hail from all over the country, yet their musical paths crossed in Nederland – a small, Colorado mountain town steeped in bluegrass music. Whether you chalk it up to fate or coincidence, music goers everywhere are coming together to enjoy the "bluegrass fusion" that these five friends and musicians have come to create. MST has performed all over Colorado and across the country, with appearances at Wakarusa Music Festival, 10,000 Lakes Festival, Summer Camp Music Festival, and the Telluride Bluegrass Festival contest finals, among other events.
After some time away from the road, 2012 returns Mountain Standard Time back to the live music scene. The band's unique sound adds new dimension as Otis Lande joins on bass and Ryan Ebarb (formerly of Yamn) on keyboards.
Mountain Standard Time's roots stem from late night "picks" among the bluegrass faithful, making music lovers dance from mountain towns to backwoods campfires. Rich lyrics, original melodies, vocal harmonies and driving backbeats have been moving fans across the country, while the band's unique charisma has been winning hearts.