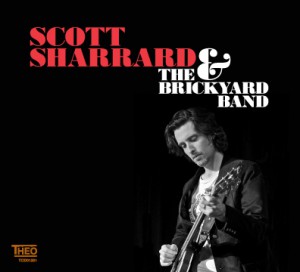 Scott Sharrard is one of an increasingly rare breed of musician in today's popular music climate. Sharrard's music follows in the tradition of classic Rhythm and Blues, but his sound and songs are such that it still sounds fresh and vital, like its happening now. While the music is a bit more guitar-oriented, fans of the more recent wave of Rhythm and Blues groups and artists like Raphael Saadiq, Sharon Jones & The Dap Kings, and Tedeschi Trucks Band would definitely find a lot to enjoy here.  Scott Sharrard & The Brickyard Band is Sharrard's fourth release but the first with the Brickyard Band (Moses Patrou and Diego Voglino on Drums & Percussion, Jeff Hanley on Bass, and Ben Stivers on Keyboards.)
For those who may be unfamiliar with Sharrard, it's also worth noting that his main gig for the last four years has been holding down guitar duty in Gregg Allman's touring group.  No small accomplishment, considering that Gregg has played alongside some of the most-acclaimed guitarists of all time during his tenure with the Allman Brothers Band including Duane Allman, Dickey Betts, Warren Haynes… the list goes on.  Scott Sharrard's name may not be quite as recognizable as say Derek Trucks or Jimmy Herring yet, but rest assured – his playing is certainly on par.
On the album opener, "Debt," the band sets the tone for a funky affair with a punchy and dynamic sound reminiscent of the best Rhythm and Blues, Rock, and Funk ensembles of the 60's and 70's. It takes a serious group of musicians to cover the wide variety of feels and textures The Brickyard Band employs over the course of the album's thirteen songs.  "Rock & A Hard Place" is an authentic Gospel rave-up, while "Freedom Train" might remind one of Band of Gypsies era Hendrix. On rockers and ballads alike however, the impeccable accompaniment from the band makes sure that the spotlight stays squarely upon Sharrard's emotive high Tenor voice (which evokes classic soul singers like Sam Cooke and Solomon Burke) and his equally expressive guitar playing.  Whether he's nailing the classic tones of Freddie King and Stevie Ray Vaughn as he does on "Debt" and "Shadow Blues," or the melancholy fusion slide Guitar on the ballad "Solitude," it's no wonder why he got the gig with an Allman Brother.
Also in typical Rhythm and Blues tradition, many of the tracks on Scott Sharrard & The Brickyard Band are cover versions; however, the variety of artists covered here really play to the strengths and versatility of the group.  Raphael Saadiq, Gillian Welch, and Duke Ellington are but a few of the more well-known composers and Sharrard definitely ups the energy level from Saadiq's original, more subdued version of "Stone Rollin'" and takes it from Motown all the way down to Memphis.
While the sound one Scott Sharrard & The Brickyard Band is decidedly vintage, this record could easily slide into your collection next to more modern Blues-Rock or Rhythm & Blues-tinged Pop such as John Mayer, The Black Keys, or Gary Clark Jr… If you're a bigger fan of classic artists that have been around a while, this is a refreshing reminder that there are artists that still "make 'em like they used to."