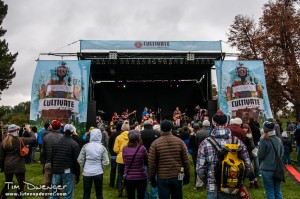 Photos by Tim Dwenger & Ty Hyten
Last weekend Chipotle's first annual Cultivate Festival rolled into Denver and was met with frigid temps (for this time of year anyway), grey skies, and even some sustained snow showers.  While this unseasonable weather probably kept a few thousand people away from the festival, it didn't dampen the spirits of those who made it out to City Park bundled up against the arctic blast to enjoy a day of food, drinks, and of course, music.
After getting suited up in our best and thickest down, we made it over to City Park just in time to catch the last half of local sensation Zach Heckendorf's set of rootsy Pop that sort of walked the line between Jack Johnson and Dave Matthews while still seeming fresh and original.  Heckendorf has assemble as solid band, but it is his singing, songwriting, and inspired acoustic guitar playing that really hold the sound together.  His set featured a reworked cover of Zero 7's "In The Waiting Line" and of course his own "All The Right Places," that elicited a huge response from the relatively sparse crowd.
On our way to the Artisan Tent, we got distracted by a demonstration going on in the Chef's Tent (where there were heat lamps on the ceiling) that featured the Chipotle Culinary Development Team.  As they discussed the sustainable practices that Chipotle employs in their 1,300 plus restaurants and some new recipes they are trying out, the team whipped up a great looking shredded pork and adobo sauce dish that they served over rice and garnished with some pickled onions.  As the demo wrapped up, we headed back out into the cold and made it the rest of the way to the Artisan Tent.  After perusing countless vendors selling everything from "Cake Bubbles," to Salsa, and Coffee to Soda Syrup, I picked up a plate of amazing beer braised Short Ribs and Sweet Potato Gorganzola Grits from Oscar Blues Hops and Heifers and settled down to eat it in the relative warmth of the picnic tent (also equipped with heat lamps).
With the snow flying, and the temps hovering the mid-30's somehow I just couldn't really get into the sunny Pop of Tennis as they graced the main stage decked out in scarves, hats and gloves.  While the rest of the crowd danced, bobbed their heads, and sang along, I explored the vast Brewer's Tent and selected a Deviant Dale's (also by Oscar Blues) to warm me from the inside as I made my way over to catch Chef Michael Chiarello's demonstration back at the Chef's Tent.  As expected it was pretty much full when I arrived about 10 minutes before the scheduled start time, but it wasn't long before Chiarello took the stage to whip up a appropriately hearty soup for the wintry day.
During his hour or so long demo Chiarello spoke at a mile a minute about everything from the problems with today's Farmer's Markets (and yes I agree that we shouldn't have to pay a premium to shop at a Farmer's Market . . . just seems backwards) to differences between "taste" and "flavor."  While he did wax preachy from time to time, much of what the celebrity chef said seemed to hit home with the packed tent of foodies.  As the music of Okkervil River drifted in from the music stage, Chiarello shared with us all his recipe for a Parmesan dip that sounded like the perfect thing to spread on some freshly baked bread.
For Salsa Di Parmigiano ("Parm Dip"):
½ pound Parmesan cheese, not too dry
½ pound Asiago cheese, not too dry
2 tablespoons chopped green onion
2 teaspoons minced garlic
2 teaspoons dried oregano
1 teaspoon freshly ground black pepper
1 teaspoon red pepper flakes
1 ½ cups extra virgin olive oil
METHOD:
Remove any rind from the cheeses and chop the cheeses into rough 1-inch chunks. Pulse the cheeses in a food processor until reduced to the size of a fine pea gravel. Transfer the cheese to a bowl and stir in the green onion and garlic. Add the oregano, rubbing between your fingers to release its fragrance. Add the black pepper, red pepper flakes, and olive oil. Stir well. Cover and let stand at room temperature at least 4 hours before serving. Serve on crostini.
After committing the Parm Dip to my notebook, I was drawn out into the cold by the Indie Folk sounds of Will Sheff and Okkervil River.  Their energy was contagious and the crowd was significantly bigger than it had been earlier in the day as Sheff and the band poured themselves into songs like "Your Past Life As A Blast" and "Our Life Is Not A Movie."  Sheff made more than one reference to the temperature and mentioned standing on a beach after the group ran through "John Allyn Smith Sails," their tribute to The Beach Boys' classic "Sloop John B" from their 2007 record The Stage Names.  While there was no sun, and no one could think for second about sailing, the song somehow managed to warm me for just a second.  I've got to say that despite having seen Okkervil River a couple of times in the past, this time I walked away more impressed than ever before and their music has been in rotation in my office this week.
As Okkervil River was closing their set with "Lost Coastlines" we decided to sample some more of the food that dotted the festival grounds.  While the Mexican style Torta was full of flavor and held up to the cold weather the best due to it's foil wrapper, the meatballs from Chipotle's Shophouse Southeast Asian Kitchen (currently only open in Washington D.C.) were delicious and the highlight of the Chipotle offerings at the event.  One more Deviant Dale's washed down the food perfectly and we headed back over to the music stage to catch some of Grouplove.
I had never seen Grouplove before, and while their Indiepoptronica sound isn't really in my wheelhouse, I did admire the energy that these kids put into their performance.  Thrashing around the stage, jumping off the drum riser, and screaming into the microphone like season vets of the metal circuit, they drew a relatively huge crowd to the music stage.  While many seemed to know every word to every song, there were a few folks in the crowd who were clearly being won over for the first time.  Their best known songs "Tongue Tied" and "Colours" helped us to beat the cold as dancers scattered throughout the audience generated just enough heat to keep us around until the end of their set.
As we were on our way back to our car we stopped briefly at the Chef's Tent one final time to catch a few minutes of Top Chef star Richard Blais and watch as he began a Bone Marrow dish that I wish I could have tasted at the end.  He joked about his Top Chef: All Stars and Life After Top Chef castmate Fabio Viviani while taking several opportunities to plug the latter show which is currently airing on Bravo.
In the end, despite the cold, Chipotle's Cultivate Festival was a smashing success in my mind and will be a great addition to the fall out here in Colorado if they decide to continue the tradition in coming years.  After all, what's better than great music, great food, and great drinks?  Well . . . maybe some great weather would be nice, but I guess we'll have to wait till next year for that.
Music has always been a part of my life. It probably all started listening to old Grateful Dead, Peter Paul & Mary, and Simon & Garfunkel records that my parents had, but it wasn't long before they were taking me to concerts like Starship, Crosby, Stills & Nash, and Huey Lewis & The News. I got the bug to write about music after reviewing an Eric Clapton concert for a creative writing project in high school but didn't really take it up seriously until 2002. Since then I have published countless articles in The Marquee Magazine and done some work for Jambase.com, SPIN Magazine, and various other outlets. I started Listen Up Denver! as a way to share the music information that is constantly spilling out of my head with people who care. Please enjoy!