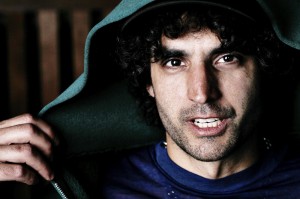 Setting: Whenever I arrive at Cervantes' Masterpiece Ballroom for an EDM or Dub-Step show, I find myself in a similar atmosphere to the ones I have seen before.  You'd be hard pressed to find a combo of music and venue that brings out the bohemian underground of Denver quite like this.  There are tattoos, gemstones, Grassroots hats, and live artwork as far as the eye can see.  I find myself saying hello to a lot of familiar faces even though we may have never shared a conversation, but sharing the dance floor with others at Cervantes is a Denver EDM rite of passage and often transcends ordinary small talk.  Needless to say, I love this place.
The Digital Connection: Also known to friends as "Ricky Shine," The Digital Connection has been working extremely hard over the past few years on the Denver/Boulder/FoCo Dance scene and within the last year has transformed his sets into performances of strictly his own music.  With the recent influx of DJs both in Colorado and elsewhere, being able to play all original sets is something not often seen, and I always appreciate an artist who is working to hone their own voice and sound through their software and instruments.
D.C. has a distinct sound, thickly layered low frequencies topped with laser-like high notes glitched together like audible candy.  The most impressive aspect of D.C.'s live performance is his finger drumming.  Done on an 8-pad Drum machine laid in front of his laptop's keyboard,  he works his fingers at an incredible pace, creating the drum fills that most artists leave to their computers.  The Digital Connection is rising fast locally, and it's only a matter of time before his hard work and artistry takes him to the next level.  Catch him if you can.
Quitter: Quitter is a side collaboration between bay area producers NastyNasty and So What.  I hadn't heard either of their personal work, so I came in with very little expectation of what was to come.  Their set paid homage to Southern Crunk Hip-Hop and took the crowd on a boom-boom-clap laced ride.  I for one always find it interesting to see how electronic artists are going to coexist and react to each other on a stage that is all too often limited to a one-man show.  The duo's chemistry mirrored that of a buddy cop movie, with So What being the straight man, all business and laying down bass and beats while gently swaying.  NastyNasty was the wild card of the two, Cheshire-cat grin a blazing and personifying the more up-tempo with his bobbing head.  They were a fantastic warm-up for the acts to come, and while they call this a "side project," it could certainly be considered more than just that in the future.
Run DMT:  Usually performing as a duo, the Cervantes' crowd was only privy to one half of the Run DMT experience.  With that said, the set was not lacking in intensity or tempo from the get-go.  This particular set was a showcase of the U.S. Dub-Step movement, and would be an ideal example to anyone who asks what this newfangled Dub-Step thing is all about.  Using a set of Pioneer CDJs, many popular tracks were played, I counted at least five from Pop-Dub-Step king Skrillex and a few by fellow kingpin Bassnectar.
The songs kept coming hard and fast, and while they were mixed together with expert craft, I found myself stepping off the dance floor and even outside the venue multiple times throughout the set to escape the relentless "womp" attack that was screaming from the subs.  Usually the tandem DJ dynamic works because each member of the group brings something different to the stage, and in this case it seemed as if the melodic side of Run DMT was missing.  The crowd as a whole was livened by the set and it was a solid callisthenic warm up that seemed to segue well into the sounds to come from headliner Kraddy.
Kraddy: Certainly no stranger to the Colorado EDM scene, L.A. based producer Kraddy made a triumphant return to Denver and gave the crowd the Hip- Hop/Funk/Dancehall experience they were looking for.  The man has no lack of swagger, and he casually strolled, laptop and MIDI controller in hand, to the stage a few minutes after the manic Run DMT set had come to a close.
Draped in a hipster keffiyah for the first few tracks, he gave a shout out to the Denver music scene and expressed his love for playing in our city.  Then it was time to get down to business.  A founding member of The Glitch Mob, he began the set with a bit of glitch work himself, before sweetly mixing in more sweeping lows as the sound progressed.  Working through a wide range of tempos, Kraddy showcased his ability to take control of a dance floor with sound.  In a small venue like Cervantes', with little help from lighting or visualizers that often accompany modern EDM sets, the experience becomes all about the music, and Kraddy passed the test with flying colors.   A few of the notes in the middle of the set seemed to miss their target, particularly when he started working in tempos higher than 140, but with the panache honed over countless nights and performances like these, Kraddy would bring the house back down into a Hip-Hop laced sultry slow groove.
His remix work was a highlight, and the climax of the night on the floor was his rendition of Adele's "Rolling in the Deep."  If you can get a weed-addled crowd of mid-twenties men to start screeching along to a Pop tune like that, then you have done something right.  On this night, Kraddy garnered much favor and fervor from the crowd, and for that reason we will always welcome his beats and preference for heavy sound back to our city.
Energy: B+
Musicianship: B
Stage Presence: B+
Sound: A-
Set/Light Show: B-
Overall: B