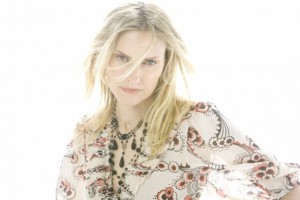 The Scene: It might not be the 80s anymore…heck it isn't even close to the 90s anymore…but the crowd of Aimee Mann's devoted fans on Tuesday night at The Ogden Theatre seemed ready to transport themselves back into an era where singer-songwriters ruled the radio, and the feminist movement was taking center stage. It was a scene of quiet love and appreciation for someone this middle-aged crowd of men and women has been committed to for years.
The Opener: Field Report. While a ticketing snafu kept me out on Colfax until Field Report had finished their set, the soulful sensitivity found in their lyrics seemed a natural fit to open for Aimee Mann, one of the queens of songwriting.
Fortunately I did get to catch Chris Porterfield's rich, mahogany vocals when Mann invited him to join her on "Living a Lie" to fill in for James Mercer of The Shins, who sings the song as a duet with Mann on her latest album, Charmer. While Porterfield seemed humbled next to Mann onstage, I heard reports that he and his band were a force to be reckoned with on Tuesday night, and proved they are just as intriguing to listen to live as they are at home with a glass of whiskey on a cold night.
Aimee Mann: If it weren't for Aimee Mann's witty banter between songs, it wouldn't have been surprising to see tears rolling down faces in the crowd. There were, in fact, closed eyes, soft smiles, and a mellow buzz of exhalation and commiseration, as the audience swayed in sync just three songs into the show. Mann opened up her set with three songs from her newest album: "Disappeared," "Gumby," and "Labrador," the last of which drew the crowd in close with an optimistic groove strongly supported by the keys.
Planted at the front of the stage for her whole set, Mann was supported her loyal fans and a solid backing band as a powerful voice came out of her stoic mouth and filled up the room.  Midway through the set, the crowd loosened up and started shouting out requests.  "Freeway!" someone called out.  "Red Vines!" yelled another.  "Anything you wanna play!" a third joked.  Heeding that final request, Mann coyly said "this is one I wanna play" into the mic, and the band left the stage while Mann sang a stirring rendition of the Academy Award, and Grammy nominated, "Save Me," made famous by the late 90s film, Magnolia. Clearly a fan favorite, the crowd softly sang along and seemed to escape to a place of heartbreak and long-lost lovers. Mann's trembling voice that danced on top of her guitar playing in the final thirty seconds of the song was soul stirring and beautiful.
Mann's female fans loved singing along to "That's Just What You Are" from her mid-90s album I'm With Stupid, and the show seemed to end much too early at a point when the crowd was excited to have a rapport with Mann. Just as people had been hollering requests at Mann all evening, late in the show she made her own request for bird-calls, and though the crowd gave it their best shot, the theater was soon filled with jungle-like noises that coaxed a smile from Mann's mouth.
Returning to the stage for a four-song encore after ending her set with "One" and "Goodbye Caroline," Mann said "it's a little spooky up here," and directed her band to "play something scary" as she took a request from the crowd and morphed the lyrics of "Voices Carry," a song from her 'Til Tuesday era, into "this is scary." The eeriness in Mann's voice was quite cute, rather than scary, and it was fun to see, yet again, the playfulness in her stage presence.
It was hard not to feel like we all had some connection to Aimee Mann on Tuesday night.  Whether she made you laugh, cry, sing along, feel understood, or find the right words to explain how you feel, it was clear that she's been there. After hearing the soul she put into her latest project, Charmer, it's good to know she'll be right there with us for a long time to come.
Energy: B
Musicianship: B
Sound: A
Stage Presence: A
Set/Light Show: B-
Overall: B+

After growing up in Missouri listening to vintage records of The Allman Brothers, Carly Simon, and Stevie Ray Vaughan, I was hooked to the live music scene and the contagious sounds of guitar licks and soulful lyrics. After moving to Colorado, I've been contributing to Listen Up Denver! as a freelance photographer and writer. I've also started a side project, KellYeah Photography, which gives me the opportunity to pair my passion for live music with my creativity and love of being around people. Aside from photography and writing, I'm an avid hiker of Colorado 14ers and a beer enthusiast.