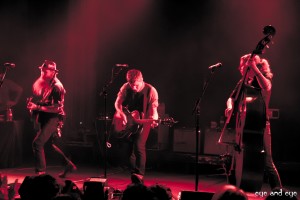 Photos by Ben Wilson
The last time The Devil Makes Three came through Denver they sold-out the relatively tiny Larimer Lounge [Editor's Note: Read our review of that show here] and this time around, despite the unseasonably cold temperatures outside, the Bluebird Theatre was packed to the rafters.  Energy was coursing through the room as this rowdy Saturday night crowd showed they were ready for some high energy Gypsy-Blues-Punk.
Personally, I've been familiar with these guys for a couple years going back to when I lived in the South and any Southerner with taste for music other than Country was big fans of these guys. Given the Mile High Cities ties to Jack Kerouac's legendary novel On The Road, their songs about drinking, causing trouble, and life on the road are also fitting for Denver. Lead singer Pete Bernhard even told a story about how he and guitarist Cooper McBean had been roaming the country aimlessly until they came across bassist Lucia Turino who joined the band and made them who they are today. With her flaming red hair, I can only wonder if she may be the Devil herself.
My eye is your eye, like my heart is your heart. I try to capture the beauty I see in the world in hope to inspire others.