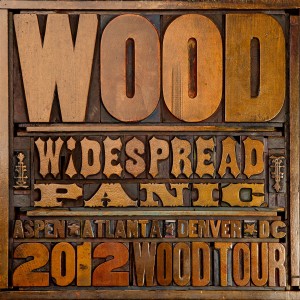 In the midst of their hiatus, Widespread Panic dropped a two disc live album today that pulls together material from their four city tour that took place earlier this year…and it's a real change of pace for the kings of Southern Jam Rock.   In the place of thunderous Bass bombs, scorching lead Guitar riffs, and volume knobs turned to eleven, Wood showcases their softer side as it chronicles the group's first ever fully acoustic tour in all it's glory.
Within the first minute of the album's opener, "The Ballad of John and Yoko," the swingin' 50's rhythm is accented by JoJo Hermann's barroom piano, Jimmy Herring's slide guitar, and John Bell's beautifully gruff vocals in a way many fans have never heard before.    This theme continues on the first disc when the band takes the typically ominous and hard charging "Imitation Leather Shoes" and turns it into an upbeat, Bluegrass tinged tune that features some inspired sparring between Hermann and Herring as their notes twist around one another in an intricately choreographed dance.  Fast forward a few tracks and "Tall Boy" gets a similar treatment as you can almost taste the dust rising into the air.  It's just damn fun to listen to the guys "shed their skin" and let it all hang out.
Stellar versions of "Good Morning Little School Girl," "Climb To Safety," and "C. Brown" standout on this collection but Col. Bruce Hampton's appearance on "Fixin' To Die" pushes the energy through the roof as the band feeds off the Colonel and the crowd.  It's one of those moments that only happens once and the recording engineers behind this project captured it beautifully!
One omission from the set that many fans will probably notice is the bust-out of "You Can't Always Get What You Want" from the Sunday night Denver show, but hey, this might just be the band's way of telling us yet again to "never miss a Sunday."  That said, they do offer up a version of Jimmy Cliff's "Many Rivers To Cross" from that same Sunday show that is tender and tear-jerking as J.B. nails the vocals and the rest of the band marches along lockstep to create truly innovative and unique version of this classic.
While the whole project does lack the runaway locomotive feeling that permeates many of Panic's electric shows, it does an incredible job at capturing the nuances that the band clearly spent hours of rehearsal time nailing down.  This is not a loose and unpracticed band on display on Wood, but rather a version of the legendary group that would probably win over a legion of new fans if they started playing more acoustic shows.  They have made a name for themselves as an electric act, but Wood makes a very strong case for the Panic boys to un-plug, sit down, and take this show on the road more often.
Widespread Panic – Wood Double CD Track Listing
CD I
The Ballad John and Yoko (1/25/12 Washington, DC)
Mercy (1/25/12 Washington, DC)
Imitation Leather Shoes (1/25/12 Washington, DC)
Clinic Cynic (1/24/22 Washington, DC)
Tall Boy (2/11/20 Denver, CO)
Many Rivers to Cross (2/12/20 Denver, CO)
Good Morning Little School Girl (2/10/12 Denver, CO)
Pickin' Up The Pieces (2/10/12 Denver, CO)
Ain't Life Grand (2/12/12 Denver, CO)
CD II
St. Louis (2/18/12 Aspen, CO)
Time Waits (2/19/12 Aspen, CO)
Sell Sell (2/19/12 Aspen, CO)
Tail Dragger (2/19/12 Aspen, CO)
Tickle The Truth (1/25/12 Washington, DC)
Fixin' to Die (1/27/12 Atlanta, GA)
Climb to Safety (1/25/12 Washington, DC)
Counting Train Cars (1/29/12 Atlanta, GA)
C Brown (1/29/12 Atlanta, GA)
Blight (1/29/12 Atlanta, GA)
End of the Show (1/29/12 Atlanta, GA)
Music has always been a part of my life. It probably all started listening to old Grateful Dead, Peter Paul & Mary, and Simon & Garfunkel records that my parents had, but it wasn't long before they were taking me to concerts like Starship, Crosby, Stills & Nash, and Huey Lewis & The News. I got the bug to write about music after reviewing an Eric Clapton concert for a creative writing project in high school but didn't really take it up seriously until 2002. Since then I have published countless articles in The Marquee Magazine and done some work for Jambase.com, SPIN Magazine, and various other outlets. I started Listen Up Denver! as a way to share the music information that is constantly spilling out of my head with people who care. Please enjoy!