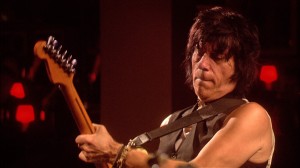 Why You Should Go: One of three noted guitarists, with Eric Clapton and Jimmy Page, to have played with The Yardbirds, Beck also formed The Jeff Beck Group and Beck, Bogert & Appice. He was ranked 14th in Rolling Stone's list of the "100 Greatest Guitarists of All Time" and the magazine has described him as "one of the most influential lead guitarists in rock".
Much of Beck's recorded output has been instrumental, with a focus on innovative sound and his releases have spanned genres ranging from blues-rock, heavy metal, jazz fusion and most recently, an additional blend of guitar-rock and electronica. Beck has earned wide critical praise; furthermore, he has received the Grammy Award for Best Rock Instrumental Performance six times. Although he has had two hit albums (in 1975 and 1976) as a solo act, Beck has not established or maintained a broad following or the sustained commercial success of many of his collaborators and bandmates. Beck appears on albums by Mick Jagger, Kate Bush, Roger Waters, Stevie Wonder, Les Paul, Zucchero, Cyndi Lauper, Brian May and ZZ Top. He also made a cameo appearance in the movie Twins (1988).
He has been inducted into the Rock and Roll Hall of Fame twice: as a member of The Yardbirds (1992) and as a solo artist (2009).
Venue:
The Paramount Theatre – 1621 Glenarm Place, Denver, CO 80202 – 303-623-0106
Doors:
7:00 PM
*Price:
$44.50 – $79.50 – Buy Tix
*All times and prices are gathered from other sources and I am not responsible for mistakes or inconsistencies. They are intended only as guidelines. Please, always call the venue if you desire the most accurate information possible.

Music has always been a part of my life. It probably all started listening to old Grateful Dead, Peter Paul & Mary, and Simon & Garfunkel records that my parents had, but it wasn't long before they were taking me to concerts like Starship, Crosby, Stills & Nash, and Huey Lewis & The News. I got the bug to write about music after reviewing an Eric Clapton concert for a creative writing project in high school but didn't really take it up seriously until 2002. Since then I have published countless articles in The Marquee Magazine and done some work for Jambase.com, SPIN Magazine, and various other outlets. I started Listen Up Denver! as a way to share the music information that is constantly spilling out of my head with people who care. Please enjoy!