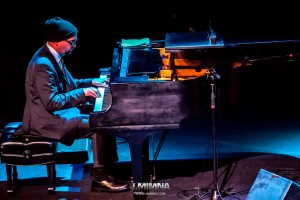 Photos by Jim Mimna
Saturday night The Gothic Theatre was host to one of the hottest Jazz touring acts on the scene, The Bad Plus.   The band served up their flavor of music in a fresh new wrapper that really left me in awe of what was truly a great performance.  I found them to be aggressive and engaging, while mindful not to walk all over the spacious empty notes in the process.  But, don't take my word for it.  Download the free MP3s of the performance and give the stellar recording a listen while you peruse the photos and decide for yourself!  If you attended the show, you already know.  But if not, Listen Up Denver, and hear what you missed out on!
Setlist: Pound For Pound, Wolf Out, Introductions, Thriftstore Jewelry, Sing For A Silver Dollar, Reid speaks, I Want To Feel Good Pt. 2, Seven Minute Mind, Re-Elect That, You Are, The Radio Tower Has A Beating Heart
Encore: Smells Like Teen Spirit, Never Stop
Editor's Note: Big thanks to Jeffry Kennedy for taping the show and sharing his bounty with us.
Capturing life in various forms is what I do. I consider myself an archivist by nature. It is not a career choice that I consciously made, but it is something that has called me. I strive to freeze a moment in time with every frame, a moment that can retell its story with each viewing, forever. I also have a deep passion for music and have been photographing and recording live music for years. Capturing the energy and magic of a live performance in a photograph is one of my passions. In addition, I enjoy photographing in a wide variety of settings, from wildlife scenes to family portraits and everything in between. I am a lover of the earthscapes that we see all around us every day, both natural and manmade, and aim to make unique images that do justice to their beauty. Where others see darkness, I see streaks of light through long exposures. I shoot a very wide variety of subject matter including individual/family portraits, event coverage, landscapes, live concert/performance, HDR, product and commercial photography, architectural, weddings, food, and editorial photo journalism. With artistic expression, I aspire to create visual art that speaks volumes.