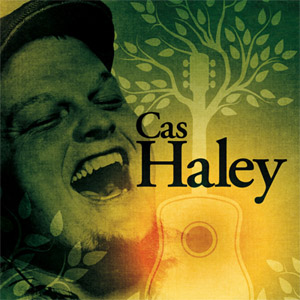 The name may ring a bell as Cas Haley was featured on the 2007 installment of the hit NBC series "America's Got Talent," but don't hold that against him. He wound up taking home runner-up honors and if his debut album is any indication, America did a pretty good job of gauging his talent. With a sound that is one part Brett Dennen and two parts Bob Marley, Haley is quickly rising from the ranks of America's talented to shine as an up and coming reggae star on the U.S. scene.
The album kicks off with a "bonus" acoustic cover of The Police's "Walking On the Moon" before diving into the more characteristic sound of the album with the Haley original, "Survive." The track is bouncy and horn driven while lyrically reminding the listener that we haven't really come that far from our primate roots. It is a strong message that shows that Haley, at 26, is capable of writing about mature concepts and doesn't rely solely on the old stand-by of passion and lost love for lyrical inspiration.
Though the full band version of "Walking On The Moon," is the albums first single, radio fans can expect to hear the strains of Haley's "I Wish That I" saturating the airwaves before the summer is over. With a mellow pace, soothing background vocals and upbeat feel, the song is the perfect compliment to a lazy afternoon in the sun. Throughout the album Haley and his band Woodbelly seem to channel the Reggae masters of the Caribbean as they use well placed horn lines and fine guitar work to accentuate the island beats that these Texas natives have mastered.
While this remarkably consistent album is ripe with other standout tracks such as "Dread Head Dream" and the album closer "All My Life," Haley's arrangement of The Commodores "Easy" sounds as fresh as anything that UB40 covered in their heyday. He makes the song his own and it takes on new life in his hands. Be on the lookout for much more from this talented American as he matures as a musician and as an individual.
Grade: B
Music has always been a part of my life. It probably all started listening to old Grateful Dead, Peter Paul & Mary, and Simon & Garfunkel records that my parents had, but it wasn't long before they were taking me to concerts like Starship, Crosby, Stills & Nash, and Huey Lewis & The News. I got the bug to write about music after reviewing an Eric Clapton concert for a creative writing project in high school but didn't really take it up seriously until 2002. Since then I have published countless articles in The Marquee Magazine and done some work for Jambase.com, SPIN Magazine, and various other outlets. I started Listen Up Denver! as a way to share the music information that is constantly spilling out of my head with people who care. Please enjoy!