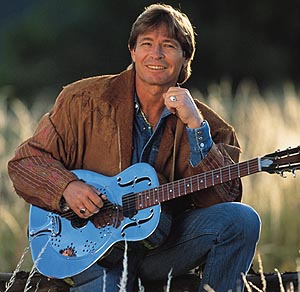 15 years after his death and 40 years after the release of his widely beloved song "Rocky Mountain High," ATO Records will celebrate John Denver's life and music with The Music Is You: A Tribute to John Denver, slated for February 2013 release. The album features covers of Denver's most popular songs by a diverse group of artists including Dave Matthews, My Morning Jacket, Train, Amos Lee, Edward Sharpe and the Magnetic Zeros, Brandi Carlile, Lucinda Williams, Josh Ritter, Old Crow Medicine Show, Kathleen Edwards (produced by Jim James), Brett Dennen, Milow, Mary Chapin Carpenter, Blind Pilot, J Mascis, Sharon Van Etten, Evan Dando, and more artists to be announced shortly. A portion of the proceeds will be benefit environmental initiatives in John's name. Track listing below.
The album follows a recent resurgence in Denver's popularity with his hits compilation Definite All-Time Greatest Hits being certified gold in 2011 and the fifteenth annual John Denver Tribute Concert in Colorado this month. Holding true to Denver's message, 2011's John Denver Earth Day Celebration Concert sold out.
John Denver, the two-time Grammy Award-winning singer songwriter and the Poet Laureate of Colorado, released twenty three studio albums in his lifetime. He is best known for the beloved songs "Leaving, on a Jet Plane," "Take Me Home, Country Roads," "Sunshine On My Shoulders, "Annie's Song" and "Rocky Mountain High," which is the state song of Colorado. Denver is the 53 highest selling artist worldwide with over 33 million records sold and seven Billboard Top Ten Albums in the U.S. His catalog continues to sell thousands of units per week. Among his numerous awards and recognitions, Denver was instrumental in championing environmental causes and space exploration.
Track Listing for John Denver: The Music Is You 
"Take Me To Tomorrow" by Dave Matthews
"Leaving, on a Jet Plane" by My Morning Jacket
"Sunshine On My Shoulders" by Train
"Wooden Indian" by Edward Sharpe and the Magnetic Zeros
"Some Days are Diamonds" by Amos Lee
(Song selection TBA) by Lucinda Williams
"Take Me Home, Country Roads" by Brandi Carlile
"Back Home Again" by Old Crow Medicine Show
"Darcy Farrow" by Josh Ritter and Barnstar
"All of My Memories" by Kathleen Edwards
"Prisoners" by J Mascis and Sharon Van Etten
"Annie's Song" by Brett Dennen and Milow
"Looking For Space" by Evan Dando
"Eagle and the Hawk" by Blind Pilot
 "I Guess He'd Rather Be In Colorado" by Mary Chapin Carpenter