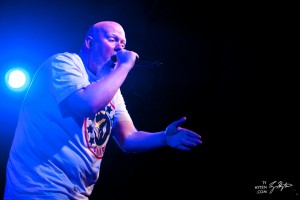 Photos by Ty Hyten
The Scene: The Bluebird Theatre was a steamy house of Hip-Hop as heads nodded to the funky beats and dissident flow of Rhymesayer Brother Ali. The sold-out crowd had their eyes locked on the stage the entire night, throwing hands into the sky, and rapping along to the words they have made a part of their lives over the past few years.
Hip-Hop has always been a medium for more progressive thought when in the right hands, but unfortunately, the Hip-Hop with meaning is mostly buried underground and the masses still hear about false wealth, sensationalized lifestyles, and lyrics whose meaning and power are only linked to dollar signs. I have been a fan of Hip-Hop since before it was a household genre and accepted in our culture as deeply as it is now, and it has come a long way.
In the early 90's, Hip-Hop was called "Rap" by most and we had to sneak tapes into our houses and listen to them on a Walkman to ensure the contraband wasn't noticed. Now Hip-Hop isn't shocking, isn't scary, isn't something groundbreaking that scarred parents and was only listened to by small groups of people. My small Catskill Mountain town did not take kindly to the "ghetto" sounds coming up on mix-tapes from New York City, and the aggressive lyrics depicting scenes of crime and exploitation didn't apply to the lifestyle that was lived in the woods. Now, nothing is shocking…well…except an artist with a name like Brother Ali questioning our countries foreign policy and failing political system.
Brother Ali: After Homeboy Sandman got the crowd in a frenzy with his NY bred progressive and intellectual brainstorms and beats, Brother Ali took the stage with the fury, and with a purpose. Opening the night off with "Victory!," he set the precedent for the night, firing off hardcore thoughts and hardcore beats that are hard to stand still to, thanks to some studio help from label mates Atmosphere. Live instrumentation and Funk undertones make the stage show more boisterous than the average Hip-Hop performance, as does the presence of Brother Ali himself.
It is great to see fans spit lyrics along with artists, especially when the words actually have a deeper meaning. "Work Everyday" depicts the daily grind that the average american goes through just to make it day-to-day, no matter where you're from or what you look like. Life's a fuckin' struggle, for 99% of us, and while it's nothing to hang your head over, it is something to fight against. It was obvious that as fans rapped along, the words provoked thought, and thoughts spark action.
As the night progressed and the temperature rose, Brother Ali took us through other politically dissident songs like "Uncle Sam Goddamn," which declares a solid stance over an infectious groove. As the night drew to a close Brother Ali had the crowd screaming for more. Hip-Hop was born out of dire circumstances, oppression and unrest, and it is good to see that some artists still keep the focus there.
Energy: A
Sound: A-
Musicianship: B+
Stage Presence: A-
Set / Light show: B
Overall :  B+
Brian Turk grew up in the shadow of the Catskill Mountains, near Woodstock, NY. He comes from a family of music lovers, audiopliles, Dead Heads and avid concert goers.The musical magic that can only be created in the Catsklills, both past and present, is what Brian cosiders the epicenter of his music addiction. The music of The Band, and most recently The Levon Helm Band, is the soundtrack of home for him. Brian's mother took him to his first concert at 5years old...it was Johnny Cash and Roseanne Cash at Jones Beach Amphitheatre. For Brian, music is a family affair. He feels the same way about live music...we all convene to celebrate together. Brian's writing life started when he wrote his favorite author, southern fiction writer Clyde Edgerton, a fan letter at age 13. When most kids were idolizing baseball players and television, he was worshipping writers and musicians. The two became friends and Clyde shared his craft with Brian. The next year Brian attended Duke University's Young Writers Camp. This is the extent, of what Brian considers, his "formal" training in writing. From then on his goal was to capture snapshots of life through words. Brian has been involved with live music in various facets over the years, and combined with his enthusiasm and love for Denver's music scene, he creates a vivid description of what he sees and hears. If you see him out at a show, dancing with a notebook in hand, say hello.