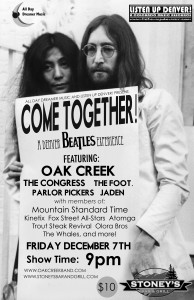 All Day Dreamer Music and Listen Up Denver! Present:
COME TOGETHER: A DENVER BEATLES EXPERIENCE
Friday, December 7th
Stoney's Bar & Grill
Tickets: $10
Tickets Will Be Available At The Door!
Have you ever heard of a band called The Beatles? Can you imagine anyone responding "no" to that question? Sure, they only toured and recorded as a band for 10 short years, but the Fab Four's recordings have been strewn across the globe in staggering numbers. Here are a few:
2,303,500,000 Beatles albums have been sold-world wide
209,000,000 of those over 2 billion albums were sold here in the good ole US of A.
In 1970, the year The Beatles broke up and all went solo, ten years before John Lennon was killed, our country's population was 203,392,031. What does all this mean? It means people who have owned originally purchased Beatles albums in the past 50 years is equal to 97% of The United States population in 1970 or, more simply, that this band has influenced generations, and there is a statistical probability that someone in your family has purchased a Beatles album, played it for you, and created a memory.
So, all that being said, you probably have heard a few Beatles tunes, and you probably have a few favorites you know all the words to. Well, you obviously aren't alone, so "Come Together" with your Beatle loving brethren and sing along with the best of the Denver music scene as they deliver an evening of Beatles songs.
Featuring The Oak Creek Band, The Congress, The Foot., Parlor Pickers, and Jaden, along with members of Mountain Standard Time, Kinetix, Fox Street Allstars, Atomga, Trout Steak Revival, and Olora Bros., this is a line-up you will not want to miss as they come together to play some of the most popular songs of all time!!! Oh, and if you do find someone who has never heard of the little band from Liverpool, well, bring them along with you.
Come Together: A Beatles Experience will be held on Friday, December 7th, 2012 at Stoney's Bar and Grill. Tickets are $10 dollars. Thats only 66 cents for every number 1 hit The Beatles have had on the Billboard Charts.