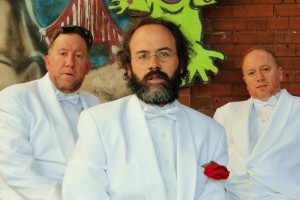 Last week, as the rumors swirled about the closing of the current Quixote's location at 2151 Lawrence St, and the possibilities for new locations, we were lucky enough to get Jay Bianchi, the mastermind behind the whole operation, to sit down with us for a few minutes to talk about his feelings about leaving the current location, his plans for the new space, and of course the upcoming 16th Anniversary of the Denver institution.  Let's take a look at what he had to say:
Listen Up Denver!: You guys have The New Orleans Suspects coming to town for the Quixote's Sixteenth Anniversary party and I wanted to get your thoughts about the band. Why did you pick them to play this party?
Jay Bianchi: CR is one of the main reasons. CR is an amazing keyboard player; probably one of the best, I think, in the nation. The New Orleans Suspects are a super group, a New Orleans super group, but they go far beyond New Orleans. For me The Radiators and The Neville Brothers and all those bands just say "New Orleans" but The New Orleans Suspects are in a different category.  They're greater than the sum of the parts. I think these guys are the quintessential American band, they're not a southern band, they're not a California band, they're not a Colorado band, they're a band that represents all of America.
LUD!: And they're really starting to get some recognition across America too.
JB: Yeah for sure.  You know, The Band was one of those bands that was an American band even though they were Canadian. A band doesn't have to be an American band to be "an American band."  The Grateful Dead were a California band but when they were singing "Tennessee Jed" they were a southern band, or they could be a blues band. They had the California vibe but they were part of the whole of America.
LUD!: CR has probably played your clubs hundreds of times. Do you remember the first time you saw him?
JB: He sat in with Mountain of Venus at the first Quixote's. He's one of the people that's played every one of my clubs. The only band that has played every one of my clubs is Hot Buttered Rum but CR has done that as an individual. The closest after that would be Steve Kimock only he hasn't played Dulcinea's . . . just weird trivia.
LUD!: No, that's a good one. It's great to hear because obviously he was a huge part of the scene and left to go to New Orleans, but he still makes appearances here quite often.
JB: Yeah, he's like a local non-local person.
LUD!: Venues celebrate anniversaries all the time but it's usually numbers like ten, fifteen, thirty, why did you pick sixteen?
JB: We try and celebrate our anniversary every year. So, sixteen, fifteen, I like to recognize it like a birthday. Quixote's is part of me so it's kind of like its birthday. With my kids; I don't skip the fourth birthday cause the forth isn't as cool as the fifth. Numbers are just numbers. I mean, what makes the multiples of five great numbers? Sixteen is just as good a number as five, or fifteen, or twenty-five.
It's like when people ask me why I open at four-twenty.  Someone once said "that's an odd number" and I said, "no that's an even number." [Laughs] It's just what you make of it. Four twenty is an odd number even though it's even, and twenty-five is an even number even though it's odd. [Laughs]
LUD!: In a weird way that makes sense.  Looking at it that way, sixteen is even more even. It's a really round number in that way.
JB: It's a square too, it's four by four so…
LUD!: Interesting.  Can you talk a little bit about what you think Quixote's has done for the music scene in Denver over the last sixteen years?
JB: Before Quixote's there were bars that did music and they did music because music was there. When you walk into Quixote's you know that music is the most important thing. So, I'll give Herman's Hideaway as an example. Herman's has had Steve Kimock play, but you walk in there and there's no history. You walk in and you're like "okay cool, these bands have played here," but you don't feel like they've played…there's no memory.
What Quixote's does is create a memory, a museum, a timeline. You walk in and you go oh cool this happened, this is historic. What I guess we were able to do from the first moment of the first Quixote's was create an instant history. You know we make it pretty clear that we care about the music and we want to showcase the history.  We take pride in showing our love on our shirtsleeves. I think that is probably the most important thing that Quixote's has done for music, it puts music first and foremost.
All of the beer companies offer us neon signs and I just say "I don't want your neons." I'm not really here to sell beer. I'm here to listen to music and beer comes with it.  When they said: we'll bring the Budweiser girls and we'll give away beer," I was like, I don't care about that. The beer is secondary.
LUD!: That's not the scene you're trying to create.
JB: Yeah, if I could have it without beer I'd do coffee. I guess Quixote's is a coffee bar that doesn't sell coffee. People are there, they're excited about music, they're talking about music, and they want to enjoy music. They're not there for the scene. I mean, some people there for the scene but the music is first and then the scene comes after.
LUD!: Have you ever thought about doing something like a small coffee bar where you had people playing acoustic?
JB: I thought about that but my Dad was an alcoholic and I think I'm so used to drinkers that the coffee bar becomes too pretentious where beer and enjoying the music is not so pretentious.  It's like you're just enjoying it to enjoy it…you're there because it's happening. So, in a way, I guess I take the pretension out of it, it's just something that happens naturally, it's not artificial.
LUD!: Yeah, that makes sense. Alcohol breaks down some barriers and gives it a little bit more of a communal feel sometimes since people have their inhibitions lowered a little bit.
JB: Yeah, coffee actually heightens the inhibitions and then you have to say something cool. You gotta' be cool. You're like, I wanna' dance up there but I gotta' be cool. So to me it doesn't really work. Maybe a coffee bar where you spike the coffee or a hookah bar would be good too, like a pot bar.
LUD!: Well, in a couple of weeks that may be a possibility.
JB: That I think I'd be more into, that seems a good mix of everything.
LUD!: Yeah that could work, we'll watch the election for ya. So, you talk about "the instant history" that you've created with Quixote's.  You've managed to create this history even though Quixote's has been in four different locations and now I understand you're moving out of the current location. Can you tell me why that's happening?
JB: Well, they're gonna tear this building down.  They're gonna build condos so I'm not really doing it as a choice.
LUD!: Okay, but they are actually tearing the place down?
JB: Yeah they're gonna build condos.
LUD!: That's too bad, I know you guys just put a bunch of money into that outdoor stage.
JB: Yeah, I mean, that was something that's good for the history of this place. It's good for the vibe and keeping good spirits about everything. Wherever you go, even if you're gonna be there for a day, or two days, you need to invest in it. My Dad always told me, "wherever you go, wherever you start to live…you may think you're gonna live there for a week, a month, or a year…plant a tree because you may end up there ten years, you may end up there twenty years. The tree is there and it helps you mark time…even if you didn't think you'd there that long the tree will still be here.
LUD!: Yeah, I get that. I may go plant a tree when we're done here. Can you talk about where you guys are going. I know Christo has clubs for sale down on Broadway, I saw that Bender's is closing at the end of the month, do you have any input on that we could talk about?
JB: We're working on expediting the move, I guess you can print it because it will be Bender's.
LUD!: Great, that's a good space.
JB: It is a good space, it's a really cool space. I'm actually really excited about it and I think it's why I decided to expedite the move. Right now I'm a lame duck president at this place [laughs] and I was like 'why do I want to put any more energy into this place when the new place is where I want to put all my energy.' So, the Sam Bush dates are going to be the last dates here.
LUD!: When is the Sam Bush show?
JB: The 2nd and the 3rd of November and then we'll probably do a Sunday show with an ensemble cast. A "Last Dance" kind of thing. We were gonna go right before Thanksgiving but I decided to expedite it and the Bender's people are working with me, they want to get out. They're in a lame duck situation too, they're in a place that they're abandoning so there's no love for the places you're leaving I guess. I mean, I love it, I love it, but you gotta go on to the next stage so…
LUD!: Yeah, that's a good attitude. So what's your vision for that space?
JB: I feel like it's got the best of Quixote's with the two stages and it's also got the best of Sancho's where you can walk in to a bar and there's a juke box playing. I don't necessarily have to do a cover for that room and people can just walk in and enjoy. That's one of the great detractions of the current Quixote's because you go in and there's a cover no matter what. If you want to see the band but maybe not right away or you're gonna decide in ten minutes, you can't go in and hang out. The great thing about Sancho's is that you can go there any time and have a beer. You can just sit there and there's no like "oh how much is the cover gonna be?"  You just go there, you have a beer or you don't have a beer, and you sit down and do whatever you do and you can decide. The great thing about Sancho's is the inertia of the place, you go in there and you plan to have one beer and you end up having however many and you don't have to plan anything.  Sometimes it ends up taking up the whole day but it doesn't have to be a part of your plan.  The inertia takes over and you end up staying there for awhile.
LUD!: So where is the first stage in Bender's?
JB: The stage is over the bar kind of. You walk in there's the bar which goes across then there's the stage behind the bar, almost like a Lion's Liar kind of thing where the bartenders become part of the stage.
You could have a band there early for free and then you can up the stakes as the night goes on and see the headliner in the big room. Throughout the night we can still have bands in the outer bar or you can have music pumped in. So people have a choice where before at Quixote's you didn't have a choice.  People would come by and say "I just want to hang out for a bit," but the "bit" is in the middle of a this four hour show where the bands are playing so you can't really hang out for a bit unless you're paying the cover. In the new space we can avoid that and give it a more natural progression where you're going there for music and if you decide to up the ante or go further, you can go further.
LUD!: So, is there any outdoor space at the new location?
JB: There's a patio in the back and we could probably do acoustic bands back there. It's a pretty cool patio and a good hang out which I think is one of the important things about community.  It's a place to escape, to hang out, and to talk.
LUD!: Yeah, you don't have to be being assaulted by music everywhere you go.
JB: Yeah, I remember there was this one girl who wanted to go to Zero at the first Quixote's, and she was like "I need to go to this show!" So we got her a ticket and the whole time she was there she was in the kitchen not even watching the show. I was like, "I guess you didn't really want to go to this show," but she just wanted to be there and be a part of the whole thing.
LUD!: What is the capacity over there?
JB: Four hundred.
LUD!: Well that's a good number. It's not huge but it's a good size.
JB: It's not huge but I think it works better. There are very few shows where we have six hundred here and if we need to do that we can do a bigger place.  That kind of capacity also creates demand for other shows as it can sell out more easily.
STOP BY QUIXOTE'S SITE TO GET YOUR TICKETS FOR THEIR LAST WEEKEND ON LAWRENCE STREET!
Music has always been a part of my life. It probably all started listening to old Grateful Dead, Peter Paul & Mary, and Simon & Garfunkel records that my parents had, but it wasn't long before they were taking me to concerts like Starship, Crosby, Stills & Nash, and Huey Lewis & The News. I got the bug to write about music after reviewing an Eric Clapton concert for a creative writing project in high school but didn't really take it up seriously until 2002. Since then I have published countless articles in The Marquee Magazine and done some work for Jambase.com, SPIN Magazine, and various other outlets. I started Listen Up Denver! as a way to share the music information that is constantly spilling out of my head with people who care. Please enjoy!