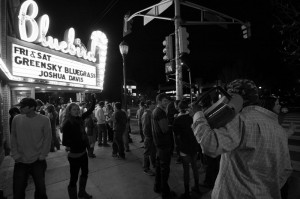 Photos by Mitch Kline
The Scene: The Bluebird was packed this past weekend for night two of Greensky Bluegrass.  From dready to dapper, people danced and stared as Greensky blew the minds of their home-away from home-town crowd.
On Saturday night, Listen Up Denver! had a pre-party across the street at Goosetown Tavern where Caribou Mountain Collective picked and grinned for a couple of hours before Greensky did the same, and if it wasn't free, it would have sold out as well. Those Goosetown bartenders were workin' double time, and clean pint glasses were in high demand.  It was a lot of Bluegrass, and a lot of green grass, but I held on, cause I was built to last.
Greensky Bluegrass: By the time I shuffled over to The Bluebird, opener Joshua Davis of Steppin' In It had already done his thing, but he did reappear later in the show. The slow groove of "No Idea" eased us into the night, and I was immediately reminded of why I dig this band. First of all, the Jamgrass sub-genre of Bluegrass usually isn't my thing. I like more traditional Bluegrass or intricate fusion played by well trained musicians, combined with vocals that are actually pleasing to the ear, and lyrics that tell a story, or at least make sense and are understandable. Originals, reinterpretations, doesn't matter to me, just play it purdy. Who's my favorite band with Bluegrass roots? Crooked Still. Aoife O'Donovan could sing peace into this world if she had a speaker loud enough and that's why I love Greensky; they bring a lot of the above mentioned qualities to a usually silly or sloppy Jamgrass scene. These guys are actually the only band on the national Jamgrass circuit that I look forward to seeing (but I have been digging Steppin' In It after hearing Josh, and look forward to seeing them live someday soon). I am warming up to some more of the genre though. The String Cheese Incident's recordings, either studio or live, have never done it for me, but I have met so many awesome folks with amazing taste in music who wouldn't miss a SCI show that I have decided to go New Years eve…if I can get a ticket. Plus Kyle Hollingsworth is just sick. I got a finger in the air folks.
I've got to say that some of the best songs I heard Saturday night were covers like "Help!" by The Beatles and "Oh la la" by The Faces. That's not because Greensky's originals aren't solid, but because hearing an intelligent interpretation of an already loved song just makes me happy. "All Four" is my favorite Greensky original, and while the harmonies and precision are right up my alley, so are the lyrics. Well written and easy to connect to, the song captures feeling and translates it to anyone. After closing the first set with their version of Jimmy Martin's 1960s classic "Hit Parade of Love," I made my way outside for a much needed breather.
Saturday's show coincided with the zombie walk, and the second set started off with "Bring Out Your Dead" before Pink Floyd's classic "Time" brought us all to life. Greensky picks on some interesting covers that show their diversity in taste and talent and I love hearing the spin they put on The Beatles or Pink Floyd.  I also typically love their take on classic Bluegrass tunes but "Pig In A Pen" on Saturday left a little something to be desired.  The original version is one of my favorites, and a close second is Old And In The Way's take on it, so I just wish Greensky had sung the words instead of mumbling and muddling through the tune, only singing every other word or so.  It was almost disrespectful to my ears. That said, they made up for it with an encore of The Carter Family gospel tune "Workin' On A Building" and The Stanley Brothers "How Mountain Girls Can Love." Man, can they ever. The Stanley Brothers knew it, Greensky knows it, and I concur wholeheartedly, mountain girls can love on an elevated plane.
Setlist:
Set 1: No Idea, Help!, Bringing In The Georgia Mail, Tarpology, Reverend, Worried About The Weather, Oh la la, Blood sucking F(r)iends, All Four, Hit Parade of Love
Set 2: Bring Out Your Dead, Dry County, Time, Leap Year, Against The Days, Pig In A Pen, Driven To Tears, Into The Rafters, Just To Lie, Instrumental, Corvette
Encore: Workin On A Building, How Mountain Girls Can Love
Energy: A
Sound: B+
Musicianship: A-
Stage Presence: B+
Set / Light show: A-
Overall: A-
Brian Turk grew up in the shadow of the Catskill Mountains, near Woodstock, NY. He comes from a family of music lovers, audiopliles, Dead Heads and avid concert goers.The musical magic that can only be created in the Catsklills, both past and present, is what Brian cosiders the epicenter of his music addiction. The music of The Band, and most recently The Levon Helm Band, is the soundtrack of home for him. Brian's mother took him to his first concert at 5years old...it was Johnny Cash and Roseanne Cash at Jones Beach Amphitheatre. For Brian, music is a family affair. He feels the same way about live music...we all convene to celebrate together. Brian's writing life started when he wrote his favorite author, southern fiction writer Clyde Edgerton, a fan letter at age 13. When most kids were idolizing baseball players and television, he was worshipping writers and musicians. The two became friends and Clyde shared his craft with Brian. The next year Brian attended Duke University's Young Writers Camp. This is the extent, of what Brian considers, his "formal" training in writing. From then on his goal was to capture snapshots of life through words. Brian has been involved with live music in various facets over the years, and combined with his enthusiasm and love for Denver's music scene, he creates a vivid description of what he sees and hears. If you see him out at a show, dancing with a notebook in hand, say hello.