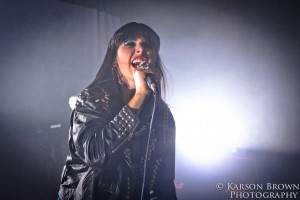 Photos by Karson Brown
The Scene: Last Tuesday night at The Boulder Theater, an eclectic gathering waited for the Alternative/Indie Rock duo, Sleigh Bells. Young adults adorned with an array of Colorado college hoodies and thirty something's in blazers and jeans came out for one of the most energetic performance of year.
Sleigh Bells: As guitarist Derek Miller stood on a simple, smoke filled stage backed by giant strobe lights and amps – LOTS of amps – Alexis Krauss appeared out of thin air like a magician wearing black leather and fishnet stockings and Sleigh Bells kicked off the party with crowd favorite "Demons" from their latest album, Reign Of Terror, released in early 2012.
Surrounded by an ecstatic and bouncy crowd, Krauss seemed to feed off of the energy seeping from her fans. The band stirred up songs like "Kids" and "Straight A's" from their debut album Treats and the devout fans sang right along. It wasn't long before the crowd was just a sea of "rock on" hand signs, head bangers and frenetic dancers. Many times Krauss would come face to face with an entranced fan and would sing with them only few inches from her face, the fans loved it! Talk about knowing your audience, she knew exactly how to get the crowd pumped. When she said get loud, you got loud. Krauss had amazing power and control of the room.
The black-haired stunner talked to the crowd like she knew them personally from previous shows in Colorado and even pointed to a few and called them out by saying "I remember you!" She dedicated their latest radio hit, "Comeback Kid," to the crowd, and the sweaty masses went wild. While Krauss spent a lot of the show as close as possible to the edge of the stage as she expressed a gracious attitude for her fans love and adoration, Miller never said a word. He handed over a microphone and his guitar a few times for the fans to play but never said a single word, which only added to his mystique.
While Krauss's infectious beats and enchanting, glossy voice is unrivaled, Miller's gritty metal sound and songwriting are hard, and at times brutal, but dynamic and entertaining. Clearly Sleigh Bells heavy and silky style is one that people love and find it easy to relate to. From the vintage cheering beats reminiscent of 80's band The Go-Gos, to the metal riffs and electronica beats of today, Sleigh Bells have it all and know exactly how to put on a great performance.
Energy: A+
Musicianship: A
Sound: A
Stage Presence: A+
Set/Light Show: A-
Overall: A
Karson Brown is Colorado native, local concert photographer and travel photographer. An Art Institute of Colorado gradate, she has a strong background in photography and design. With a passion for nearly all genres of music, Karson has the vision and love for performances which is infused in her written word and photographs. Karson's connection and roots in Colorado keep her grounded and involved in local events and concerts.