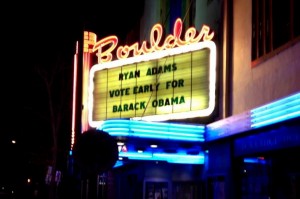 Photo From Ryan Adams' Twitter Feed
The Scene: The Boulder Theater was packed on Monday night as the campaign threw a free acoustic show with Ryan Adams for Obama supporters and campaign volunteers.  There were a few scummy scalpers selling tickets to the free event when I walked up to the theater, but other than that most people were either crammed in George's next door having a quick beer (as the theater bars were closed) or already in their seats awaiting the beginning of the performance.
Ryan Adams: Without much fanfare aside from his typical "if you use a camera, recording device, or cell phone during this performance the ushers will dismember you" message, Adams walked out on stage at about 8:15 and received a warm welcome.  I've got to say, I was surprised there wasn't a "ra ra Obama" type of pre-amble, but I guess that everyone pretty much knew why they were there so it wasn't necessary (or I suppose it's possible I just missed it).
As Ryan took a seat in the middle of stage with his red, white, and blue Buck Owens guitar, a stage hand brought out a chair and Adams quickly put to rest all the whispered speculation about who it was for when he invited "his Lady," Mandy Moore, out to join him on "Oh My Sweet Carolina" to open the show.  Sadly it was the only time Moore appeared throughout the set despite fans calling for "more duets" at several breaks in the music.  "Now that she's gone, we can do the songs that have cussing in them" Adams said as Moore left the stage and, though he got a good laugh, I'm not sure he was joking as he went on to liberally drop the F-bomb throughout the night.
Though the show was remarkably similar to his set a little over a year ago at The Denver Civic Theater [Editor's Note: Read our review of that show here], Adams' quirky personality and hilarious banter kept things interesting as he talked to his guitar about staying in tune, joked with the audience about how slow and sad his songs tend to be, and even called out the infamous Boulder Theater ghost, George, to join him on "Everybody Knows."  It is always great to see Adams perform his songs, but I have to admit I'm a sucker for his stories.
Despite keeping up a pretty consistent patter with the audience, Adams only briefly touched on the election and voting a couple of times during the show.  He quipped about how "only one of the candidates has seen Star Wars," and he pointed out that a early voting location in Boulder is right across from the theater and encourage people to get out and vote "before changing their bong-water" on Tuesday morning.  During the improvised "Mr. Cat," which Adams performed on the piano, he threw in a line about how he knows Mr. Cat can't vote yet but that one day there might be a cat that's the mayor of a city somewhere, a city with the "best weed."  Adams also took time to thank all those who took the time to volunteer during the campaign, and made a point to tell them all how much he respected them for that.  He was by no means shoving politics down our throats, and I'm pretty sure President Obama's name didn't come up once during the two hour performance.
Musically speaking, highlights of the show included solo piano takes on "Rescue Blues" and "Silvia Plath," a hushed version of the Whiskeytown gem "Houses On The Hill," and "Let It Ride" that stood up very well as a solo piece despite being one of my favorite songs from Adams' days with The Cardinals.  As ten o'clock approached, Adams closed the set with "Come Pick Me Up" and left the stage for a few minutes only to return and deliver a one song encore of Bob Mould's "Black Sheets Of Rain."
While I respect Adams very much, and his solo shows are wonderful treats, it would be nice to see him get back together with a band and revisit some of the Alt-Country and Rock-n-Roll sounds that I, and so many others, fell in love with over his years with Whiskeytown, The Cardinals, and as a solo artist recording with a band.
Energy: B
Sound: A
Musicianship: A-
Stage Presence: B+
Set / Light show: C
Overall: B+

Music has always been a part of my life. It probably all started listening to old Grateful Dead, Peter Paul & Mary, and Simon & Garfunkel records that my parents had, but it wasn't long before they were taking me to concerts like Starship, Crosby, Stills & Nash, and Huey Lewis & The News. I got the bug to write about music after reviewing an Eric Clapton concert for a creative writing project in high school but didn't really take it up seriously until 2002. Since then I have published countless articles in The Marquee Magazine and done some work for Jambase.com, SPIN Magazine, and various other outlets. I started Listen Up Denver! as a way to share the music information that is constantly spilling out of my head with people who care. Please enjoy!