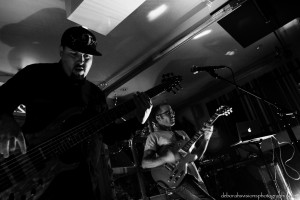 Photos by Johne Edge & Deborahvisions Photography
The Scene: I spent Tuesday afternoon playing wiffle ball in Cheesman Park, racing around bases with a beer in my hand and a shit eating grin on my face, but fast-forward to Wednesday, and I was racing between shelters instead of bases.  That's right, Denver winter is here and with it the first snow.  Keep your head up though, because Highland Tap and Burger is continuing their Wednesday night music series through these frigid winter months to provide a space for beer, burger, and music lovers to dance away work week blues.  I enjoyed a taste of what the High Tap brings to the table last week as Tiger Party warmed the room with a rump shaking set that kept the dance floor moving the entire evening.
Tiger Party:  With contributing members from Lotus, Octopus Nebula, and The Malah, I wasn't 100% sure what Tiger Party was going to sound like…but I had a feeling I was going to like it.  The product of their funky jam fusion was a thing of beauty for your ears.  As the scents of French Fries and cannabis permeated the crowd, I squeezed off a few quick photos before bagging my camera and joining the dancing heathens that had infiltrated this tiger party.  We would go on to share a better portion of the evening together as the quartet jammed through hours of material stopping only to call upon a guest vocalist or their secret weapon, the Sexy Sax Man.  Let me tell you the only thing that is better than jam music is jam music with Saxophone.  I am reserved to admit that this was my first ever Tiger Party experience, but proud to say it will not be my last!  Keep your eyes peeled for upcoming Tiger Party shows because there ain't no party like a Tiger Party.
Energy: B
Sound: B
Musicianship: A-
Stage Presence: B
Set/Light Show: C
Overall: B
In a day and age where music plays as big of a role in shaping who we are as our parents do, I have my parents to thank for how I turned out – musically inclined at least. Growing up in a house with music literally stacked to the ceiling, I remember swiping an array of albums from my parent's collection, only to be called out on it once they wanted to listen to one. As I grew so did my taste in music, which now encompasses everything but pop-country (I just can't do it). So whether its electro-funk or dub-step, punk rock or hip-hop, jam-grass or reggae, you can catch me there, loving life and the beautiful sounds that surround us in it.