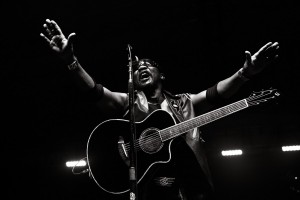 Why You Should Go: Toots and the Maytals, originally called simply The Maytals, are considered legends of Ska and Reggae music. Their sound is a unique, original combination of gospel, ska, soul, reggae and rock.  Their sound remains a relevant influence on today's global music scene with artists from the late Amy Winehouse to Sublime re-recording classic tracks. In recent years Toots has toured with The Rolling Stones, Dave Matthews, Sheryl Crow and Los Lonely Boys.
As if that wasn't enough New Orleans powerhouse Anders Osborne will join The Maytals on the bill.  According to Paste Magazine "Anders Osborne is a triple threat as a singer, songwriter, and instrumentalist. He can play the gutbucket bluesman and hot guitar slinger, and he can play the sensitive, soulful singer/songwriter, and he's excellent at both. Mastering either genre puts you in select company. Mastering both is mind-bogglingly great."  Between the sheer force and potent lyricism of his guitar playing, the riveting depth of his songwriting and the straight-from-the-soul conviction of his vocals, New Orleans' Anders Osborne is among the most original and visionary musicians writing and performing today.
Venue: Daniels Hall @ Swallow Hill, 71 East Yale Avenue, Denver, Colorado – 80210 – (303) 777-1003
Show: 8:00 PM
*Price: ADV – $54.00 DoS – $56.00
PURCHASE TICKETS
*All times and prices are gathered from other sources and we are not responsible for mistakes or inconsistencies. They are intended only as guidelines. Please, always call the venue if you desire the most accurate information possible.