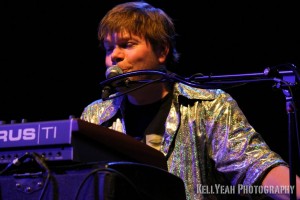 Photos by Kelly Hueseman
The Scene: While The Boulder Theater is nestled right against the front range mountains in Boulder, CO, home to the University of Colorado's Boulder campus, this venue is not your average college town concert venue. Over the years, some huge acts have played at the century-old theater known for its clear acoustics and Art Deco architecture.
Last Saturday night, The Boulder Theater was a cozy hangout for not only young men and women who go to school in Boulder, but also for a steady stream of young adults from Denver and middle-aged folks from the foothills, all there to bounce along to the hypnotic beats from John Brown's Body or to catch the latest music from longtime Boulder resident Kyle Hollingsworth. The vibe among the crowd was all fun – everyone shared the packed floor space, danced with each other, and seemed to be having a good time all night.
Opener: The Brothers Sayers. The perfect way to kick off the night was to hear from The Brothers Sayers.  The trio, made up of brothers Garrett Sayers on Bass (in Kyle Hollingsworth Band, The Motet), Drew Sayers (saxophone player for John Brown's Body), and funky drummer Brian Sayers, were all smiles for their whole set.  They brought just the right amount of Funk and Soul and just when we were about to forget there wasn't a guitar player in the band Dan Schwindt, the much-loved Denver-based guitar player from Kyle Hollingsworth's band, sat in for a few songs and whet our appetites for more of his playing later in the show.
John Brown's Body: If you've heard of John Brown's Body, but never seen them live, you probably knew as little as I did before hearing them for the first time on Saturday night. What I expected was Reggae music. What I got was not your average Reggae music, but throwback Ska Reggae fused with Funk. What I expected was mediocre musicianship. What I got was seriously passionate playing from all eight members of this East Coast band that's been on the scene since 1995. I was seriously impressed.
One of the coolest things about Reggae music is its likability and this band was a blast to listen to.  Lead singer Elliot Martin casually sauntered up to center stage after a couple of instrumental songs from the band. His long dreadlocks, laid-back clothes, and serene facial expressions would certainly lead any music fan to believe they're about to hear some authentic reggae music, but I'm from The Show-Me State, and I didn't believe him right away, not even when I saw his natural footwork and the ease with which he fell into the groove of each song. I wasn't a believer in this music until I heard Martin's soul in his lyrics as he tucked us under his wing and bounced us all along the groove with him. A truly believable and authentic singer like Martin is hard to find in an era of copycats. John Brown's Body is the real deal.
You can see how much I loved the lead singer of JBB, but the real standout of the night was Bass player Nate Edgar. He showed off a vast arsenal of "Funk Faces" as he laid into tight grooves, led the tight horn section (with special props to Drew Sayers who killed it on sax) in synchronized steps, and checked in regularly with the other band members. He was the pimp of the stage, with the talent and the energy to prove it.
As much fun as we knew the set from Kyle Hollingsworth Band would be, we were all bummed when it was over.
Kyle Hollingsworth Band: An expected second-slot headliner due to his popularity in Boulder, Hollingsworth's and his band took the stage to a warm welcome from the hometown crowd.  His band members had been sitting in with the two previous bands all night long, so they were all warmed up and ready to go by the time their set began and Hollingsworth himself had joined John Brown's Body, sitting alongside JBB's keyboardist to jam and give us a taste of what was to come from his set. The experience of watching music spill out of Kyle Hollingsworth is frenetic – a total blast-off of sound that bounces around the room. I appreciated the youthfulness of Hollingsworth's playing. He played his instruments with ease, and while the band's sound has an echo of String Cheese Incident's much-loved music, it's a distant one.  It was a stark contrast to the heady vibrations from John Brown's Body.
Dan Schwindt continued to prove what a Guitar boss he is as he sliced through notes like Jimi Hendrix while getting all the ladies' knees to buckle at his Bradley Cooper-esque looks. Rounding out the night's high caliber talent was bongo playing, perfectly timed vocals from Hollingsworth, and the always-incredible and highly-respected Garrett Sayers on bass (who, by the way, has been compared to Allman Brothers Bassist, Oteil Burbridge).
I have to admit that being up-front-and-center at a Kyle Hollingsworth show was a joyous experience. There's something about him and his band of flawless musicians that makes you curious what's next from the man who dares to wear an outrageous silver shirt onstage. I suppose that's what's so cool about the best jam bands: the colorful picture of music that looks less like Monet and more like graffiti.
Energy: A
Musicianship: A
Sound: A-
Stage Presence: A
Set/Light Show: C+
Overall: A-
After growing up in Missouri listening to vintage records of The Allman Brothers, Carly Simon, and Stevie Ray Vaughan, I was hooked to the live music scene and the contagious sounds of guitar licks and soulful lyrics. After moving to Colorado, I've been contributing to Listen Up Denver! as a freelance photographer and writer. I've also started a side project, KellYeah Photography, which gives me the opportunity to pair my passion for live music with my creativity and love of being around people. Aside from photography and writing, I'm an avid hiker of Colorado 14ers and a beer enthusiast.