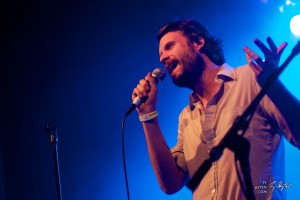 Photos by Ty Hyten
The Scene: The sold-out Bluebird was crowded and in high spirits as twenty and thirty-somethings finished their cigarettes, grabbed drinks from the bar, and got ready for the songs of Father John Misty's recent release, Fear Fun. Misty's last appearance in Denver was a drunken acoustic opening set for Youth Lagoon on the same stage in front of a largely disinterested crowd and from the looks of things on Friday, most of the crowd had missed that or, like myself, knew better and came for a second shot.
Father John Misty: I've long been a deep fan of the spiritual journeys of Josh Tillman. His career as J. Tillman was a beautiful soundtrack to college relationships past – music deeply rooted in spirituality, accompanied by warm, ethereal vocals and sparse instrumentation. His pair of 2009 albums, Year In The Kingdom & Vacilando Territory Blues, were always in my ear, in times good and bad, somehow fitting each perfectly.
If you're not familiar with his solo work, you're surely familiar with his role as drummer and backup vocalist for Seattle band Fleet Foxes. Earlier this year Tillman announced his retirement from the Foxes and after taking a long ride in his van, a batch of mushrooms, and moving out to Laurel Canyon to write a novel, he reappeared an enlightened, light-hearted man, with a new moniker – Father John Misty. His album Fear Fun was released on Sub Pop in May and hasn't left my subconscious since. Tillman's new incarnation has produced a fun, sometimes absurd, yet gorgeous masterpiece that I've been playing far too often in recent months.
"Fun times in Babylon, that's what I'm counting on…" crooned our new dad, Father John, as the voices around me joined in chorus.  To my delight, the line-up of his band was the same I had seen months earlier at the Outside Lands Festival, and each member added perfect harmonies and played their instruments with masterful talent. Misty gyrated his skinny hips, tossed his head back, and thrust at the air like the most seasoned drunken slut you've ever seen dancing alone at last call. The character from the album was as flamboyant and entertaining as anyone could have asked as his lead guitar player plucked killer Country inflected leads cloaked in perhaps the best tone I've ever heard from a Telecaster, or any guitar for that matter. His leads were so twangy and well placed that most had to tear our eyes away from the dance moves at center stage for much of the show.
"I'm Writing a Novel" and "Well, You Can Do It Without Me" were highlights of the evening as Misty traversed the majority of Fear Fun and interjected dry, witty remarks between songs. The Father wrapped the show with an encore that started with Frank Sinatra's "Nevertheless" which fit his voice like a pair of tight velvet pants with a hole in the crotch. It was unexpected and well received because he has a way of tapping into a handful of genres with style and ease. He ended the night on Canned Heat's "On The Road Again" which turned out as yet another surprise and a chance to take in FJM's full voice and the lead guitar player's solid chops.
As I stood in the cool night air with a small group of friends feeling just right and quite satisfied, a friend sent Father John a Tweet with a picture of a small gift he had for him. After a bit The Father appeared and graciously shared his gift as we talked about the tour. As it turned out, due to some unforeseen circumstances, the Bluebird show was actually their last of this leg of the tour. They head back out again on the 11th for a trek through Europe before returning to Colorado to play an opening set for The Walkmen at The Ogden on January 21st. Get your tickets now.
Energy: A+
Musicianship: A
Stage Presence: A
Sound: A
Set/Light Show: B
Overall: A