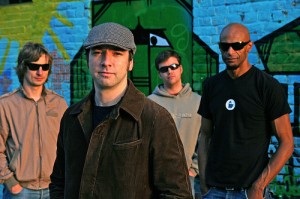 Listen Up Denver! has a pair of tickets to give away for The New Mastersounds intimate Saturday show at Cervantes' Other Side this weekend.
To be entered in this contest just post "The New Mastersounds Are Going To Funk Up The Other Side on Saturday Night" on our Facebook wall. 
For those of you not on Facebook, shoot us an email at listenupdenver@gmail.com saying: "I want to see The New Mastersounds at The Other Side!"
PLEASE NOTE: Entry deadline is 4pm MST Thursday, November 15th and the winner will be notified by email or Facebook no later than 5pm MST the same day.  Please, only enter if you can go to the show!
Why You Should Go: Because it's funky! The New Mastersounds are a four-piece band based in Leeds, England, whose modern take on vintage soul-jazz, funk and rock draws influences from Jimmies McGriff, Smith, and Hendrix, as well as their most closely-associated mentors, The Meters. Try to imagine Grant Green and Lou Donaldson having a fight in a Hammond Organ shop while James Brown holds the coats, and you have some idea of what to expect from this band.
Having toured throughout Europe, Japan and the USA, the NMS have earned global recognition as a key band in the "New Funk" scene. But purists beware: their unique blend of Funk, Rock, Soul and Dance music is hard to sum up and doesn't fit neatly into any one genre.
Please Note: The Friday show is in Cervantes' Ballroom, while the Saturday show is in The Other Side.
Venue: Cervantes' Masterpiece, 2637 Welton Street, Denver, CO 80205 – 303/297-1772
Doors: 8:00 pm Both Nights
*Price: ADV – $20.00, DoS – $25.00
PURCHASE FRIDAY TICKETS
PURCHASE SATURDAY TICKETS
*All prices are gathered from other sources and we are not responsible for mistakes or inconsistencies. They are intended only as guidelines. Please, always call the venue if you desire the most accurate information possible.