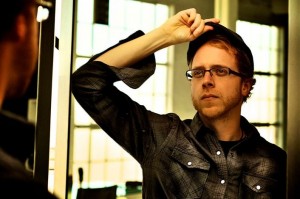 Photo by Amberly Chalberg
Anthology Fine Art recently unveiled a very special photography show entitled "Front Row: Concert Photography by Kit Chalberg."  The show is a 21-piece collection of live concert photography by Denver-based photographer Kit Chalberg who, in addition to contributing to Listen Up Denver!, is an official photographer for the Jim Beam Live Music Series, contributor for the Denver Post, The Pier, and a professional photojournalist.  Chalberg has created images of musicians such as B.B. King, The Civil Wars, Gov't Mule, Brandi Carlile, Ziggy Marley,and Michael Franti and Spearhead—and has worked countless other concerts throughout Colorado over the past three years. Chalberg's approach and perspective have set him apart in the concert photography world. "Front Row" is an exclusive opportunity to see his work in a public setting from now until December 22, 2012 and we recently sat down with the man himself to talk about his work, the show, and a very special concert he is putting on this Friday, November 16th.
Listen Up Denver!: Tell us about how you got you started with photography?
Kit Chalberg: I have been around photos and photography my entire life. My Dad was a talented photographer and shot landscapes in his spare time. He was always passionate about photography, but never got to pursue it beyond a hobby. Growing up I remember looking at concert photography, particularly images by the legend Jim Marshall. Of any music photographer, Marshall has taken the most iconic images of music legends, everyone from the Allman Brothers, The Beatles, Hendrix, Chuck Berry, Santana–the list goes on-and-on. As I got older I gravitated towards C. Taylor Crothers, Danny Clinch and others from today's music photography scenes. For me, the element that sets them all apart is not only amazing imagery, but unprecedented access to musicians.
LUD!: What was the first concert you ever shot?
KC: Hummm…good question. As a teenager I remember sneaking down to the front rows with my camera to shoot Dave Matthews Band at the Gorge. I think I've tried to sneak my camera into every show since then, including the times I got busted and got my batteries taken from me by security.
LUD!: When did you get serious about concert photography?  Was there a particular show that pushed you over the edge or was it an evolution over time?
KC: I have been serious about photography for a long time, shooting portraits, weddings and family stuff. I started getting serious about concert photography after shooting NEEDTOBREATHE at The Ogden Theatre early 2010. Their management was very kind to grant me a photo pass.  I used this show as a springboard to approach band management, promoters and publicists for access.  I still include an image from that show in my portfolio. That same image is also featured in my gallery show, "Front Row." I am a huge music fan. Prior to shooting a lot of shows, my wife and I would go to at least a couple shows a month all over Colorado. I'm not sure when it "clicked" that I should shoot shows but I remember thinking "I love music, I love photography and I have all the gear, so why not give it a try?" I haven't stopped since.
LUD!: Do you have a favorite artist to shoot?
KC: No–not specifically. I have a "type" of artist I enjoy shooting. I love creating images of musicians who tell stories through their songs. I love creating images of musicians who captivate audiences. I love creating images of musicians who make you believe every word they are singing. This means, as a fan, that I typically gravitate towards singer songwriter-types. However, as a photographer I have created images of musicians in nearly every genre. I try to avoid shooting the same musicians over-and-over again, because, even though I may love the music, I find myself getting lazy. I like to be challenged with changing light colors, intensities, etc. There are several challenging genres out there, like Dubstep and EDM. While I am not a fan of this music, it can be challenging to shoot and you have to be on your game to get great photos!
LUD!: Is there an artist that you haven't gotten to shoot but would love to?  Who is it and why?
KC: There are lots of them! I could go on and on. Music is so diverse and there is so much music out there. One of my goals is to experience all types of music, in all types of settings.
LUD!: What is your favorite venue to shoot at and why?
KC: If I take Red Rocks out of the equation–because, after all, nothing compares. As a photographer and a fan, the Ogden Theater is my favorite venue in Colorado. As photographer the Ogden is the best for several factors. First, the stage is huge–both in terms of depth and width. The stage is also high, which provides a great perspective. Second, the Ogden has great lighting, which is the most important external factor to creating great images. Third, there are several areas of the venue to shoot from–the pit, balcony, stairs and several tiers. As a fan, the Ogden has the best sound and several viewing options. The Ogden is also the right size for both intimate shows and national touring bands. Like the Bluebird, Gothic, Paramount and Boulder Theaters, the Ogden has a great history and architecture. The bathrooms could use some work though, ha!
LUD!: What is the biggest challenge of concert photography for you?
KC: Great question! Creating images at shows is the easy part. The biggest challenge for most photographers, and especially music photographers, is making it a career. For concert photographers, there are several unique factors and challenges that contribute to this issue. There isn't enough space in this interview to go into everything. Let's just say that as time has gone on, great live concert photography has become devalued and under appreciated. This is because the market is saturated with amateur and semi-pro photographers who are willing to give away images for free–making it nearly impossible for anyone to make money, let alone a career. The saddest thing is that photographers have done this to themselves for the sake of "photo credit." This is just one of factors in a complex equation though.
LUD!: Not to give away any of your secrets but what gear do you use for your shoots?
KC: There are no secrets for what I do. I use Nikon gear–all the standard professional gear and a couple specialty lenses. I usually use two full frame bodies. The lenses I use range from ultra-wide angle to 200mm. The venue, band and other factors determine which lenses I use. In the last year, I have transitioned to promo imagery and studio work. For band promo shoots I have a couple different strobe kits, and also use Nikon speedlights both in the studio and on location. I feel like my strength is photojournalism, so I always attempt to use available light and then incorporate strobes, as needed. Having great gear is nice, but it doesn't make the photographer. The difference between great images and other images, isn't the camera or lenses. Great images are created by photographers who are concerned with communicating something to the viewer.
LUD!: What tips or tricks do you have for concert photogs out there who are just starting out?
KC: For me, there are no tricks. It comes down to whether or not you know how to use your camera and whether or not you understanding the limits of your gear. So, my first tip would be learn how to shoot in manual mode and don't let the camera judge exposure, color temperature or anything else–because it will usually get it wrong. I believe that having 100% control of your settings will always lead to better images. Second, focus on composition. For me, composition is most important element of imagery. You can have the right exposure, your images can be sharp, but if they don't communicate something your images will be soon forgotten. Third, keep it simple. I have found that the best  images are those that capture overall essence of the show, including the musician, the lighting and the setting. In post production, I typically don't edit my images, with the exception of monochrome filters (B&W) and minor exposure or color adjustments. I avoid excessive editing, because, for me, I am interested in remembering the show as it was, which usually doesn't include excessive saturation, vibrancy or other edits. My approach is straightforward, get it right in-camera and create less work for yourself during post production. Fourth, wear ear plugs or you will end up deaf like me, ha! Fifth, as hard as it can be with concert photography, always try to be unique. Create images that fans, artists and others will remember.
LUD!: How did your current photography show at Anthology Fine Art come together for you?
KC: My wife Amber and I lived in the Santa Arts District for almost four years. When Anthology Fine Art opened a couple years back we stopped by to meet the owners, Zach and Kendra Custer. We all started chatting about art and photography. During our conversations we discovered that Zach framed a limited edition poster for us years earlier. This created a great connection. After about a year of talking and planning, one thing led to another and things worked out to feature some of my work. Zach and Kendra are great! They are super talented framers and artists in their own right. Anthology is doing great things in the Art's District. They are working with emerging artists and giving them an outlet. One of my goals when I decided to pursue music and concert photography was to have a gallery show within two years. This took some serious foresight, planning and looking through thousands of images for the right ones. Anthology is huge part of this process and I am honored to have my work hanging in the gallery.
LUD!: Can you talk about some of the photos that are in that show for people who haven't had a chance to make it over the gallery yet?
KC: For the gallery show "Front Row" I chose a mix of musicians and what I call "scene setters." Scene setters are images from live shows that audiences typically don't notice or overlook because they are focused on the musician. I focus on these elements because they provide a unique perspective and insight into each artist. Several of these images were created by my wife Amber with whom I used to shoot a ton of shows. She is a super talented photographer. For example, "Front Row" features a image of Gregory Alan Isakov's harmonica resting on a chair. The image was created at his annual Christmas show at Gold Hill Inn in 2010. Likewise, there is a image of Elephant Revival's stand-up bass, as well as a collection of guitars from back stage at Red Rocks. The image that has generated the most conversation is the piece called, "Chair." I created "Chair" prior to G. Love coming on stage at the Ogden. The image is simply a loan chair on the vast stage, with a spotlight over head. The image communicates a bit of loneliness and isolation. But, because of the craziness that Clint Eastwood pulled with the empty chair debate at the RNC, people have been asking, albeit sarcastically, "Is that Clint Eastwood's chair?" It's crazy how imagery communicates one thing to one person and a completely different thing to another–and, when you add popular culture and media into the equation your work is completely redefined.
For the artists, I selected images of BB King, Michael Franti, The Civil Wars, Brandi Carlile, G. Love and others. I choose images of these artists because they are both recognizable and interesting to look at. I tried to avoid the standard concert image of people singing or yelling into the mic. These images aren't particularly unique or reflective of my work. Rather, I attempted to select images that communicate "moments" during a performance. Whether it's Daughtry reflecting on stage with his eyes closed or BB King staring into the Red Rocks crowd, I wanted to communicate images that give the viewer an opportunity to see the musicians as people.
LUD!: You've got a big concert coming up this Friday with Rob Drabkin and Tim Bruns of Churchill, why did you choose those artists?
KC: Yes–we have a big concert on Friday, November 16th at Anthology. Zach, Kendra and I decided that to "celebrate" the gallery show we would host a live concert. We decided we wanted to feature local musicians, so we decided to go after a couple of the best singer songwriters in the area. I have been a fan of Rob's for years as I think he is one of Denver's best singer songwriters. I have known Rob for a while and had the privilege to work with him on a couple projects, including his Red Rocks performance in May and his Graceland show at The Boulder Theater. In addition to Rob, we are very excited to have Tim Bruns of Churchill on the bill. Tim is the lead singer, songwriter and front man of the band. He joined the show because of his friendship with Kendra. She and Zach pitched the show to him and he agreed–pretty simple really. Chruchill just returned from Los Angeles, so Tim was available to play. I expect him to play a ton of new, never-before-heard material, along with some Churchill tunes. I strongly feel that this show will be an opportunity for fans to see both Rob and Tim in an intimate, unique setting.
LUD!: I understand this might be one of the last times that Tim Bruns plays an intimate show like this, why is that?
KC: I am not sure if it will be one of the last times, but if you consider Churchill's recently upward movement, it could be a while before Tim does something like this again. For those who aren't aware Churchill was recently signed to A&M/Octane Records, making them the most recent Denver band to be signed to a major record label. I expect Churchill to be Denver's next "big thing." As you'd expect, the band's time is heavily managed by the record label and others, so playing these types of shows isn't always part of the master plan.
LUD!: How can people get tickets to that show?
KC: Tickets are only $8 and include drinks [Editor's Note: Tickets can be purchased here]. How can you beat that deal? The show is 21+ and starts at 8pm. I strongly encourage everyone to buy tickets online, but we will have a very limited number available at the door the night of the show.
For tickets to the Rob Drabkin & Tim Bruns concert, go to: https://www.ticketriver.com/event/5109
Music has always been a part of my life. It probably all started listening to old Grateful Dead, Peter Paul & Mary, and Simon & Garfunkel records that my parents had, but it wasn't long before they were taking me to concerts like Starship, Crosby, Stills & Nash, and Huey Lewis & The News. I got the bug to write about music after reviewing an Eric Clapton concert for a creative writing project in high school but didn't really take it up seriously until 2002. Since then I have published countless articles in The Marquee Magazine and done some work for Jambase.com, SPIN Magazine, and various other outlets. I started Listen Up Denver! as a way to share the music information that is constantly spilling out of my head with people who care. Please enjoy!