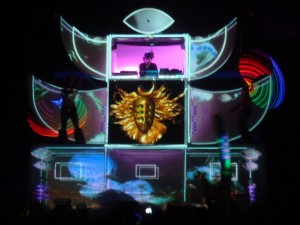 Photo by Tim Dwenger
Why You Should Go: For this tour, the man behind Shpongle, Pioneering musician/producer/composer/DJ Simon Posford, reveals his brand-new "Decks, FX & 101″ show made up of an arsenal of turntables, synths, and effects units.  The brand new Shpongle Hybrid DJ show finds Posford on turntables with his vintage analog Roland SH 101 and live synth effects.
The elaborately staged multi-media presentation, which Posford describes as a "maelstrom of beauty and surprise," can be expected to raise the bar on Shpongle's longstanding reputation for providing mind-bending, fully immersive multi-dimensional, multi-sensory experiences. The shows will incorporate The Shpongletron, a pyramid-like 18-foot structure (designed by Coast II Coast Entertainment and VJ Zebbler specifically for this tour) which will blast audiences with four levels of psychedelic mayhem, along with dancers, multiple video screens and a live DJ set by Posford.  Posford will also showcase tracks off the recently released Shpongle EP The God Particle.
Venues:
Wednesday: The Bluebird Theatre, 3317 E. Colfax Ave, Denver, CO 80206 – 303.377-1666
Saturday: The Boulder Theater, 2032 14th Street, Boulder, CO 80302 – 303.786.7030
Doors:
Wednesday: 8:00 pm
Saturday: 8:00 pm
*Price:
Wednesday: $35.00 Buy Tix
Saturday: $35.00 Buy Tix
*All times and prices are gathered from other sources and I am not responsible for mistakes or inconsistencies. They are intended only as guidelines. Please, always call the venue if you desire the most accurate information possible.

Music has always been a part of my life. It probably all started listening to old Grateful Dead, Peter Paul & Mary, and Simon & Garfunkel records that my parents had, but it wasn't long before they were taking me to concerts like Starship, Crosby, Stills & Nash, and Huey Lewis & The News. I got the bug to write about music after reviewing an Eric Clapton concert for a creative writing project in high school but didn't really take it up seriously until 2002. Since then I have published countless articles in The Marquee Magazine and done some work for Jambase.com, SPIN Magazine, and various other outlets. I started Listen Up Denver! as a way to share the music information that is constantly spilling out of my head with people who care. Please enjoy!