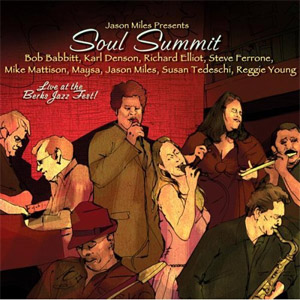 New York City Grammy winning jazz musician and producer Jason Miles has orchestrated and produced a recording that has restored my faith in live concert recordings. The subtle off-mic chuckles between songs, the slight missteps, everything that makes live music the ferocious and compelling beast that it is has been captured on this recording. With the production value of a great studio album and just the right amount of audience noise to accentuate the moments when you are jumping off your couch at home, this record brings late 60's and 70's soul to life.
The album jumps right into the heat of the battle with Richard Elliot, of Tower of Power fame, taking the reigns on a blazing rendition of Junior Walker's "Shotgun" that immediately sucks you in and proves from the get go that this band is chock full of some of the most serious and soulful musicians on the scene today. The group, assembled by Miles for one show only at the Berks Jazz Fest in 2007, is comprised of powerhouse vocalists, Susan Tedeschi, Maysa Leak, and Mike Mattison (Derek Trucks Band) saxophonists Karl Denson, Elliot, Dave Mann and Barry Danielian, bassist Bob Babbitt (Marvin Gaye), guitarists Reggie Young (Elvis Presley and Ray Charles) and Sherrod Barnes, and trumpeter Tony Kadlek.
A take on Laura Lee's "What a Man" follows the up-tempo sax laced opener and Maysa Leak's soulful rendition pushes the song to the limits of what it was on its original 1969 release. The song features a blistering solo from Karl Denson and goes a long way to show that this album is much more than a trip down a musical memory lane. It is, in Miles trademark style, a reinvention of the classic sounds that defined the Funk, Soul and R&B genres.
As the record moves on Mike Mattison slows the pace and conjures up images of Percy Sledge as he takes over on lead vocals on "It Tears Me Up" before yielding to Mrs. Trucks, (aka Susan Tedeschi) who is out front for one of the flatter songs on the album, a take on Irma Thomas's "It's Raining." However, she redeems herself when she steps up to the Dusty Springfield classic "Son of a Preacherman" and gives it a heartfelt and bluesy treatment that Dusty would have approved of.
The album rounds out in the only way that is truly fitting with a 12 minute tribute to the Godfather of Soul himself, Mr. James Brown. With the three main vocalist trading stanzas on "I Feel Good," and even Karl Denson slink stepping down from his riser to take the helm on "Sex Machine," it is clear that this group of musicians had a great time under the direction of the legendary Jason Miles and so will you.
A Clip of The Group Performing "What A Man"

Music has always been a part of my life. It probably all started listening to old Grateful Dead, Peter Paul & Mary, and Simon & Garfunkel records that my parents had, but it wasn't long before they were taking me to concerts like Starship, Crosby, Stills & Nash, and Huey Lewis & The News. I got the bug to write about music after reviewing an Eric Clapton concert for a creative writing project in high school but didn't really take it up seriously until 2002. Since then I have published countless articles in The Marquee Magazine and done some work for Jambase.com, SPIN Magazine, and various other outlets. I started Listen Up Denver! as a way to share the music information that is constantly spilling out of my head with people who care. Please enjoy!