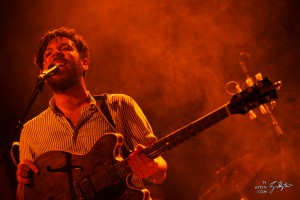 Photos by Ty Hyten
The Scene: The Bluebird was filled with the buzz that comes at the end of a long week on Friday night for Los Angeles resident Milo Greene. After making the long walk from Goosetown Tavern, I showed up around 9 to a fairly full house. People cascaded, seemingly by age, down into the pit which was full of more teens than I'm used to a at the Bluebird due to the 16+ designation.
Opener: Bahamas. The Canadian based band Bahamas took the stage a little after 9pm fronted by a nonchalant Afie Jurvanen. Wearing a jean jacket and exuding a bit of "badass," Jurvanen opened the night right with "Lost In The Light;" a beautifully simple song driven by a repeating guitar riff and simple message backed by the angelic voices of his backup singers. Throughout their set Jurvanen joked with the teens in the front row saying things like "hold back that excitement" and "I'm feeling more like Carly Rae everyday."
Bahamas' bare bones sound was constructed of electric guitar, background vocals, and no frills drumming. The minimal sound was great as it teetered back and forth between Motown and unpolished, raw Rock and Roll. At least once a song Jurvanen would throw in a few nasty blues licks that would throw a jolt of energy in to an otherwise smooth R&B song. The crowd, who had filled in by the end of the set, joined loudly in singing a cover of Wreckless Eric's "(I'd Go The) Whole Wide World" to end out what felt like much too short of a set. Simply put, Bahamas was one of the most solid opening acts I've seen in a while.
Milo Greene: I'll admit I came to this show primarily to see Bahamas, and could have left a happy man after their set, but I was in for a surprise with Milo Greene. The five-piece band opened up with a big wall of perfectly balanced "Oohs" and the harmony on stage sucked me in immediately. The crowd was a bit calmer than I expected given the large number of teenage girls in front, but we were still rewarded with comments like "this is the most energy we've had all tour" and a "you guys have so much energy I'm afraid I'm gonna fuck up" from key player and vocalist Marlana Sheetz.
As the band ran through nearly all of their debut self-titled album, the crowd was awash in beautiful harmonies dotted with heartfelt vocal interjections. While certain members led at times, there was no way you could call anyone the lead singer. It amazes to see a band of so many talented people playing together when they could all front a band of their own. A highlight of the set  was a very well done cover of Sufjan Stevens' "Chicago" that got us singing along.  Another stand-out was "Son My Son" which featured the strong voice of Marlana Sheetz steering the ship. The band kept the magic to the auditory experience and kept the lights low most of the night, which didn't take away from the experience but it surely didn't add to it. The crowd was swaying and dancing at a medium pace most of the night but really picked it up as they sent us out on the fan favorite "1957" which had all of us down front dancing and clapping along.
Energy: B+
Musicianship: B
Sound: A
Stage Presence: B
Set/Light Show: C
Overall: B+